12.06.16
Gemini version available ♊︎
Imagine one of those infamous panels about poverty and hunger in Africa, where not a single person on the panel is African…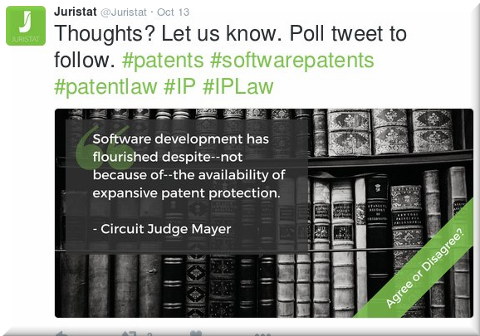 Excluding voices so as to include more patents (wider scope)
Summary: A look at yesterday's "Roundtable on Patent Subject Matter Eligibility," which lacked involvement from those actually affected by patents rather than those who sell, trade, and exploit these
ABOUT 24 hours ago the USPTO tried to pretend to be transparent by broadcasting a debate which was barely open to participation (read only, not read/write). As can be expected from such an event, key voices or views were prominently and conspicuously absent. "HAPPENING NOW," the USPTO wrote in Twitter", was a "talk on #patent subject matter eligibility until 4 pm ET today. Watch the livestream…"
"Was there anyone at this debate who does not work for a multi-billionaire like Bezos or some law firm?"How about actually speaking with them rather than being mere spectators? Were there any "real software developers [...] on the panel?" That's what Benjamin Henrion rightly asked them because, as he later put it, "if you can follow the live stream, not many developers around."
Daniel Nazer from the EFF quoted Jeffrey Dean of Amazon as saying that Alice invalidates patents that "remove more from public domain than they contribute to the public store of knowledge."
"It sure seems like a lot of these 'debates' are happening in the absence of those whom they affect."We remind readers that Amazon is among the pushers for software patents. Was there anyone at this debate who does not work for a multi-billionaire like Bezos or some law firm? Where are the actual developers? Their voice does not seem to matter at all when laws that apply to them are discussed. Henrion asked Nazer (not a developer), "are you on the chat?" Nazer never responded, but we're generally used to this kind of conceited (high horse) attitude from EFF lawyers.
Either way, Henrion streamed the debate into a file and proceeded to YouTube uploads because "[t]he videos don't play in Chromium, maybe MP4 patented format is to be blamed." (which would be ironic!)
See herein the debate as it was uploaded, having been divided into four parts:
"Loved the slide with the big prime numbers multiplication," Henrion remarked.
It sure seems like a lot of these 'debates' are happening in the absence of those whom they affect the most. To the organisers, that's a feature, not a bug. Bias by design/composition. We see a lot of that in UPC panels/events/debates/consultations and here we have it when patents on software are at stake. Published earlier today by Juristat (targeting "patent lawyers", based on its own account description) was this slide about "pros and cons of software patents"; well, judging by their Twitter activity, Juristat is more like a Trojan horse that would not tell the complete story about software patents as there are "many more arguments against them," to quote Henrion's response, than there are for them (profitable to patent lawyers etc.), as any software developer can probably tell. █
Permalink

Send this to a friend