02.05.17
Gemini version available ♊︎
By refusing to play a role in investigation and enforcement (against the EPO's flagrant disregard of the law), in spite of overwhelming evidence, the Dutch authorities have made themselves increasingly liable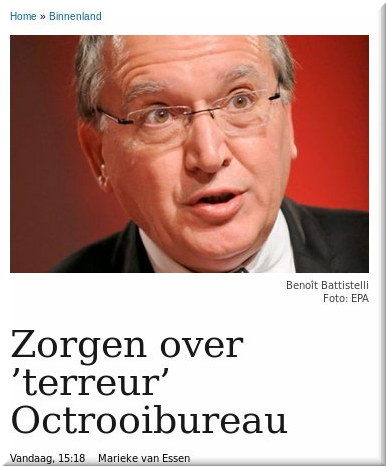 Summary: The unaccountability of Team Battistelli, emboldened by immunity even in the face of criminal charges, makes one wonder if Europe has created a 'monster' in the EPO
WE STILL TRY TO CATCH UP with comments in IP Kat, in particular because anonymous posters dump some information about the EPO over there (albeit a lot less frequently since the site stopped covering EPO scandals). There is a culture of censorship and self-censorship at the Office. Techrights, for example, is permanently banned by the EPO and IP Kat was banned for a day, whereupon it stopped covering the EPO scandals (self-censorship). The culture of fear, moreover, leads a lot of the employees to self-censorship and the union has almost gone 'underground' (barely any updates, not to mention resignations).
I have been an activist for free speech for a long time; we have in fact received about 35,000 comments in this site and I never deleted even one (even utterly rude and abusive comments). A fortnight ago somebody attempted to silence me with legal threats (this made it into the media [1, 2, 3, 4] and got some comments [1, 2, 3]), but it backfired, just as when the EPO attempted similar tricks. As far as we know, it's likely that the EPO bullies quite a lot of publications/journalists/bloggers with threats; we know for a fact it also did this to SUEPO. Now it tries to gag staff by a culture of terror and intimidation, as we noted here the other day.
"Latest IU victim," told us a source regarding this new example, causes so much fear inside the Office that other people are silenced. The Dutch media recently called it the 'terror' patent office (Telegraaf) and here is the information we have about it:
I hereby confirm that yet another colleague became victim of the IU. He works in The Hague, and he is not a union leader. There is hardly any SUEPO union leader left, so the IU needs fresh victims to prove their existence.

It is sad that the IU annoys yet another innocent man, a friendly and appreciated colleague, father of 3 kids. EPO staff are increasingly scared. This is mental torture for us all, and the Dutch high court recently decided that it would not protect them.

For Battistelli this must be a sweet dream, using mafia tactics to punish some so that all others shiver and work harder. Sure the administrative council will pay him another fat bonus.
Looking at the latest from IP Kat (comments of course, as IP Kat is too terrified to even mention the subject), we have this:
It is clear that the Dutch court has (conveniently!) overlooked ILO-AT's judgement 1542, which stated that:
"a complaint is receivable only if it is about an individual official's status as an employee of the organisation, not about the collective interests of trade unionists".

Maybe the Dutch Supreme Court ignored ILOAT 1542 because it wasn't brought to their attention by the lawyers pleading the case?
Another person wrote: "Just as you should never confuse the law with common justice, intelligence should not be confused with common sense. Some of the brightest people in the world have no idea how to cross the road!"
We are very sadden to see the Dutch authorities succumbing to a lunatic dictator like Battistelli and we already wrote about it in the following posts (among more):
The EPO scandals have helped expose serious abuses in international bodies, in Germany (watch what Maas is — or isn't — doing), in the Netherlands, and by extension in Europe. If EPO is allowed to get away with it and Battistelli's boss acts like his pet chinchilla, what will the world think of Europe? █
Permalink

Send this to a friend