10.15.17
Gemini version available ♊︎
The aggressor is Huawei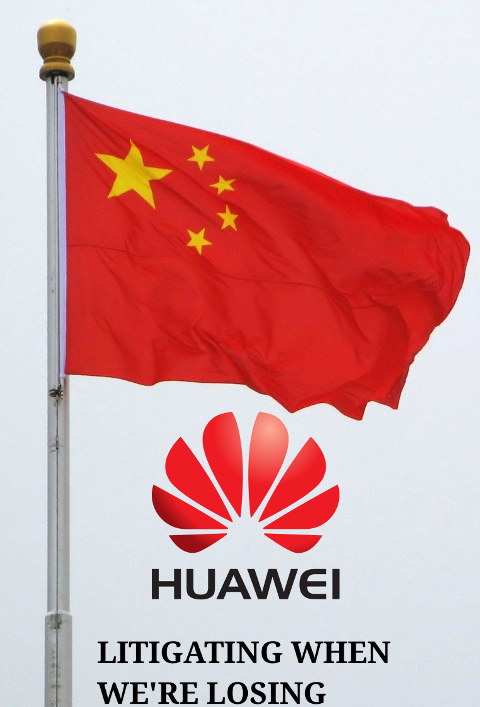 Summary: Massive Android OEMs, Huawei and Samsung, are in a big patent dispute and this time, for a change, China is a legal battleground
THE war Apple started against Android in 2010 was a patent war. The first target was HTC from Taiwan. Later on Apple targeted the biggest (at the time) Android OEM, namely Samsung.
Huawei has since then challenged Samsung to the crown, after Samsung became a bigger OEM than Apple. As is widely known by now, Apple started flinging all sorts of ridiculous design patent lawsuits at Samsung. Some of these patents looked almost comical and last week we explained why design patents, as a whole, are a lame shame (trademark and copyright laws already cover designs). More people need to talk about this. Several days ago Patently-O plotted duration of such patents (believe it or not, it's fifteen years). "If I were preparing to file a design patent around early May 2015," it said, "I might have held-off a bit on the filing to pass the May 13, 2015 threshold. Design patents stemming from applications filed on or after that date have a 15-year patent term (calculated from patent issuance) as opposed to a 14-year term for those filed prior to the threshold date."
"…the patent courts in china have become kangaroo courts like the Eastern District of Texas."So the USPTO further extended the life of patents which probably ought not exist in the first place.
Sadly, patents like these continue to be used in countries where the threshold for patenting is low. Huawei, for example, first sued Samsung in both China and the US, knowing that China's State Intellectual Property Office (SIPO) is notorious worldwide for probably the lowest patent quality. Moreover, as we have shown recently, the patent courts in china had become kangaroo courts like in the Eastern District of Texas. Here is the latest on this from English-speaking Chinese media:
The patent war between Chinese smartphone maker Huawei Technologies Co and its South Korean rival Samsung Electronics Co has been in the headlines again recently, after China's State Intellectual Property Office (SIPO) announced its latest rulings on eight cases.

The SIPO's Patent Reexamination Board announced on September 30 that five patents involved in Samsung's lawsuits against Huawei are invalid, one is partly invalid and only two remain valid. At this point, 10 of the 16 patent infringement lawsuits Samsung filed against Huawei in China have been determined invalid, accounting for 62.5 percent of the total.

The patent battle started in May 2016 when Huawei first sued Samsung in both China and the US for alleged infringement of its smartphone patents, involving several of its cellular communications technology and software inventions used in Samsung smartphones. In July 2016, Samsung countersued Huawei over six alleged infringement patents.
It's worth noting that SIPO found most of the patents it had granted to be invalid. Yet another reminder of the low patent quality there.
IAM (lobbying group that calls itself publisher) keeps egging on or encouraging a patent trolls epidemic in China. See what it wrote some days ago. We are worried that China's race towards patent maximalism will spread to other countries. Patent radicals in the US already cite "China!" all the time, in an effort to lobby their officials for broader patent scope. █
Permalink

Send this to a friend