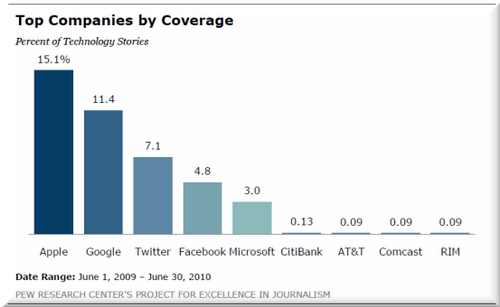 Image from Pew Research Center
Summary: Microsoft rapidly slides into obscurity and Techrights explains how coverage will be affected
FOR THOSE who do not know, the way Techrights tracks Microsoft typically involves reading and studying Microsoft news over the weekend, usually on a Sunday afternoon. But Techrights has not done this since last month. Why? There is not a high enough volume of news. Microsoft grew somewhat irrelevant in news outlets. A few years ago Microsoft was by far the most talked about company in technology and now it fell behind companies like Facebook, based on this survey (watching the graph is a must). As Microsoft boosters put it:
When it comes to mainstream media outlets like newspapers, TV and radio news, it seems that no one cares much about Microsoft anymore, a new report from Pew Research Center has found. Everyone's eye is on Apple instead. If they turn away from Cupertino, it's mostly to write about Google, Twitter and Facebook.
Yes, even Facebook receives more coverage according to this survey. About a week ago
Techrights
stated that it would de-emphasise Microsoft coverage not because Microsoft is any less harmful or increasingly benign; it's just because to software freedom, greater hurdles are beginning to develop and we need to recognise these hurdles. Fog Computing is a very scary phenomenon and software patents are no longer being pushed just by Microsoft; Apple is in certain aspects a lot worse than Microsoft even if historically it is not being recognised as such. Facebook is quite a disgusting company for all sorts of reasons, not just its software patents and general policy (Professor Eben Moglen has begun warning a lot of people about Facebook). In IRC we've been discussing the early days of the company and how the history is gradually being deleted; Facebook -- like Microsoft -- gained momentum through illegal activities, but a lot of people no longer know this or recognise this. More recently came all the PR nonsense from Mark, who had called his users "dumb fucks" in the early days when he is said to have illegally published people's profiles on his site, pretending that they had subscribed to share this information. It should hardly be surprising that Facebook sympathises with Microsoft and sometimes gets compared to it. Facebook, which is now partly owned by Microsoft, has increasingly become an extension of Microsoft. To highlight some recent news, we have
"Microsoft bolsters Facebook Docs sharing service"
and
"Microsoft initiates a campaign on Facebook with PC vs. Mac application"
(with more examples in
the wiki
).
Microsoft Nick
argues
that "Microsoft conspicuously absent from new social media map" and if one considers the social media networks which Microsoft turns into subservient ones, then it's a different picture altogether.
As if we needed further proof Microsoft isn't a notable player in the emergent world of social media ...

The third and newest version of The Conversation Prism, a map of today's most influential online social tools, includes just one Microsoft product: Newsvine, which Microsoft subsidiary msnbc.com acquired in 2007. Like The Seattle Times' Brier Dudley, I couldn't spot any other Microsoft products in the Prism.
Well, msnbc.com is an interesting case and later on we are going to show how this network -- along with other networks -- was being 'bought' by Microsoft in order to lie (or to "spin", putting it more mildly).
For those who worry about Microsoft, there is reason to worry no more. It's like worrying about SCO and as we'll show later in the week, Microsoft as a phenomenon is a greater threat than Microsoft itself. The company called Microsoft received many downgrades recently (most of them we've covered) and now there's
this smackdown from Barclays Capital
, just shortly before the results come.
Barclays Capital cut its price target on shares of Microsoft Corp. (MSFT) by 6.7%.
"Citigroup Pessimistic on Microsoft" says
this other new article's headline
and
there is clearly turbulence
with closures and layoffs (we covered nearly all of them last week). Microsoft is still shrinking, it only pretends to be growing sometimes (attributed to the art of PR).
"Microsoft is still shrinking, it only pretends to be growing sometimes (attributed to the art of PR)."As Microsoft is yesterday's company (see the bar charts about media coverage), nobody can trust it anymore. Just watch what happened to "KIN" partners. Microsoft is a risky partner to have now. Well, even Verizon's CEO rejects it in an insulting way [1, 2] and Newsweek predicts that Microsoft will oust its CEO (Ballmer) later this year. It would be symbolic, it would not actually save the company. When asked whether Vista Phone 7 [sic] failing would have Ballmer lose his job Ballmer jokingly responded as seen in this video. Groklaw framed this as "Ballmer Asked if His Job is Secure If Windows Phone 7 Bombs (video)" and Pamela Jones wrote: "Answer is, "I don't know about that." But a little bit as a joke. He's "excited" about the launch and believes it's a "market changer"."

Well, half of departing Microsoft employees do not like Ballmer [1, 2] and huge Microsoft boosters like Harry McCracken lose faith in the company in general.

The next few months will be interesting, but Techrights will not cover Microsoft matters as much as it used to. There just isn't much to cover, so it's not necessary. ⬆