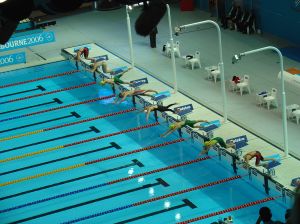 Summary: Randy Wootton is quitting Microsoft and the flood of Microsoft escapees potentially puts the company's interests in other places like the Olympic Committee
FURTHER to the previous post which mentioned major departures, one departure which ought to be put on the record is that of Randy Wootton, the Vice President of global search and online marketplace. As we'll show in a later post, Microsoft's performance is abysmal in this area and this news is just more of the same from this division:
Microsoft vp of global search and online marketplace Randy Wootton is leaving the company.
Incidentally,
"[a]mid Microsoft buyout rumors, Linden Lab founder leaves CEO post"
, claims this other new article.
Fool.com
, a pro-Microsoft Web site, asked in its headline back in October,
"As Executives Flee, Is Microsoft Falling Apart?"
To quote one part of it:
Ozzie's departure gives CEO Steve Ballmer an excuse to grab more power for himself: The role of chief software architect will not be backfilled when Ozzie leaves. Bill Gates is still chairman of Microsoft's board but seems content to let Ballmer cut and deal the executive deck as he pleases. I'm not sure that's a good idea, given Ballmer's insistence on running Microsoft as an e-business that he doesn't appear to understand -- for evidence of this, look at the failed takeover of Yahoo!, the just-adequate Bing search project, the fall of his pet Internet browser, repeated failures to make a dent in the digital music market, and more.
Since many parts of Microsoft simply fail to function and thus continue to rely on cash cows for a lifeline, John Dvorak and others like financial analysts
spoke about breaking up Microsoft
and amid such a provocative debate -- entertained even
by Microsoft boosters
-- more and more articles pop up questioning Microsoft's future (that will be the subject of later posts).
"Bach, an insider trader who was a Microsoft President until recently, does not quite retire either."It is evident that some of Microsoft's more important talent has already left, but it does not mean that the company cannot receive help from the outside, owing to those very same people. The former Microsoft India MD is helping to create a company which may help Microsoft as a partner in due course. To quote the only report we found about him (published in more than one news site), "Gurgaon-based managed IT services startup eTechies, from the stables of LemonLearn eServices, has received an undisclosed investment from Rajan Anandan, who was most recently Managing Director of Microsoft India. eTechies was set up in September to offer managed services to SMEs and consumers. Anandan, who quit Microsoft India in August (and headed Dell's operations in India before that), picked up a minority stake in eTechies on November 3, 2010, according to the founder, Rohit Chaudhary. Chaudhary quit as COO of the Technical Solutions Group at business and knowledge processing services firm Quatrro BPO Solutions in December, 2009."

Bach, an insider trader who was a Microsoft President until recently, does not quite retire either. He enters the Olympic Committee, as we feared one year ago:


The U.S. Olympic Committee added five new members to its board of directors Thursday, including former Microsoft executive Robbie Bach, as part of the restructuring of a leadership group that had been widely criticized the past few years.

[...]

Bach, who spent 22 years with Microsoft, is also heavily involved with the Boys and Girls Clubs of America.
Someone else
left Microsoft a while ago only to regroup with colleagues at AdReady
:
He joins a list of former aQuantive employees -- including CEO Karl Siebrecht -- who believe that AdReady is on to something big in the display advertising market.
Another person may have left a key position based on
this need to fill it
. Other departures may be the explanation for filling of another position, namely this [
1
,
2
,
3
]:
JWT announced this week that it's brought on Megan Kent to serve as president of the Microsoft business at the agency.
Techrights
has not been tracking Microsoft properly for about 2.5 months. In the coming week we'll do a concise roundup, as promised.
⬆