Vista Phone 8 as Bad as Vista 8
Dr. Roy Schestowitz

2012-11-20 02:08:41 UTC
Modified: 2012-11-20 02:08:41 UTC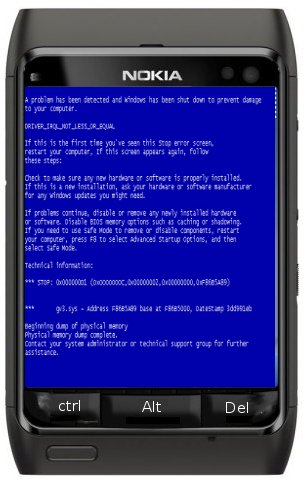 Summary: Software and hardware issues affect not only Surface; Phones running "8" show that BSOD is universal with Windows
Ever since Nokia got hijacked by Microsoft its stock has been nosediving. Now we learn that the "8" of mobiles is so defective that many users (among the few who chose this platform) complain:
Windows Phone 8 devices have been available since the beginning of the month and users are starting to report early issues across HTC and Nokia handsets. In a thread over at WPCentral with 143 replies, a variety of HTC 8X users report that handsets randomly reboot while in use. A thread on Microsoft's own support forums has also gained 50 replies complaining about the issues. The Verge can confirm that an 8X we are testing has rebooted on more than one occasion.


What a disaster. What is also a disaster is this other "8":
Steve, both of you, my Little Woman is just an ordinary user of PCs. She runs few applications, does a lot of web-browsing but takes pictures of everything using smart phone, digital camera and web-cam: moonrise, houses, children, relatives, friends… She accumulates thousands of pictures per annum and has ~20K so far on her PC. You can bet she would tolerate no inflexibility in her file-manager. Fortunately she uses Debian GNU/Linux with XFCE4 and she can have as many windows as she wants open to her file-system as she sorts things out, categorizes them, edits them and inserts them in documents, e-mails, and social websites. File-management has been one of the few things that every user of a PC since the 1980s has appreciated. Who are you to limit what a user can do with a PC out of the box? Who are you to force on the world a crippled OS limiting what people can do with their files?





I have nothing against Microsoft. I happen to think that Windows 7 is a good product and that Windows 8 is a misguided one. I derived these conclusions from first principles of human–computer interaction theory and from watching users in our new research. One doesn't have to hate or love a company in order to analyze its UI designs.





How do I hate thee Windows 8? Let me count the ways.
The latter link is SJVN's review of
Vista 8
, the platform which
Microsoft is failing to sell
. Jakob Nielsen is a usability expert and he too slammed Vista 8. It will be remembered as a massive blunder. Now, let's see what Apple is up to...
⬆