Another Financial 'Collapse' is Coming, We Need to Facilitate Banking Whistleblowers
Dr. Roy Schestowitz

2013-09-26 09:26:48 UTC
Modified: 2013-09-26 11:00:28 UTC
Will you help this man?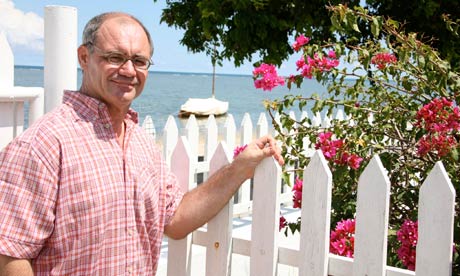 Summary: Why the world needs more conscientious people who speak out against banks and show where fraud is used to facilitate pillaging and plundering by plutocrats who 'crash' the economy (privatise/confiscate whatever is still public)
SEVERAL years ago Rudolf Elmer (shown above) gave Wikileaks material which showed serious crimes of banks. In a sense, Wikileaks' technical skills helped combat corruption. This is where geeks can really help fix the world.
For those who don't pay much attention to financial news (by "news" we don't mean channels bankrolled -- indirectly -- by the financial sector), there's indication that the plutocrats will crash the economy again in their never-ending pursuit of total ownership of everything, even what was publicly-owned (nationalised). To give some examples from this month's news, Detroit is being stolen [1] by the rich and powerful (privatisation) and here in Britain the 500-year-old mail service is now being considered for privatisation [2]. China, which sells debt to much of the West, is buying sizeable chunks of Ukraine [3], which is ironic and sad because in the land of tragic famine they now help prevent Chinese famine (as if the problem can be addressed by feeding another nation).
"Pessimists say that there is no way to fight all this corruption and pillaging will always prevail."The rich and powerful are doing extremely well [4,5] (no financial crisis) and the rest of us sink to oblivion [6]. Plutocrats share the religion of greed [7], which they have private meetings about [8] as well as propaganda campaigns [9]. The corporate media is using propaganda right at this very moment in order to usher in a man responsible for the previous financial 'collapse' (Larry Summers) into the Fed [10-15]. Higher education is being relegated again to a luxury of rich kids [16] (perpetuating poverty cycles) and Forbes, perhaps the worst offender when it comes to glorification of greed, allegedly "Calls Goldman CEO Holier Than Mother Teresa" [17].

Pessimists say that there is no way to fight all this corruption and pillaging will always prevail. They say that even Occupy protests failed. The truth of the matter is, what we need are the facts; we need to expose the perpetrators and make them step out in shame. For this, we need technical edge and we need to facilitate whistleblowers. They do exist even if at present they are some sort of conscientious objectors who are potential whistleblowers (afraid to ruin future careers). If tools are created and deployed to facilitate secure and private passage of data (the NSA would loathe such a thing with deep conviction and passion), then we will win the information war and leave no crooked executive unaccountable. ⬆

Related/contextual items from the news: