And IAM 'magazine' (working for rich Westerners) is truly loving it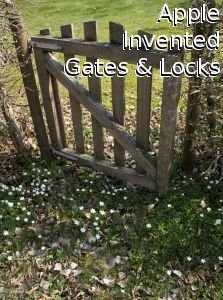 The 'invention' of 'slide to unlock' is the best rich Westerners have to offer?
Summary: New stories that demonstrate patent protectionism and show how Western industry, which barely makes anything anymore, relies on patents (software and design patents included) and this self-serving patent regime perpetuates itself even in Asia, where almost everything is actually being manufactured (and often/increasingly designed/developed too)
THE patent system in the US is a sordid mess or increasingly in a state of disarray because the benefit to ordinary people is elusive or inexistent. It's a system that protects the powerful, helping them maintain power. This injustice extends beyond US borders. There is almost an imperialistic (as in "Empire of Corporations") element to it. Lobbying bodies, the Chamber of Commerce, USTR, ITC etc. are the facilitators.
A report titled
"Huawei sues Samsung over hardware and software patent infringement"
came to our attention last week. Here is the earliest coverage of this [
1
,
2
,
3
,
4
,
5
,
6
,
7
,
8
,
9
,
10
,
11
,
12
,
13
,
14
,
15
,
16
,
17
,
18
]. It shows that not only the US patent system is rife with litigation. As litigation enthusiasts (IAM)
put it
, "Huawei's Samsung litigation could end up revealing much about the Chinese company's licensing activities" ("licensing" is somewhat of a euphemism). This a Chinese giant against a Korean giant, which is rather unusual. Both use Android (Linux) aplenty.
Over in the US,
"Patent troll VirnetX demands shutdown of Apple's FaceTime and iMessage"
. We
wrote quite a lot about VirnetX over the years
. Unlike Huawei, VirnetX makes nothing whatsoever (neither software nor hardware). Apple does not make much either; it relies on companies that it is suing to actually make products and then slap an "Apple" logo on these. Where is the innovation and what ever happened to production? This isn't going to bother the likes of IAM, who are
being paid by patent trolls
. "More evidence of a rapidly evolving NPE market," (trolls market)
IAM wrote
, "came this week in the shape of two announcements from Spherix. The public IP company (PIPCO) which has a slew of Nortel patents in its arsenal, courtesy of two deals with the former Rockstar business, announced on Tuesday that it had reached an agreement with RPX that gives the defensive aggregator's members a licence to the Spherix portfolio."
Rockstar is an Android-hostile entity with Microsoft connections (and Sony).
RPX was covered here before
. What we're seeing here is a growth of some parasitic kind of 'market' which produces nothing and taxes everything. Not exactly what it takes to accomplish 'innovation'... but this is what the West is left promoting. See
what IBM has turned into
. It sued
Groupon
, which had taken over some Asian companies.
Professor Crouch,
writing quite recently about injunctions
(embargoes that harm customers), said: "In my recent update on Supreme Court patent cases I skipped over a new Samsung v. Apple petition since one Samsung v. Apple case has already been granted a writ of certiorari. Although both cases involve smartphone patents, they are entirely separate procedurally."
This is a case wherein a US company that's a branding/marketing company sues a Korean giant. It's just one among several such high-profile cases.
Putting aside
High Court cases
, in relation to the Supreme Court we now see a variety of new articles like
"Supreme Court Grants Patent-Related Petitions"
or
"Supreme Court to Weigh in on Damages for Design Patent Infringement"
by Charlene Morrow and Sapna Mehta. One such article speaks about
"Design Patents At The Supreme Court"
(
a case involving Samsung and Apple again
) and in the mean time we learn that this whole design patents mania spreads to China, based on
IAM
. Design patents and embargoes are of no use to anyone (assuming a large corporation is not a "someone") and after a raid and confiscation of so-called 'hoverboards' from China [
1
,
2
,
3
] the
ITC
comes into scrutiny/headlines again as there's a lawsuit over legal bullying. IAM
put it like this
: "Chic – a personal transportation start-up based in the Chinese city of Hangzhou – has filed a US district court suit for design patent infringement against US rival Razor in an apparent reprisal for a US International Trade Commission (ITC) complaint by the latter company."
"What we have seen a lot of at IAM as of late is patent boosting/advocacy/promotion in east Asia, using shame tactics, so-called 'events' (usually organised by and for Westerners) and other strategic lobbying dressed up as 'reporting'."Citing this report from Taiwan, IAM tries to lecture Taiwan about so-called 'IP' future. In another article, this one about Japan, IAM is making it seem like all there is to a company is "IP".

What we have seen a lot of at IAM as of late is patent boosting/advocacy/promotion in east Asia, using shame tactics, so-called 'events' (usually organised by and for Westerners) and other strategic lobbying dressed up as 'reporting'. Well, that's just what IAM exists for. Watch what it does for the EPO, even just days ago (the EPO was quick to cite this in Twitter thereafter). IAM is toxic. ⬆