Those aren't computer programs but layouts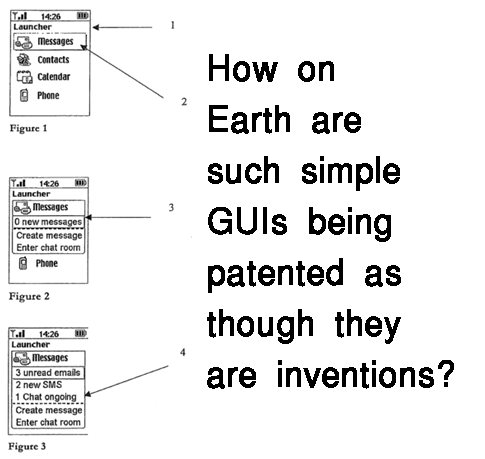 Summary: The patent microcosm is hoping to convince the public that in Core Wireless Licensing v LG Electronics there was some kind of triumph for software patents (at the Federal Circuit), but this has nothing to do with software (mere presentation) and China is pushing back against such patents, signaling a rethink about whether such patents should exist in the first place
AS odd as that may seem, the USPTO actually grants some patents on GUIs (and a high court defended one such patent last month). So does the EPO, with notable examples like a progress bar, slide to unlock, and even worse things (like one-click shopping).
It's amazing, isn't it? How shallow and superficial can some patents be? Do these even count as innovations at all? Not really.
So there's this new irregular case. It stands out from the crowd. The patent maximalists keep pretending it's about ۤ 101. It's not. It's not about algorithms either. A few days ago
one firm wrote
:
The Federal Circuit continues to provide much needed guidance (and relief) in interpreting patent eligibility under 35 U.S.C. ۤ101. In Core Wireless Licensing v. LG Electronics (Fed. Cir. January 25, 2018), the Federal Circuit affirmed the eligibility of a patent relating to an improved user interface for computing devices. The decision yields arguments and approaches for eligibility of software patents in general.
ۤ 101 was attempted as a defense, but the patent in question isn't the
Alice
type. In China, by contrast, GUI patents have actually suffered a blow. There's lots of spin about that, as one might expect.
"In China, by contrast, GUI patents have actually suffered a blow. There's lots of spin about that, as one might expect."A few days ago, copy-pasting Ran Wang and Xiaoyan Feng of Liu Shen & Associates in Beijing, IAM went with the misleading headline "China's first court decision on GUI design patent infringement narrows avenues for protecting software" (but no, GUI patents are not software; there's no algorithm associated with them).

Another such copy ('prepared' piece) was cross-posted to preserve the confusion. To quote:


Patent protection for software in China is fairly strong, and as this blog has chronicled over the last few years it has gotten stronger still. But when it comes to the design and look of software, and how users interact with it, a recent Beijing IP Court ruling suggests creators may face an uphill battle in asserting their rights against copycats.

Graphical user interfaces (GUIs) are a relatively new category under China's design patent regime. But they have been a fast-growing field, as many of the country's leading lights in tech are software-first companies. In the increasingly competitive smartphone field, operating system and app design are key battlegrounds between domestic players.
We wrote about that last weekend. It's actually encouraging to see that even though SIPO became somewhat of a garbage dump/landfill of low-quality patents, Chinese courts are sometimes willing to stand in the way.
There might not be a future to GUI patents. Time will tell...
⬆