China and South Korea among the latest under the microscope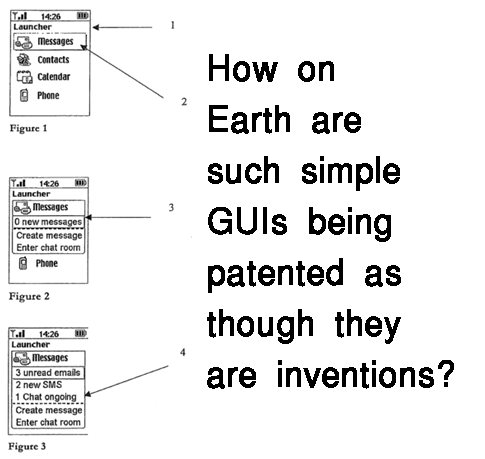 Summary: In China and elsewhere the patent maximalists now get patents on GUIs (cascading or otherwise); Section 101 is not exactly designed to deal with such an absurdity
THINGS have gotten ridiculous. Some patents which are being granted nowadays (especially in countries like China) are borderline parodies. At Sun, engineers used to joke about the sorts of patents they could get examiners at the USPTO to approve/grant; they even mocked examiners for granting what they had drafted as (almost) practical jokes. WIPO is happy though because the number of annual patent grants continues to climb. More money for WIPO!
I'm not writing this site as a lobbyist or as a self-serving exercise. In fact, it doesn't affect my job in any way. It's almost orthogonal to it. I have been developing software since I was 14 and I created many GUIs in my lifetime (dozens of programs with GUIs, using half a dozen different toolkits); people don't 'invent' GUIs but simply design or piece them together, changing placement of buttons or menu items over time at risk of confusing users who have habits (muscle memory). The developers don't actually claim this to be an "invention" and it's barely even like a painting. The element of consistency for predictability is essential for users. That's where so-called 'UX experts' creep in.
Anyway, China's patents (in Mandarin) are of low quality, but these are difficult for Westerners to assess because very few of them comprehend Mandarin. IAM, being IAM,
is making excuses for China
. Yesterday it wrote
this piece about SIPO
and added: "Patent application rates in China are slowing and examiners are getting tougher."
Or maybe they've just run out of nonsense to file. It's far too late for examiners to get "tough" (after many rubbish patents were granted). We occasionally read about some of these patents, including for instance patents on GUIs (not a joke!) and earlier this week
Managing IP
posted another example of this
. "GUI design patents in China after first infringement decision" is the headline and it's about China's Mandarin-only, low-quality patents (even patents on GUIs!). This won't do their economy any good, but perhaps they obey Xi's objective of just filing lots of patent applications (nearly 1.5 million per year!) to keep up the illusion of parity with the West in relation to so-called 'IP' (the US wants to use that card to impose sanctions and possibly fines on China). Anyway, here is what
Managing IP
wrote about the Beijing IP Court a few days ago:
Observers bemoan the lack of clear guidance after Beijing IP Court judge rules there was no infringement of a GUI design patent in a highly-anticipated case

China saw its first GUI infringement case since graphical user interface (GUI) design was classified and protected as a type of design patent on May 1 2014.
So this is pretty recent. But don't think for a second that only China stooped low enough for this foolishness. As if software patents weren't bad enough (they're more profound than mere buttons and often refer to implementation of callback functions for respective buttons).
The US
Court of Appeals for the Federal Circuit (CAFC)
, where no judge is familiar (firsthand) with the process of software development, has just given an adrenaline rush to the patent microcosm.
Early coverage of this
came from
Patently-O
. This is already being cited by vocal patent maximalists and it says the following:
In a split opinion, the Federal Circuit has affirmed Core Wireless win over LG Electronics [DECISION] – finding the asserted patent claimed eligible subject matter and refusing to disturb the district court's judgment of no-anticipation and infringement. U.S. Patent Nos. 8,713,476; 8,434,020; and 6,415,164 (UK Priority Date of July 2000). The patents here are directed to user-interfaces — basically users are shown a menu of applications; Selecting on an application takes the user to an "application summary" that includes functions of the application and files ("data") associated with each application that can be selected to launch the application and enable the file to be seen within the application.

[...]

Holding: Claims are not directed to an abstract idea and therefore are eligible under Alice Step 1.

All judges on the panel agreed with this holding. The disagreement between the majority (Moore & O'Malley) and Dissent-in-Part (Wallach) comes over the definition of the claim term "unlaunched state." The majority construed the term as "not displayed" while the dissent argues that it should be construed as "not running." The two definitions result in differing treatment of apps that are running in the background. The changed construction result would likely impact both the infringement and anticipation conclusions. For its part, the majority explained that the patent used the word "launch" in several instances to be synonymous with "displayed" – thus leading to its conclusion.
Patent
extremists
have
gotten so excited
that they enter "ALL CAPS" mode and
note
that it's "PRECEDENTIAL". This actually hurts a Korean company, LG, and we hope LG will appeal in order to ensure that the Supreme Court gets a chance to overturn this terrible decision. Does the US really want to enter the crazy realm of patents on GUIs?
Speaking of Korea, LG Chem got
mentioned by IAM
in relation to Intellectual Discovery, which is proving to be a Korean disaster; it's a waste of money, it might dissolve into the hands of patent trolls. IAM of course supports all that. To quote:
Intellectual Discovery, South Korea's sovereign patent fund, will lead the effort. "I believe it would be a win-win situation for the patent holder and potential licencees," says Dongsuk Bae, who heads ID's licensing division. Bae adds that LG Chem is open to discuss a range of licence terms apart from just exclusion of competitors. Like many large Korean corporates, LG Chem has not previously focused on licensing out technology. Min says the decision to engage ID came down to both the firm's international experience and its ability to act as an intermediary: "We want someone who can help us find a partner in China, as well as someone who can help a partner understand our intentions and the benefits of a deal."
Well, partnering in China because Korean companies such as Samsung are being bullied by Chinese giants like Huawei and various patent trolls? In this current atmosphere of patent maximalism in China Samsung and LG might be better off just exiting the Chinese market altogether (not easy as they rely on manufacturing in mainland China). Sure, Huawei can still sue them in other countries, but not with the same litigation success rates.
⬆