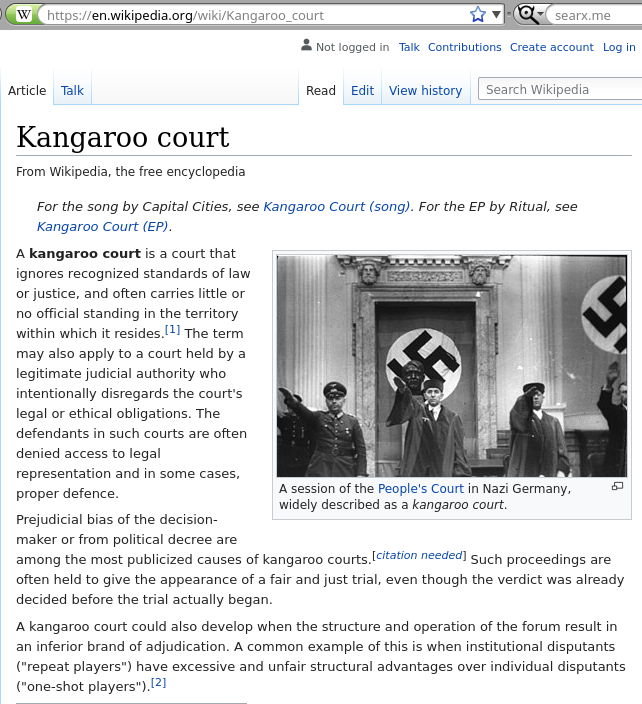 Reference: Kangaroo court
Summary: The nightmarish situation at Europe's second-largest institution is only getting worse; it fails to fulfill its sole and most fundamental function, which is patent examination; those who stand to gain from this failure are attempting to undermine courts themselves
THE situation at the European Patent Office (EPO) I find almost horrifying. What if it was me choosing to travel to Munich and work there as an examiner? Would I survive there? I'm not sure. They have lots of people with doctoral degrees and families; some choose to kill themselves (e.g. throwing themselves onto the train tracks or ending their life while on holiday, not to mention jumping outside the window while colleagues are working). It's scary. Why is none of it being investigated?
There are more shocking details in EPO-FLIER No. 47, which
we've just reposted
. People are dying slowly
by the thousands
; their health rapidly deteriorates and they cannot sleep at night. They're being
bullied
by Office management. They can't do their work. They say that the EPC becomes meaningless as they're not given enough time to actually comply with it and keep up with standards. It's impossible. One has to 'cheat' and cut corners -- violating the integrity of the profession (and personal dignity) -- merely to
survive
at the Office.
Team UPC could not care less! To these greedy bunch of lawyers the more patents the EPO grants, the more money/business they'll get. Yesterday "Kluwer Patent blogger" (we're
guessing Bristows based on past patterns
) persisted with the illusion of UPC "progress". It's about
ads for jobs that don't exist
-- the same thing they did more than 3 years ago to promote the illusion that the UPC was just around the corner and a venue in the UK had been chosen (they recently used the same trick in France). To quote:
This is possible if the FCC throws out the complaint against German ratification of the UPCA, Germany completes the ratification of the UPCA and PPA, and one more member state signs or gives its support to the PPA.
No, there are other barriers. We wrote about these so many times before. One key problem is that today's EPO offers no justice; giving it leverage over an actual court would be absolutely
insane
! Never mind if
António Campinos
already makes
Battistelli
a judge
...
These people (Team UPC and Team Battistelli/Campinos) have plans and it's rather disturbing. They want to eliminate the judges' scrutiny and bypass the rule of law with a bunch of 'Kangaroo Courts' (UPC) that are overzealous, plaintiff-friendly, embargo-centric and even raids-leaning (they can raid companies for merely being
accused
of infringement -- an aspect we covered in the past). The above blog post contains little or no substance (corrective comments are not posted or are disallowed); it's about a minor site change and Bristows (we assume) are so clueless that they don't know how to take a screenshot of a page, they take a photograph of a monitor instead. Remember that months ago
Bristows also cited some chatter about robes as so-called 'evidence' of progress
. Bristows people are so prolific at lying that
we recently made a wiki page/index just for them
. We'll soon see where
else
this chatter reaches... maybe
IP Kat
? Bristows staff is going to have a lot more control/power at
IP Kat
now that Rosie Burbidge is leaving. She
said so yesterday
. She was probably the most prolific/active author in the
IP Kat
blog in recent years (matched only by Bristows staff that promotes Bristows agenda in that blog). It's not hard to see that when they stopped covering EPO truths people stopped caring/commenting. The number of comments has sunk almost
tenfold
since. It was a potentially informative blog, which shot itself in the paw when refusing to cover what people actually cared about and what mattered most. Battistelli's friend from CIPA was occupying a key position in that blog when they decided to quit covering EPO scandals and then (a little later) to actually
delete
all comments on the subject. They were constantly grooming Campinos after he had already had his share of scandals in past employers.
We are very worried that almost nobody (except Barney Dixon) covers EPO scandals. There's only one blogger who does this at Kluwer Patent Blog. Earlier this week we saw
this press release
from Nordic Nanovector ASA (NANO.OL). It was about a European Patent that had been granted. It's one among so many (the number of granted patents nearly doubled in just a few years!) and even the EPO's examiners admit
this inevitable sharp decline in quality
. It's now alleged that the EPO granted yet another bogus patent that causes a lot of damage, as noted in
this news article
:
Shield Therapeutics PLC (LON:STX) has said it will continue to "robustly defend" its intellectual property (IP) after receiving notice that Teva Pharmaceutical Industries Ltd had appealed a ruling by the European Patent Office (EPO) regarding STX's Feraccru iron deficiency treatment.

The news followed an EPO decision in March when it found in favour of Shield in relation to patent #2 668 175, which covers a "Process for preparing an iron hydroxypyrone".

WATCH: Shield Therapeutics accelerating commercial plans ahead of FDA decision

Shield said no date for the appeal hearing had yet been set but it believed the initial EPO decision would be upheld and would update on proceedings as required.
This dispute is very profitable to lawyers, the likes of Team UPC. We will not be surprised at all if at the end of litigation (millions of dollars spent on lawyers) the underlying patent gets thrown out. Nobody is going to enjoy this as much as the lawyers and we expect a negative outcome based on most recent outcomes (European Patents drop like flies in European courts).
Yesterday the EPO
tweeted
: "You can talk to EPO experts about PATSTAT and/or get help from other users here" (linking to their forums for the first time in ages).
Don't click. It's embarrassing. These forums are still a ghost town. Nothing happens there. Nobody posts anything, except maybe once in a few weeks/months. I responded to this tweet by saying that EPO experts, including veterans/experienced EPO staff, have long ago left/retired early. The EPO now hires people with very low qualification levels. This means further reduction in patent quality as much effort gets pumped into training and many won't pass probation and outlast 5 years of a temporary contract. Does the EPO want
any
examiners?
At all
? Does it want judges and courts? Sometimes it feels like their fascination with the "AI" hype means they'd rather just grant a patent for every application and somehow automate prosecution. We're not kidding and SUEPO wrote something to that effect several years ago.
⬆