[Meme] Is It Not a Layoffs Round When You Rebrand It?
Dr. Roy Schestowitz

2020-08-02 23:30:54 UTC
Modified: 2020-08-02 23:30:54 UTC
"It doesn't seem that the media is particularly interested in doing anything but blame the Coronavirus for everything, and also insist that "it's layoff season at Microsoft anyway like it is every year". "Layoff season" shouldn't really be an annual event that you plan on. I can only imagine what that does to the employees in there. The whole "Winter is coming!" attitude that it must bring with it where you try to look busy and shove other employees under the bus to save yourself. Businesses that are well managed focus on core competency and things that will be around well into the future. Advertising has only ever been profitable at scale, and Skype was a particular way to do something that fell out of favor and was already dated at the time they sold it and ran for the hills. Then you have stuff that just doesn't make sense, like why they would be interested in acquiring an entire company for Minecraft? All of that wasted money in the Nokia deal to try to push Windows phones into a market that was already saturated. That was just completely stupid. Zune 2.0. I would have probably tried to expand on the Nokia X, but they put that right into the trash. They've definitely overextended themselves."
-Ryan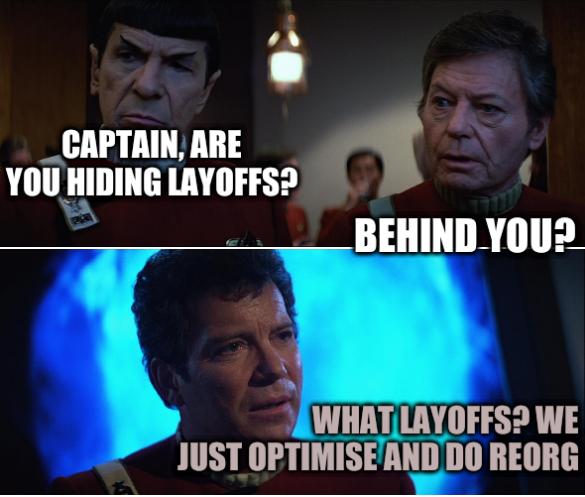 Summary: More and more Microsoft layoffs; but the media is hardly interested in reporting those and/or analysing the growing scale of the layoffs (about half a dozen rounds of layoffs this summer alone)
Recent Techrights' Posts
Any newly-added layer represents more attack surface
We hope Unity will burn in a massive fire and, as for Godot, we hope it'll get rid of Microsoft
Reprinted with permission from Ryan Farmer
some remaining links for today
The Steam Deck is mostly a DRM appliance
SUSE's relationship with firms such as these generally means that SUSE works for authority, not for community, and when it comes to cryptography it just follows guidelines from the US government
It's not about the clients, it's about money
We've already begun the migration to static
Linux Foundation staff uses neither Linux nor Open Source. They're essentially using, exploiting, piggybacking goodwill gestures (altruism of volunteers) while paying themselves 6-figure salaries.

Linux Too Big to Be Properly Maintained When There's an Incentive to Sell More and More Things (Complexity and Narrow Support Window)

They want your money, not your peace of mind. That's a problem.
Mozilla is financially beholden to Google and thus we cannot expect any pushback or for Firefox to "reclaims the Web" a second time around
Installing one's system of choice on a device is very hard, sometimes impossible
Some people mocked us for saying this day would come; chatbots are a huge disappointment and they're on very shaky legal ground
the powerful companies/governments/societies get to know everything about everybody, but if anyone out there discovers or shares dark secrets about those powerful companies/governments/societies, that's a "crime"
In the case of technology, it is possible that a lack of collective action is because of relatively high salaries and less physically-demanding jobs
Reprinted with permission from Ryan Farmer
To me it seems like GNOME is moving backward, not forward, mostly removing features and functionality rather than adding any
HowTos (or howtos) are very important in their own right, but they can easily distract from the news and howtos are usually quite timeless or time-insensitive
Given the number of disgruntled employees who leave Canonical and given Ubuntu's trend of just copying whatever IBM does in Fedora, is there still a good reason to choose Ubuntu?

Debian GNU/Linux is a Fine Operating System, But What if People Die Making It for Somebody's Corporate/Personal Gain?

Will companies that exploited unpaid volunteers ever be held accountable for loss of life, caused by burnout, excessive work, or poverty?
Links for the day
Links for the day
by FSF
We're already learning, over IRC, that out new site is fully compatible with simple command line- and ncurses-based Web browsers. Failing that, there's Gemini.

Red Hat Pretends to Have "Community Commitment to Open Source" While Scuttling the Fedora Community (Among Others)

RHEL is becoming more proprietary over time and community seems to boil down to unpaid volunteers (at least that's how IBM see the "community")
Reprinted with permission from Ryan Farmer
Reprinted with permission from Ryan Farmer

Not Your Daily Driver: Don't Build With Rust or Adopt Rust-based Software If You Value Long-Term Reliance

Rust is a whole bunch of hype.
The supposedly "modern" stuff ought to occupy some other protocol, maybe "app://"
The way Google has been treating the Web (and Web browsers) sheds a clue about future plans and prospects
History matters
Git is working, IPFS is working, IRC is working, Gemini is working
Scope-wise, many stories fit neatly into both sites, but posting the same twice makes no sense logistically
A prompt response to FUD is important. It's time-sensitive.
Backdoors are typically things that exist by design or get added intentionally (ask Microsoft!), but when it comes to "Linux" in the media the rules are different

The Spamification of GNU/Linux News Sites (or the Web as a Whole) and Why It's Time to Move on, Writing More Stories and Analysis

If you are an enthusiastic Free software user, consider setting up a blog or GemLog (Gemini log)
Over the next few days Techrights will be archiving over 40,000 older pages
An accusation, with presumed guilt, seems sufficient for some
Geeks need to learn how to strike, too.
Looking ahead, we'll probably produce more stories than before because lessening the underlying complexity lets us focus on substance
In 2006 the site was 'purely' WordPress
4 decades of "4 Freedoms" show the world that the original definition withstood the test of time