12.26.07
Gemini version available ♊︎
Free open source applications with formats that are proprietary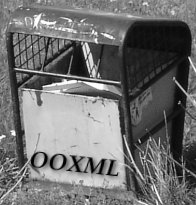 As we've stressed before, incorporating pseudo-support for OOXML into Gnumeric is a terrible mistake. Since OOXML is extremely rare, the only party that benefits from this is Microsoft.
The GNOME desktop strives to deliver the experience of a truly free desktop. Compromises might be made where there are no other choices due to ubiquity (e.g. Samba, which was recently victorious, bar patents). Here is a snag. Open source is not enough if it implements a proprietary format with patent entanglements, such as OOXML. Consider this new writeup:
We have seen the signs that changes are happening. Not just specifically in the Linux world, but in Open Source, Open Standards and in the proprietary world as well.

[...]

Things are looking good for Open Source and Open Standards. Where do things go from here?

People need to insist on having Open Standards.
Clearly enough, Gnumeric misses this point. OOXML will never ever be open. It doesn't even matter what ISO, which is being hijacked, eventually says. Formality means nothing in practice, especially when so much abuse is involved.
Here in Britain, authorities are being told at the moment that open standards are more important than opening of the source code. So, why is Gnumeric going down this path, let aside the benefit to Microsoft? █
Permalink
Send this to a friend