05.20.10
Gemini version available ♊︎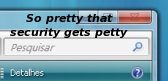 Summary: Resource-hungry visual effects become a security threat to Windows
YET another security problem is found in Vista 7, which begs for the question, "how on Earth does the GUI/presentation layer pose a risk to the entire operating system?"
Microsoft on Tuesday warned users of a vulnerability in 64-bit versions of Windows 7 and Windows Server 2008 R2 that could expose users to malware attacks.

[...]

Bryant said a patch would be forthcoming, but didn't say when. In the meantime, users can prevent attacks by disabling the Windows Aero Theme. To turn it off, choose Start > Control Panel and click on Appearance and Personalization. Then click on Change the Theme. Then select one of the Basic and High Contrast Themes.
Vista 7 — like its predecessors — is not secure. Also see:
Did anyone really think that Vista 7 would improve security? Some say that Vista 7 is less secure than Vista. What's even more perplexing:
People who paid for Vista do not feel they should pay again for "7″. Folks who sell defective cars should expect no more custom. Consumers may find "7″ acceptable but business wants to be free of the burden of that other OS. Some businesses and organizations will go with "7″ as the line of least resistance but GNU/Linux really looks good to users and administrators who have kept XP going for years. My users are asking for something fast that runs on our hardware. "7″ is not happening. We even were given some brand new machines with 3gB RAM, and, to my surprise, find they shipped with XP… That says something about this notion that customers are demanding "7″. Why would an OEM ship us XP if that were the case?
Best of Windows is not the best operating system. █
Permalink
Send this to a friend