08.02.10
Gemini version available ♊︎
"Now it was time for the FTC to get tough again, and Microsoft was a great way to start flexing its muscles. But first, the FTC needed to get approval from the Department of Justice. Anxiously awaiting the sanction, investigators began collecting news clippings to bone up on Microsoft and all the subtle complexities of the software industry. In May of 1990, the DoJ gave the green light, freeing the FTC to open their probe. With no shortage of help from Microsoft's competitors, the FTC collected mounds of evidence showing that Microsoft and IBM had been in cahoots from the beginning."
–Barbarians Led by Bill Gates, a book composed
by the daughter of Microsoft's PR mogul
Summary: Microsoft lays off part of the Office team as sales disappoint, Google gains on the Web, and Microsoft resorts to indirect attacks on Google in another continent
A couple of posts ago we began discussing what went wrong in Microsoft's results and a few days ago we showed that Microsoft's #1 cash cow (Office) doesn't sell well. This is significant news because other products depend on this cash cow, so it's not just about direct profit (Steve Ballmer is still being pressured to leave).
Here are some more articles about the problem Office is having:
There are many more articles just like the above and there is also an excuse/"damage control" from Microsoft. Sadly for the monopolist, the press is starting to give more and more attention to Office rivals. Some sites write about free/libre software: "One such word processing tool is OpenOffice.org. It is one of the best open source software suite for word processing, spreadsheets, presentations, databases and more. [...] OpenOffice.org 3 is released under LGPL terms and OpenOffice.org office suite can be used by anyone at any place–government, education, business, IT businesses, or anyone without paying a single rupee license fee."
Yes, OpenOffice.org is doing well in less wealthy countries where Microsoft too has been forced to lower the price of Office (or allow it to be shared illegally). Here is a new article titled "Five Reasons You Don't Need Microsoft Office 2010″ and another from the Boston Herald, suitably titled "Free alternatives to Microsoft Office deliver goods" (free as in gratis in this case).
Nothing's wrong with the productivity software standard, except for the price tag: It has one. There are several alternatives that replace it or improve upon it for the attractive price of zero dollars.
All of this competition drives down the margins of Microsoft, whose cash cows are both feeling the impact of market pressures. Despite growth in the number of PCs, Windows shows no growth. In Office too there's room for concern (especially amid transition to the Web) and Microsoft layoffs are said to also affect Office staff. Some managers take more marketing duties while layoffs in the Office team are reported alongside cuts in marketing (AstroTurfing being a subset):
Microsoft layoffs: Marketing, Office, partner groups all reportedly hit

[...]

I've been watching the growing stream of comments on the Mini Microsoft blog and gathering reports (direct and indirect) from individuals in the trenches today. It looks as if Microsoft's Central Marketing Group (CMG), Enterprise Partner Group (EPG), the SharePoint/Office team and the search/advertising teams all have made cuts. Most of the cuts I've heard about have been in the marketing/sales organizations.
This helps show that competitive pressure on Microsoft Office has taken its toll. Google Apps is part of this too and on top of one type of FUD (about support from Google) Microsoft is adding some more. How come? Just watch the scale of customers Google snatches away from Microsoft:
Why Jaguar Jumped to Google Apps

Spun out by Ford, the British automaker was free to drop its Microsoft programs and switch to Google Mail and other cloud software—saving millions of pounds
Jaguar is one among many, including even larger companies which help endorse Google Apps. These were some of the more lucrative contracts Microsoft enjoyed.
Google is now adding more assets with which to fight Microsoft and it gets a contract with Yahoo! as well. Bad news for Microsoft, obviously. The Yahoo hijack was not entirely complete yet.
Microsoft cannot take such a defeat so well. First it whines and protests about it [1, 2], not realising that Yahoo! is in dire need of escaping the destructive affairs with Microsoft ("Analysts cut Yahoo target" as the company is suffering in Microsoft's tight grip).
"Google is now adding more assets with which to fight Microsoft and it gets a contract with Yahoo! as well."Microsoft's sheer hypocrisy was mentioned some days ago because Microsoft is in no position to complain about monopoly. Maybe that's why it hired a bunch of AstroTurfers (the LawMedia Group AstroTurf) the last time it needed to attack a Yahoo-Google deal by proxy. The latest news seems almost like a repetition of this. 'Jay Yarow at Silicon Alley Insider provides the following statement from a company rep: "We plan to present evidence to the Japanese FTC explaining why we believe that this deal is substantially more harmful to competition than Google's deal with Yahoo in 2008 that the DOJ found to be illegal."'
Why did it find it illegal?
"Microsoft is trying to push for antitrust like it does with IBM in Europe and also to Google in Europe (Microsoft admitted this)."Because Microsoft hired AstroTurfers and lobbyists to do so. We documented it in this Web site at the time.
"Microsoft Will Try to Block Google-Yahoo Japan Deal," says IDG while legal steps are taken again. Microsoft is trying to push for antitrust like it does with IBM in Europe and also to Google in Europe (Microsoft admitted this).
"Microsoft to go to Japanese FTC about Google-Yahoo deal," says this one headline, adding that "Microsoft legal spokesman Jack Evans confirmed to me via e-mail that Microsoft will be going to the JFTC, but didn't share more about what form its complaint might take or when it might happen. Evans said, "Yes, we plan to provide information to JFTC about why we think this deal is more harmful even than the deal Google proposed with Yahoo in the US and Canada.""
Microsoft has got some nerve. They should report themselves for actually abusing their monopoly, not just for illegally getting it in the 80s/90s. Here are some more headlines of interest:
Let's not be easily hypnotised when it comes to market share, either. Microsoft has been trying deceive with misleading statistics, e.g. renaming an existing product and then pretending the 'new' one gains (and showing US-only effects). There are also the old lies from comScore, which Microsoft is paying in various ways [1, 2, 3, 4, 5, 6, 7, 8, 9, 10]. It's money well spent given the output which came from comScore in July, e.g. [1, 2, 3]. The press was quoting figures from comScore, which lets its numbers be gamed by Microsoft, by its very own admission.
In other news, MySpace is said to be talking with Microsoft, Yahoo and Google about an ad deal [1, 2]. Some months ago there were similar rumours regarding AOL [1, 2].
MySpace, seeking to replace a search advertising contract with Google that expires in August, has held talks with Microsoft and Yahoo, according to a person familiar with the company's plans.
For the record, Google is not so benign either. It is "accused of manipulating its search rankings" (not exactly the first time such accusations are made and also proven), but then again, so does Microsoft. Google uses its search results to advance its own business agenda, but it does not attack software freedom, or hardly ever does.
Google's results are pretty decent (revenue up 24% [1, 2]), but it's CNN which seems to be giving Google a hard time with negative spin, conveniently ignoring the economic potential for Android — despite being free — to make revenue in ways other than selling hardware (ways like search and advertising).
Even the world's leader in phones (Nokia) may have to surrender to Google sooner or later (see this recent speculation/suggestion). In this week's news we find reports like:
Nokia retained a substantial lead in the worldwide smart phone market in Q2 2010, achieving a 38% market share. The vendor shipped a record 23.8 million smart phones during the quarter, representing growth of 41% on a year ago, as it focused on delivering affordable smart phone offerings to the market, such as its popular 5230 touch-screen handset, based on the Symbian operating system (OS). But Nokia's market dominance is not as unassailable as it once was, with its performance outpaced by growth in the smart phone market as a whole.

Sales of Google Android phones in the U.S. are rising so quickly, the devices have outsold Apple handsets for the first time on record. New smartphone subscribers choosing Google phones accounted for 27 percent of U.S. smartphone sales, the Nielsen Company will announce this morning, nudging past the 23 percent share held by Apple. But Android isn't just a U.S. phenomenon: Canalys today estimates that Android handset sales grew 886 percent worldwide from the year ago quarter.
In a Microsoft sympathisers' site it is said to be "Google's Search World" and Google keeps gaining in Web browsers too (Microsoft loses share in Europe). The report says: "Microsoft's Internet Explorer has lost market share in major European markets, such as France, Britain and Italy, after the U.S. software firm started to make it easier for European consumers to use competing browsers."
Microsoft has been trying to accuse Google of privacy violations as a last strategic resort (FUD), but as this new report shows, Microsoft leads the way in that department. It deliberately disrespects and disregards users' own settings that reduce spying on one's browsing habits.
What's more, even if consumers turn the feature on, Microsoft designed the browser so InPrivate Filtering doesn't stay on permanently. Users must activate the privacy setting every time they start up the browser.

Microsoft dropped another proposed feature, known as InPrivate Subscriptions, that would have let users further conceal their online browsing habits, by automatically blocking Web addresses suspected of consumer tracking if those addresses appeared on "black lists" compiled by privacy groups.
In other news, Microsoft has attempted to deamonise Google by accusing Google of 'copying' Bong [sic]. The example journalists gave was nonsense (background images in search pages) and here comes another. A reader informed us this morning of a FUD pattern he labeled "Google trying to catch up to Bing." He showed us some headlines from The Guardian and asked:
"How many free adverts for Microsoft can you count here. This must be the latest strategy out of Redmond. Only ever mention other tech companies in relation to Microsoft's own offerings. Pretending that MS is even relevant. Check out the NYT [New York Times] article, personal experiences by Edwin Perello, Laura Michelson. Paul Calla. I wonder, when did the NYT start posting advert pretending to be real news?"
He quoted: "Clearly, you can see how Bing's competition is forcing Google to try and catch up in some places."
This reader also encouraged people to 'compare "Angelina Jolie" on Google and Bing,' noting that the NYT says: "People do not always want to click on links and dig through pages to hunt out information, so when Bing started in May 2009, it pulled relevant information and stuck it on the top and left-hand side of the results pages. Search "Angelina Jolie," for instance, and see a slide show and a list of her movies on top and related links on the side."
"Looks a lot like Bing copied from Google," claims our reader, who shows the following two shots. █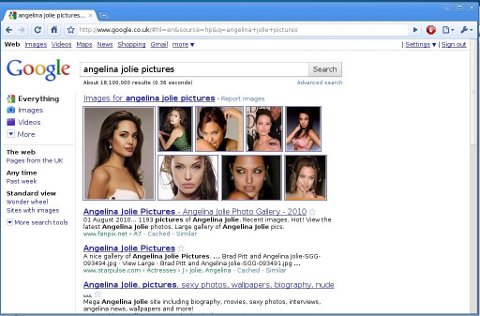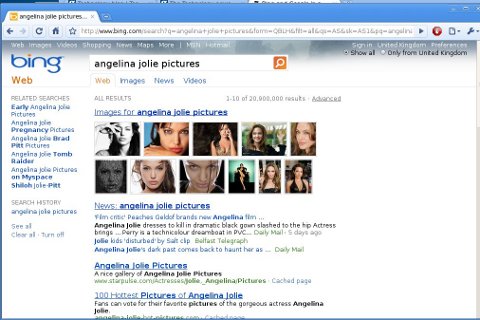 Permalink
Send this to a friend