08.02.10
Gemini version available ♊︎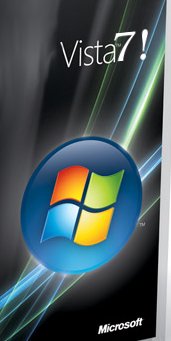 Vista #2 is not doing as well as Microsoft
would have the world believe
Summary: Bad news for Microsoft's cash cow which is also the platform that helps Microsoft sell other products like Office; reminder of the fact that Vista 7 is replaced by Linux
POOR MICROSOFT. Many companies have been avoiding Vista 7, having learned from previous versions of Windows that they must not be touched until a "Service Pack" arrives (sometimes two service packs). This is why adoption of Vista 7 in businesses is so poor. Many (probably most) businesses still rely on a version of Windows which was first released when I was a teenager and some of these businesses have already moved to other platforms. They lost their tolerance and patience for Microsoft. Few people are aware of the fact that despite the growth in the number of computers worldwide, Microsoft's Windows profits declined over the years.
Does anyone remember Vista? Hello, anyone there?
Last month we found just one headline containing "Vista" (except Microsoft comparing hypePhone 4 to Vista in the context of failures, which says a lot about Microsoft's own opinion regarding Vista).
"Microsoft does not even name a release month."According to new reports about Vista 7 [sic], it is taking far too long to release a "Service Pack". They already seem to have fallen behind schedule (making existing customers wait forever), having finished Vista 7 one year ago. Yes, it has been a whole year since RTM and there is still no sign of a "Service Pack".
"Microsoft will release Windows 7 SP1 in 2011″ say some headlines, but judging by Microsoft's history, this date too will most likely slip. Microsoft does not even name a release month. It can be January, it can be June, and Microsoft is not legally obliged to meet any deadline, either (so it can be after June).
A semi-public beta of the service pack began earlier this month with the Vole categorically stating that it was not yet ready for public consumption. The army of coders employed by Microsoft is apparently so uncertain about the quality of the software that it is refusing to support the SP1 beta.
A couple of weeks ago there was a lot of hype about the number of 'copies'/licences thrown at OEMs (even if many are unused and some are for XP) "Microsoft will offer downgrades to XP until 2014," reminds us a new article and it's important to remember that many businesses use these downgrade rights. Microsoft used the same tricks to flaunt fake 'sales' figures after Vista came out. The sceptical ones among us can use a search engine to verify that Microsoft said Vista too sold like cup cakes. It wasn't exactly sold though. It was written off. Many people carried on using Windows XP, but they are never counted as "XP". For marketing purposes, Microsoft labels the sale whatever the current product happens to be, so it is no accurate reflection of the truth.
"Do the math: 175 million copies of Windows 7 isn't that impressive"
–Woody Leonhard, IDGWoody Leonhard from InfoWorld (IDG) has published an article titled "Do the math: 175 million copies of Windows 7 isn't that impressive"
For starters, these "copies of Windows 7″ are not really Vista 7. That's most likely the number of new computers sold over the past year. In summary Leonhard writers: "By simply counting the number of new PCs sold, it's obvious that businesses aren't flocking to Windows 7 in droves"
Vista 7 commercial adoption is in single digits (i.e. less than 10%), according to Dell's estimates from over a month ago. Impressive, eh? It's impressive how Vista 7 fails to catch on after a whole year out there. When it comes to GNU/Linux, the latest version of any major distribution is overwhelmingly adopted within weeks if not months.
Here are some new articles about PC sales in the EU and globally too. "Global PC shipments up 22%," says the latter article. Bear this in mind while reading Microsoft's shameless hype; they compare the past quarter to the same quarter of the prior year when there was just Windows Vista for sale (with the knowledge that there is no point in buying it because Vista 7 was just around the corner). In short, Microsoft is playing with statistics and journalists lack critical analysis skills, so they publish Microsoft's hype as though it was objective fact.
According to Katherine Egbert, we should all stop thinking of Microsoft as an innovator and start thinking of them as a fast, low cost, mass market follower.
Coming out of Microsoft's analyst day, Jefferies analyst Katherine Egbert offers up this take on the company this morning in a note:

If you stop thinking of Microsoft as an innovator and start thinking of them as a fast, low cost, mass market follower, you'll stop being disappointed in their inability to divine new markets and realize they are staring at some of their largest growth opportunities ever.

Her point is that Microsoft has a history of missing new technologies, but it hasn't hurt the company. From operating systems, to browsers to the gaming market, Microsoft comes in with patience and a big checkbook and makes its mark.
Coming from Egbert, who likes to bash Red Hat's business, this is quite a serious bruise to Microsoft. Egbert is no Microsoft antagonist.
"It's just another Vista and ASUS recently dumped Vista 7 in favour of Linux."IDG's Jeff Bertolucci is meanwhile dismissing Microsoft's chance in tablets (Microsoft "Vows Tablet Comeback") and his colleague Tony Bradley, a Microsoft apologist a lot of the time, says that "Microsoft Needs a Tablet Strategy, Not a Tablet" (ouch!). Bertolucci says: "Unfortunately, Microsoft plans to retrofit Windows 7 to run on slates. While Win 7 is a fine operating system for conventional PCs, it was never designed for touch input, a shortcoming that makes it inherently clunky for the new breed of touchscreen tablets."
It's just another Vista and ASUS recently dumped Vista 7 in favour of Linux. Here is some more coverage about it:
There are other stories like that (at HP for example). Microsoft and its minions pretended that Vista 7 would 'kill' (or "kick to the curb", to quote ZDNet) GNU/Linux. How wrong were they. █
Permalink
Send this to a friend