11.27.10
Gemini version available ♊︎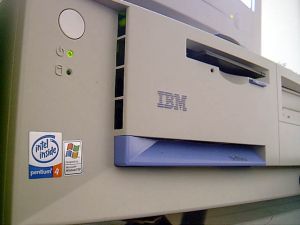 Summary: Slashdot provides two new examples of why software patents are unjust and ripe for abuse
BIG BLUE (IBM), one of the causes of the software patents problem, is being accused of patenting some other developer's work. As Slashdot puts it:
"Back in 2001, I coded HeapCheck, a GPL library for Windows (inspired by ElectricFence) that detected invalid read/write accesses on any heap allocations at runtime — thus greatly helping my debugging sessions. I published it on my site, and got a few users who were kind enough to thank me — a Serbian programmer even sent me 250$ as a thank you (I still have his mails). After a few years, Microsoft included very similar technology in the operating system itself, calling it PageHeap. I had more or less forgotten these stuff, since for the last 7 years I've been coding for UNIX/Linux, where valgrind superseded Efence/dmalloc/etc. Imagine my surprise, when yesterday, Googling for references to my site, I found out that the technology I implemented, of runtime detection of invalid heap accesses, has been patented in the States, and to add insult to injury, even mentions my site (via a non-working link to an old version of my page) in the patent references! After the necessary 'WTFs' and 'bloody hells' I thought this merits (a) a Slashdotting, and (b) a set of honest questions: what should I do about this? I am not an American citizen, but the 'inventors' of this technology (see their names in the top of the patent) have apparently succeeded in passing this ludicrous patent in the States. If my code doesn't count as prior art, Bruce Perens's Efence (which I clearly state my code was inspired from) is at least 12 years prior! Suggestions/cursing patent trolls most welcome."
There are many comments in there. Glyn Moody asks, "so, IBM, which side are you on?" This is not the first such PR disaster for IBM and they probably deserve it. How long will it take for someone like Bob Sutor to do some damage control?
Our reader gnufreex told us about another Slashdot gem and remarked: "Companies are spying on mailing lists of Free Software projects and filing for patents"
Tandberg Attempts To Patent Open Source Code

"As if the current situation with software patents wasn't bad enough, it appears a new phenomenon is emerging: companies are watching the commit logs of open source projects for ideas to patent. In this case, Tandberg filed a patent that was step-by-step identical to an algorithm developed by the x264 project — a mere two months after the original commit. The particular algorithm is a useful performance optimization in a wide variety of video encoders, including Theora."
The Slashdot 'mob' has made this a major story and gave Tandberg lots of flak (there is also a big discussion in LWN). This got so serious that the original storyteller (the victim) felt compelled to post this update:
Update: Tandberg claims they came up with the identical algorithm independently: to be fair, I can actually believe this to some extent, as I think the algorithm is way too obvious to be patented. Of course, they also claim that the algorithm isn't identical, since they don't want to lose their patent application.

Also, stop harassing the guy whose name is on the patent: he's just a programmer, not the management or lawyers responsible for filing the patent.

There's been a lot of very obnoxious misuse of software patents in recent years. This ranges from patent trolls wielding submarine patents to overly-generic patents being used to scare everyone else out of a business. But at least in most of the cases, the patents were an original idea of some sort, even if that idea was far too general to be patented.
Jan Wildeboer from Red Hat wrote about it: "#EvilTrolling: Read Open Source commit logs, patent the commits, wait, PROFIT. How low can you go, Tandberg? http://is.gd/hOlF5 #swpat" (common shorthand for software patents). He later composed this blog post:
So according to the published information we have right now, it seems that Mr. Endresen filed a patent on something he didn't create nor implemented. This could result in the true inventor being forced to remove his own code from his own software to avoid patent infringement. How weird is that?

This is patent business as usual. Unfortunately. While the politicians all across this planet are discussing stricter regulations on so-called plagiarism, infringement etc (think ACTA) this specific form of taking someone elses work and claiming to be its inventor is perfectly legal.
The Inquirer is more blunt, as usual. "Tandberg rips off an open source project" is the headline and the opening says:
PATENT TROLL Tandberg has ripped off an algorithm developed by the open source X264 project for encoding video streams by registering a patent application for the same code.

Companies that exist for the sole purpose of firing off lawsuits for patent infringement are bad enough, but it looks like Tandberg has gone a step further by pilfering patent claims from an open source project commit log.
Patents turn out to be not just an impediment to Free software development; patents are also being used to rip people off — especially people who are honest enough to share their ideas. Petition for an end of software patents to stop this abusive madness. █
Permalink
Send this to a friend