01.03.11
Gemini version available ♊︎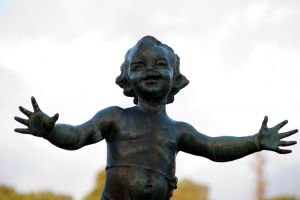 Summary: Pressure is being applied and investor weight put on Nokia amidst its proximity to Microsoft
While there are rumours that Microsoft would either buy Nokia or make Nokia a 'carrier' of its platform (rumours we mentioned last month still resonate [1, 2, 3, 4]), we think it is extremely unlikely for practical reasons, despite a former Microsoft President being appointed to run Nokia, as already covered in:
Elop's appointment is already proving handy to Microsoft as "Microsoft and Nokia ally over Office in cloud" according to a recent report. Is anybody surprised by this? Remember which part of Microsoft Elop was heading… Office.
The Microsoft-paid 'press' says that Elop is also chopping close to 2,000 jobs in Nokia, which harms Symbian:
Talk about a tough assignment. Just a month after Stephen Elop took over the top post at Nokia, the former Microsoft executive has instituted job cuts at the Finland-based mobile phone giant. Nokia is chopping 1,800 positions as part of a reorganization in the Symbian Smartphone group, a move which the company said will "accelerate its transformation and increase effectiveness." Fierce Wireless calls it the first major action since Elop joined as CEO.
The same Microsoft-paid 'press' entertains the possibility that "Microsoft will buy Nokia" in 2011, essentially forming a sort of cartel. Well, the reality of the situation is that Microsoft is dying in the mobile space and just turning into a patent bully in it (not a long-term business plan, which is simply unsustainable). By buying Nokia Microsoft could in theory bully its way into a leading position. RIM is not as attractive as an acquisition target for all sorts of reasons.
Apple and Microsoft both use patents to eliminate common mobile threats like Linux, which made the article "How Apple Could Use Microsoft To Kill Netbooks" rather curious. A lot of people falsely believe that Apple and Microsoft purely compete despite evidence to the contrary. Not only are these companies patent partners but they also had praises publicly shared when one sued Linux (first attack on Android/Google, via HTC).
"In fact, just making these headlines enter news feeds does a lot of damage to Nokia. Maybe that's the intention."Matt Rosoff, the professional Microsoft booster who recently changed platforms, already daemonises Google and feeds known Microsoft boosters amongst others with invalid 'dirt' (this is an example from the same Microsoft-paid 'press' carrying water for Rosoff and Microsoft). How appalling. Everyone including Nokia and Apple is turning against Android because it is winning and other than patents they hardly have any ammunition left. And without specifying abuses (Microsoft has heaps of these), the Microsoft boosters who make money by promoting and advancing the monopoly of Microsoft try to portray Google as the almighty danger to the industry. Here is the same shameless booster saying that "Microsoft Should Buy Nokia Instead Of RIM". That was just a few days ago. What Rosoff suggests would eliminate MeeGo (one of the freest GNU/Linux operating systems for phones) instead of some proprietary OS from RIM. Another person, from IDG, asks, "Should Microsoft buy Nokia?"
No, it should not. It would do nothing for Nokia. In fact, just making these headlines enter news feeds does a lot of damage to Nokia. Maybe that's the intention. They are taking turns now and it's the wrong debate to have. Scoble has just done something similar to FUD Nokia. Similar tactics were
used to weaken and soften Yahoo before Microsoft took over. For Nokia, nothing would be achieved here and whatever Microsoft touches will falter (see Danger for example) as Microsoft cannot catch up with hypePhone or Android and it can buy neither Apple nor Google (only to use Linux on a flagship product).
At this stage, various companies try their luck with patents in the mobile space — the most notorious arena when it comes to patents these days. See the December report "Nokia, Apple, Microsoft: Intellectual Property" for example:
Nokia Oyj and HTC Corp. said they persuaded a court to void parts of a mobile-phone patent that intellectual property holding company IPCom GmbH & Co. claimed the two device makers infringed.
In some later posts we are going to expand on Microsoft's collapse in the mobile space, which it never truly dominated and even ignored to an extent. In the news we learn about Microsoft's offering of antifeatures rather than features, e.g.:
i. icrosoft confirms Windows Phone 7 kill switch
ii. Microsoft confirms 'kill switch' in Windows Phone 7 apps
iii. Windows Phone 7 has an app kill switch, too
iv. Windows Phone 7: Microsoft kill switch revealed
Well, that's a real killer feature, eh? What is Microsoft aiming for?
In summary, FUD slinging and patent litigation are all that remains for Microsoft to do in this area, accompanied of course by the obligatory spin from the 'Microsoft press', starting for example with a provocative headline: "New Formats Threaten Microsoft's Way of Life"
We read (and write) it all the time: Microsoft is behind the curve in developing for new technology formats. Redmond's smartphone operating system is an also-ran. Microsoft has no tablet strategy. Google, Apple and RIM are just killing the old dinosaur in those areas.
That's how it starts, but watch how it ends. Wishful thinking and cheerleading for a patent bully is hard to defend when one claims to be a journalist. █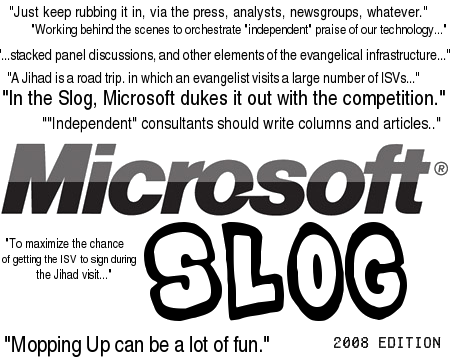 Permalink
Send this to a friend