03.01.11
Gemini version available ♊︎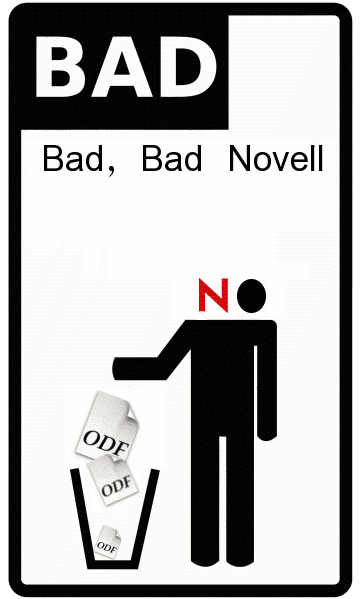 Summary: Novell employees still use the Novell-developed, Mono-based, Microsoft patents-infringing Banshee to smear Ubuntu
FROM the company which brought us Mono and Moonlight comes a sneaky attack on Canonical, which we last mentioned this morning. Canonical has been selling music for profit for quite a while now and things got complicated when Canonical started dabbling in Novell-copyrighted software with patent liabilities. Following the lead of Miguel de Icaza et al. comes another bigwig from Novell (a disclosure would be nice) taking a shot at Canonical and pretending to be a victim ("Canonical, you're breaking my heart" is the title). The staff at Novell (Microsoft-funded) uses this patents-loaded Trojan horse (Banshee) to ruin Ubuntu's reputation. They are portraying this as poor developers (Mono proponents) fighting the 'giant' which is Canonical when in fact Novell is a lot bigger, it gets money from Microsoft to promote Microsoft agenda, and the developers are paid by Novell to write Banshee. They are naming GNOME for sentimental blackmail, pretending that Canonical 'steals' money from GNOME. These people breed hate.
"They are naming GNOME for sentimental blackmail, pretending that Canonical 'steals' money from GNOME."In some sense, Banshee is interfering with Canonical's older multimedia-playing program (RhythmBox), which did not cause much controversy (neither because of referrals nor Mono-type complications). In my many conversations with Jono Bacon about this I warned him even a year ago that relying on Novell software is a bad idea not just because of Mono; he politely declined to do something about it. Inaction is sometimes suicidal, but again, Ubuntu is not the culprit here, it is just being characterised this way by Novell's PR charade. It is them who hurt the community while trying to accuse their critics — yours truly included — of hurting the community. We just don't have the PR power of Novell and neither does Canonical. Canonical should have never touched Banshee/Novell in the first place. It's a case of asking for trouble when entering the Microsoft camp; however, lobbying from Novell is similar to Microsoft's. If you decline their push (e.g. of Mono), then they label/call you a "hater", or something along those lines. This is how Microsoft manages to get into many panels and events of its opposition. They use "hate" as a persuasion tool. Ubuntu and Canonical should know better that excessive tolerance of those whose interests are opposite to yours can be destructive.
In other news, LibreOffice is coming to OpenSUSE 11.4 and even though some lesser-known distributions have already come with LibreOffice, Sean claims OpenSUSE to be a first:
The first complete major Linux distribution to integrate LibreOffice instead of OpenOffice.org is….

openSUSE 11.4

The Novell led openSUSE Linux distribution is out this week with RC2 of openSUSE 11.4 and in my view it will be among the first big Linux distros that has moved to LibreOffice in a generally available release.

Certainly other distros have LibreOffice in their repositories now, but just circumstances of release timing make openSUSE 11.4 the first. Ubuntu's Natty and Fedora 15 will both likely include LibreOffice as well, but both of those release are still months away from general availability. LibreOffice itself just hit general availability at the end of January.
Sean ignores 'smaller' distros as though they do not count or even exist. Novell is not really the first here; The Novell/Go-OO people may have played a role in pushing OOXML into LibreOffice [1, 2, 3, 4], so what credit does SUSE/Novell really deserve? People treat them with suspicion; so should Canonical. Novell is funded by Microsoft and this funding comes with strings (obligations). Who knows… maybe Steve Ballmer will pat Ron Hovsepian on the shoulder for making Ubuntu look malicious, LibreOffice controversial due to OOXML exporters, and OOXML a 'real standard' that everyone can implement. Novell works for money and it knows where the money comes from; it's the Microsoft funnel and its own proprietary software, not Free software. █
Permalink
Send this to a friend