05.31.11
Gemini version available ♊︎
Assured self-destruction by liaison with Microsoft (Novell's legacy explained)
Summary: Novell gets absorbed by a Microsoft Gold-certified Partner, its GNU/Linux distribution is taxed by Microsoft, its patents are owned by Microsoft (through a consortium), and the people who signed this deal with Microsoft are no longer with the company as they became redundant
NOVELL'S top management was dismissed and let go some weeks ago. No more massive bonuses and wages, eh? Party's over and guess whose party it is. Microsoft must be having champagne this month, despite all of those other failures. Microsoft thrives in annihilation of competitors, not in creating something of substance. It has also just collected Novell's patent portfolio, with which it can extort remaining competitors.
Anyway, Novell's CEO has not yet found a new job. He is still associated with a company though:
Director
Ann Taylor Inc

Retail industry

1998 – Present (13 years)
It is the fashion industry in a sense. How odd a fit. If the LinkedIn page is simply out of date, then it does not explain lack of announcements from elsewhere in the news. Mr. Hovsepian must be out of work and who would hire a man who drove Novell into the ground? We decided to check who in Novell is going where, but only among the public figures and managers. We respect privacy, but when one has a lot of impact on the rest of society, then professional privacy is less deserved. Take Hovsepian for example. He did a lot of damage and he has lied to the public repeatedly since he became CEO, affecting not only Novell. He should not be immune to criticism.
Watch what happens to him upon his departure. Hovsepian did very well for himself (tens of millions of dollars in years with Novell) while many other people lost their jobs and Microsoft got some new FUD against GNU/Linux. The legacy of this CEO is probably the worst any Novell CEO ever left behind. There is not even a "Novell" anymore. He helped Microsoft kill it.
Other staff moving from one company to another can be seen here:
Travelzoo hired Glen Ceremony from eBay, where Ceremony is corporate controller, effective June 15. C urrent Travelzoo CFO Wayne Lee will depart the company at the end of July. Meanwhile, Rearden Commerce appointed Rick Simonson to a newly created CFO postion and as president, business operations. Simonson previously filled the CFO slot at Nokia. All three companies believed they are positioned for growth and hope the new CFOs will help them get there.
And from CFO.com: "Online travel service Kayak has hired its first CFO, Bill H. Smith. Smith was previously vice president of global finance for Novell, where he worked for 13 years."
According to this press release, "Adam joins Prinova from Novell, where he was Director of Software Testing and Customer Escalations for Data Center products. He started his testing career with 724 solutions, followed by PlateSpin Ltd., a Toronto-based software company where he was a valuable contributor to the company's successful acquisition by Novell for $205 million."
More about Hale leaving, as we mentioned about a week ago, can be read in [1, 2]. The announcement can be found in a belated press release about Sophos.
What generally appears to have happened is that Attachmate axed many of the managers, leaving inside its guts just the remnants of what might be useful to this close partner of Microsoft (and the patents went to Microsoft through CPTN). This press release helps shed light on what was done and there were many articles about it recently [1, 2, 3].
There are many items from Novell that appear to have been neglected. Despite this type of announcement from a partner (also here), GroupWise is hardly mentioned anymore. We could only find some articles about GroupWise abandonments in recent weeks, including more shameless Microsoft advertisements from Shane O'Neill (see this), who is still advertising Microsoft, as usual.
Adrian Bridgwater promotes Novell's gift to Microsoft and the SD Times, as usual, does so too. Yes, we are talking about Mono. This is the type of legacy Novell has left us stuck with amid its destruction of yet another suicidal competitor. Attachmate can now use SUSE to compete with Red Hat and insist that users of GNU/Linux pay Microsoft a patent tax, which is an integral part of SLE*. █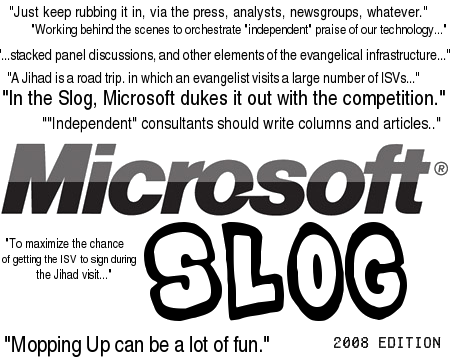 Permalink
Send this to a friend