10.24.12
Gemini version available ♊︎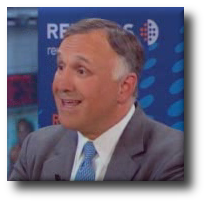 Summary: Novell's Hovsepian and Semel go to the same company, other Novell executives settle elsewhere
Sometimes we see headlines like "Novell President Bob Flynn to Give Keynote Address at GWAVACon EMEA," but Novell, the company, is no more. We stopped tracking it around the time Hovsepian found a new home. Afterwards, "Ronald W. Hovsepian [Was] Named to ANSYS Board of Directors" and more recently, "IntraLinks Holdings, Inc. : IntraLinks Appoints Ronald W. Hovsepian New CEO" (he joined along with Semel from Novell [1, 2]).
Others found networking-related homes, e.g.:
Cambridge software company Akamai Technologies Inc. (Nasdaq: AKAM) has appointed former Novell exec Jim Ebzery to lead sales, services and marketing operations across the Americas.
Here is where spin chief Dragoon went:
Global education leader Houghton Mifflin Harcourt (HMH) today announced the appointment of John K. Dragoon to Executive Vice President and Chief Marketing Officer. Dragoon is based in HMH's corporate headquarters in Boston, reporting directly to Chief Executive Officer Linda K. Zecher.
ownCloud has managed to snatch yet another SUSE person:
ownCloud Inc. recently announced that former SUSE executive and ownCloud co-founder Holger Dyroff has joined the company as vice president, sales and marketing. ownCloud Inc. is responsible for the popular open source file sync and share project. Dyroff studied law and business administration at University Erlangen-Nuremberg.
SUSE sure suffered some brain drain. Not much is left of Novell. Moreover, its patents went to Microsoft and Apple.
This site is turning 6 years old in just over a couple of week. A lot of time was spent here covering Novell. We mostly ignore SUSE stories at this stage. It's in a mortal state anyway and ending the Novell threat is a mission largely accomplished (Ubuntu, Debian, CentOS, Red Hat and others do not pay Microsoft patent tax). █
Permalink
Send this to a friend