05.20.13
Gemini version available ♊︎
Europe stops illegal Microsoft-leaning 'tenders', US should follow suit (SCOTUS hallway imaged below)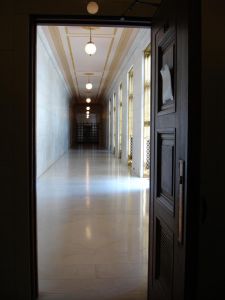 Summary: Microsoft cannot bypass public tenders, based on a ruling from a court of law in Europe
Microsoft's many offences are diverse in their nature. Just about any imaginable offence Microsoft has committed or is still committing. Right now Microsoft is offering lock-in in exchange for some gifts/cash, in liaison with Forbes. This, however, does not qualify as a bribe like this one which bypasses the public and uses politicians. As the Gates Foundation certainly knows, the best way to assure annual profit (or bailout) is to lobby politicians to hand over taxpayers' money to corporations you have investments in (the Gates Foundation is a tax-exempt investment instrument). This has rendered many corporations political in nature and heavily reliant on lobbying. Microsoft is no exception.
"To Microsoft, anything that's non-Microsoft is unfair."On the one hand, what Microsoft does when it comes to government contracts is not so unique. On the other hand, notes ESOP, Microsoft has been engaging in several other illegal activities in Portugal. And the latest ESOP press release is titled "Court Annuls Public Tender for MS Software in Municipality of Almada" (there are usually incentives for officials who play along, i.e. bribes). The press release says: "Following a legal action brought by ESOP to the Administrative and Fiscal Court of Almada, public tender no. 31A2012 regarding licensing and maintenance of Microsoft software costing up to 550.000,00 EUR was annulled. The tender, now deemed illegal, was launched by the City of Almada and prevented all the competing solutions from being supplied.
"It is the first court decision of this type in Portugal. The court confirms that, according to the Portuguese Law, public tenders must include functional requirement and must NOT include specific brands."
Moreover, says the text: "Compliance with public procurement rules will enable the City of Almada to receive more and better proposals for the supply of software, including solutions based on Open Source."
Fair competition is not a term that Microsoft understand. To Microsoft, anything that's non-Microsoft is unfair.
If only more countries, including the UK, had the guts and the activist spirit to do what ESOP did in Portugal… █
Permalink
Send this to a friend