01.10.14
Gemini version available ♊︎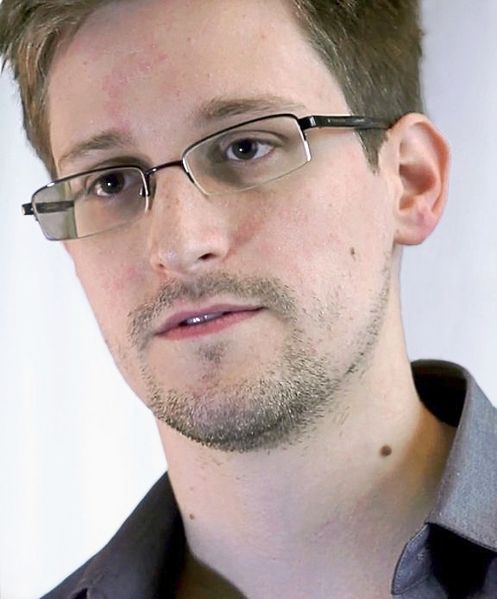 Summary: The past week's news about the NSA, its partners, and corporate spying
After the Snowden revelations interest in privacy services including VPNs has skyrocketed. This hasn't gone unnoticed to HideMyAss, one of the largest VPN providers, who are now using Snowden's name to promote their product. Some may think that's a clever move, but it is rather ironic since HideMyAss previously handed over personal details of a Lulzsec member to the U.S. Government.

Former Homeland Security secretary Janet Napolitano flatly rejected the idea of clemency for Edward Snowden, the former National Security Agency contractor whom the Obama administration has charged with theft of government property and unauthorized disclosure of defense secrets.

These aren't just three categories of leaks; they're three different ways to think about Snowden. People who care a lot about U.S. foreign policy are going to give more weight to Singer's first category: leaks revealing espionage against U.S. adversaries and rival. They're going to be more likely to view Snowden through that lens and to judge him harshly for, as they see it, carelessly and needlessly setting back the United States. The constituency of people who follow U.S. foreign policy closely is relatively small, but it also tends to be deeply passionate not to mention disproportionately represented in Washington, D.C.

Security is a word often used but rarely defined. Does it mean to be protected by others? Does it mean personal freedom and autonomy? Or something else, like being free from fear or worry, or having food and shelter? Sadly, in public discourse the term has become jingoistic, used more to instill fear and establish control than to promote actual security. Consider NSA surveillance.

Quantum computing gets brought up in all kinds of conversations, usually when it does it is for causes like weather, medical, research – things like that. The NSA however looks at the technology as an opportunity to defeat almost every form of encryption possible. It's an interesting application of the technology because of the overwhelming computational capacity that quantum computing introduces and as most people know, there is comfort in most encryption methods that is based on the notion that it would take x years to compute and crack the safeguards put in place with certain standards. If the NSA's $79.7 million research program called "Penetrating Hard Targets" has its way, then that statistical assurance is decimated.

The National Security Agency (NSA) has received a lot of publicity recently. News just broke that the NSA has been privately funding research in order to build a quantum computer of its own. This is all well and good but why would they want to build such a computer? The answer lies in their desire to be able to crack the codes of banking, medical, business and government codes around the world.

We've already seen one reaction to the New York Times' call for clemency for whistleblower Ed Snowden. That one came courtesy of the terminally-perturbed Rep. Peter King, a man who cares so much for this country that he believes Snowden should be imprisoned for "appeasing terrorists." Calling Snowden a traitor only gains you so much political traction these days, but King's in no hurry to give up his antagonistic calls for Snowden's head, even when his assertions of "terrorist appeasement" clash with his own background as a terrorist appeaser.

The U.S. Department of Justice will appeal a district judge's opinion saying a phone records collection program at the National Security Agency likely violates the U.S. Constitution.

​The US Justice Department appealed Friday a federal judge's December ruling that advanced a legal challenge to the National Security Agency's bulk collection of Americans' telephone records.

The U.S. Department of Justice will appeal a district judge's opinion saying a phone records collection program at the National Security Agency likely violates the U.S. Constitution.

The US government said Friday it has lodged an appeal against a judge's ruling that the National Security Agency's "almost Orwellian" bulk collection of telephone records is illegal.

Separately, spy chief James Clapper revealed that a secret court had renewed the NSA's authority to gather call "metadata," despite the controversy triggered when the program came to light.

House Judiciary Committee Member Rep. Darrell Issa (R-Calif.) recently pressed Attorney General Eric Holder to investigate National Intelligence Director James Clapper for allegedly lying to Congress while testifying before a committee.

"Edward Snowden, Whistle-Blower" (editorial, Jan. 2) repeats the allegation that James R. Clapper Jr., the director of national intelligence, "lied" to Congress about the collection of bulk telephony metadata. As a witness to the relevant events and a participant in them, I know that allegation is not true.

Senator Ron Wyden asked about collection of information on Americans during a lengthy and wide-ranging hearing on an entirely different subject. While his staff provided the question the day before, Mr. Clapper had not seen it. As a result, as Mr. Clapper has explained, he was surprised by the question and focused his mind on the collection of the content of Americans' communications. In that context, his answer was and is accurate.

When we pointed out Mr. Clapper's mistake to him, he was surprised and distressed. I spoke with a staffer for Senator Wyden several days later and told him that although Mr. Clapper recognized that his testimony was inaccurate, it could not be corrected publicly because the program involved was classified.

As the World Privacy Forum just told Congress, the bottom feeders of the data brokerage world are making big money selling lists of everything from rape victims and AIDS patients to alcoholics, giving marketers the power to hit those folks with emails, phone calls, and ads — and much of this data is coming from the net. In a report of its own, Senator John Rockefeller and his senate investigation committee highlight the massive amounts of consumer data that brokers collect online and off, starkly criticizing how little we know about how this data is collected and used.

Sen. Rand Paul (R-KY) is leading a class-action lawsuit with hundreds of thousands of Americans against President Barack Obama's National Security Agency (NSA) over its spying on the American people, Breitbart News has learned.

A US senator has bluntly asked the National Security Agency if it spies on Congress, raising the stakes for the surveillance agency's legislative fight to preserve its broad surveillance powers.

"Has the NSA spied, or is the NSA currently spying, on members of Congress or other American elected officials?" Sen. Bernie Sanders, I-Vt., asked in a letter to NSA Director Gen. Keith Alexander released from the senator's office.

Edward Snowden (shown) isn't finished exposing damning details of the federal government's unconstitutional surveillance programs.

In an article published in the Wall Street Journal, Benjamin Wizner, an American Civil Liberties Union (ACLU) lawyer working with the whistleblower, reveals that in 2014 the world "can expect to see [Snowden] engage a little more in the public debate."

Chancellor Angela Merkel's government agreed Friday to a public inquiry into surveillance by the US National Security Agency (NSA), but it was unclear if the panel would invite testimony from Edward Snowden, the NSA contractor who exposed the snooping.

Chancellor Angela Merkel's government agreed Friday to a public inquiry into surveillance by the US National Security Agency (NSA), but it was unclear if the panel would invite testimony from Edward Snowden, the NSA contractor who exposed the snooping.

Merkel had tried to head off a parliamentary inquiry, conscious of the tension it would cause with Germany's most powerful ally. But her top parliamentary aide yielded Friday to pressure from opposition parties to appoint a commission.

Rafael Correa is one of those Latin American presidents which ruling circles in the U.S. consider uncontrollable and thus especially dangerous. To get rid of such politicians, Washington makes use of a wide arsenal of means, from interfering in election processes to physical elimination. After the strange death of Hugo Chavez, who led Latin America's resistance against the Empire, it is Correa who is increasingly seen as his successor, the leader of the «populist forces» on the continent… – See more at: http://www.ingeniouspress.com/2013/12/29/u-s-intelligence-planning-oust-president-ecuador/#sthash.qnLgw3y1.dpuf

If you're sending encrypted e-mail with the default Mail app on OS X Mavericks, your setup may be saving plaintext messages on the mail server. Mac-based users of the GPG encryption app began noticing this unfortunate behavior in October when using Gmail. Even after unchecking the "Store draft messages on the server" and "Store sent messages on the server" checkboxes, the changes would mysteriously vanish.

The National Security Agency on Saturday released a statement in answer to questions from a senator about whether it "has spied, or is … currently spying, on members of Congress or other American elected officials", in which it did not deny collecting communications from legislators of the US Congress to whom it says it is accountable.

Robert Litt, the general counsel to the Office of the Director of National Intelligence, has written to the New York Times to deny the allegation that James Clapper, the director of national intelligence, lied to Congress about the collection of bulk phone records by the National Security Agency (NSA).

The founder and CEO of Amazon.com, Jeff Bezos purchased the Washington Post for $250 million. It was expressed at the time that there might be possible conflicts of interest between Bezos' business at Amazon and the Post's coverage of commerce and politics.

This is fully 17 years before Edward Snowden purloined the NSA's Crown Jewels from the NSA's Hawaii RSOC.

Remarkably, the article's author also later describes a 1994 incident at an NSA RSOC when a contractor employee was caught accessing restricted files on a classified system!

Because of the scope of the NSA's activities, Paul added, "every person in America who has a cell phone would be eligible for this suit."

Paul said he is urging all US citizens with mobile phones to join a group action aimed at preventing Obama from "snooping on the American people".

While we were just suggesting that there are ways that NSA employees who believe the organization has gone too far can make a difference without also leaking documents, some are beginning to suspect that Snowden's activities may be creating at least some copycats — and the interesting tidbit is that they may be less likely to get caught, because everyone assumes any new leaks are from Snowden. Matt Blaze recently noted that the most recent bombshell concerning the NSA's catalog of exploits, didn't actually name a source. And Glenn Greenwald has hinted strongly that the information is not from Snowden.

Here is my recent talk at the CCC in Ham­burg, dis­cuss­ing the war on ter­ror, the war on drugs, the war in the inter­net and the war on whis­tleblowers…

Wikileaks founder Julian Assange stirred a new controversy this week when he denounced the Catholic Church's confessional system as a means to spy on its congregants for the sake of power.

Yesterday Kossack Mike Stark posted this diary about Stratfor emails posted by Wikileaks.

Stratfor is a Texas-based global intelligence firm whose list of clients includes Dow Chemical Co., Lockheed Martin, Northrop Grumman, Raytheon, the US Department of Homeland Security, the US Marines and the US Defense Intelligence Agency.

[...]

Decent folks who believe in tolerance and equality are no longer powerless against Rush Limbaugh's efforts to spread intolerance on the radio. StopRush is making a major impact by convincing advertisers on this show to withdraw their ads–and with your help we can do even more. Just a few emails, tweets, or Facebook messages a week to Limbaugh's advertisers can go a long way toward making hatred less profitable. It is our collective voice that makes us strong.

Google Glass has a rival: Nano-tech contact lenses that work with a pair of glasses and provide wearers with a virtual canvas on which any media can be viewed or application run, projected onto human eyes, are set to be unveiled in the US.

In our country suspicion is now our way of life.

A column on why former National Security Agency contractor Edward Snowden should not be granted clemency—and will not be given clemency—was written by Slate's Fred Kaplan on January 3. It quickly became regarded as a sharp well-argued rebuttal to The New York Times' editorial, which labeled Snowden a whistleblower and urged President Barack Obama to show him leniency so he could come back to the United States.

In June 2013, the American public learned conclusively about the wholesale surveillance of virtually all Americans through secretive programs by the National Security Agency (NSA) that continue to be implemented today. These programs collect the phone records, email exchanges, and internet histories of people all over the world who would have no knowledge of this were it not for the disclosures of former federal contractor Edward Snowden.

On April 22, 2013, Miles J. Stark of Clay County, West Virginia made a bad decision. Stark was going through a divorce at the time and had grown concerned about his wife's relationship with an "unnamed individual." So he entered his wife's workplace after normal business hours, located her PC, and installed a tiny keylogger between her keyboard cable and her computer. The keylogger would record his wife's e-mails and her instant messaging chats as she typed them out letter by letter, along with the usernames and passwords she used for various online services. Stark left the office without getting caught.

This is an odd and flawed argument—logically and legally…

Former NSA and CIA leader Michael Hayden is indicative of the horrors of the coming American authoritarian state. He is a bookish, cherubic, nondescript, avuncular man who nonetheless has contributed greatly to those programs of such a degree of enormous potential for evil are only waiting for the correct political climate and leadership to trigger a reign of darkness and terror unique to this country's history.

Kentucky Sen. Rand Paul sharpened his rhetoric against the National Security Agency's snooping on American citizens Sunday, comparing the agency's programs to the British actions that provoked the American Revolution 230 years ago.

2013 has certainly been a watershed year for information security. But to understand how things might subsequently unfold in 2014, it's worth remembering that each and every revelation of 2013 will be processed and acted upon by humans. Humans with their unchanging human nature, and organisations created by us humans, with their similarly unchanging nature.

Centre stage must of course go to Edward Snowden and the ongoing revelations about comprehensive surveillance by the US National Security Agency (NSA).

[...]

Combine that with the fact that even a headline in conservative US magazine "Foreign Policy" described NSA chief General Keith Alexander as a "cowboy".

Combine all that, and I think we're looking at a groundswell of opposition to what some have called the "surveillance state" at a level seen in Western nations only once a generation — like the Vietnam Moratorium or, in Australia and especially New Zealand, opposition to French nuclear testing at Moruroa and Fangataufa.

Obama and Congress should rein in this government surveillance program.

The UK government's former chief information officer has defended the rights of nations to gather data and spy on citizens, although warned that there must be clear oversight into these practices.

John Suffolk, who left a post in the UK government in 2011 to become global cyber security officer for Chinese vendor Huawei, wrote in a blog post that nations must have the ability to scan data and try to protect citizens from any threats.

The catalogue further says that Mobile phone SIM cards can also be easily hacked using a tool dubbed MONKEYCALANDER. This exploits a flaw, only recently spotted by security researchers but used by the NSA since 2007, that allows code to be installed on a SIM card that will track and monitor an individual user's calls and location.

Schneier, who previously had served on Co3 Systems' advisory board and has helped shape the look and feel of the software-as-a-service firm's architecture, says the time had come for him to make a change and leave BT. He had been the security futurologist for BT since it purchased his network monitoring services firm Counterpane Internet Security in October of 2006.

The battle to beat back the NSA – and restore our old republic

After Edward Snowden spilled the National Security Agency's beans three months later, Mr. Clapper retreated to his Ministry of Truth persona when asked by NBC's Andrea Mitchell on June 10 why he lied to Mr. Wyden: "I responded in what I thought was the most truthful, or least untruthful, manner by saying, 'no.'"

Although weaknesses in one pseudo-random number generator (PRNG) at the heart of a US National Security Agency (NSA) scandal have been known for years, recent media attention has given light to proof-of-concept code.

While mega IT behemoths including Apple, Google, Microsoft, Dell, HP, Cisco, Juniper, et al, may, or may not deny any knowledge of, or cooperation with, the US National Security Agency (NSA) and its international counterparts, or nemeses, the fact is that near ubiquitous, secret backdoor access to networks and computing and communications devices has been gained.

How a teenage misfit became the keeper of Julian Assange's deepest secrets – only to betray him

A schoolboy trying to save his youth club was hauled from class after his plan to protest outside David Cameron's constituency office was spotted – by anti-terror police.

In an astonishing over-reaction, 12-year-old Nicky Wishart was warned he faced ARREST.

Today's dose of paranoia and confusion comes to us courtesy of RyanNerd. We've seen schools react badly to perceived threats before, but the lack of a single crucial detail makes it impossible to determine whether this incident is one of those cases. What we do know is that three New Jersey schools were locked down and swarmed by police officers as the result of a single text from a student to a parent.

Our choice isn't between a digital world where the agency can eavesdrop and one where it cannot; our choice is between a digital world that is vulnerable to any attacker and one that is secure for all users.

AN EX-UK GOVERNMENT CIO has waded into the security debate about NSA and GCHQ surveillance of the internet and told everyone to chill out.

John Suffolk, the global head of Cyber Security for Huawei and a former UK government CIO and CISO, penned his thoughts in a blog post with the title, 'Let's get real about the NSA. Not all technology and data is born equal.'

Suffolk said that he has followed the debate about government surveillance and can see why some people might have some concerns. His concern is that people are worrying about the wrong thing, adding that he can't see a problem with a data-hungry government that won't stop eating.

Government-trained security company Morta Security has been snapped up by Palo Alto Networks for an undisclosed sum.

The acquisition was announced on Monday and arms Palo Alto Networks with a company whose staff hail from the National Security Agency, US Army, US Air Force, and others.

"The Morta team brings additional valuable threat intelligence experience and capabilities to Palo Alto Networks," Palo Alto Networks chief Mark McLaughlin said in a canned statement.

The NSA's Tailored Access Operations show there's a way to be safe and get good intelligence without mass surveillance

"I hope that with Microsoft's collusion with government agencies now public knowledge, businesses will start to look at alternative options," suggested blogger Mike Stone. Indeed, "I would like more transparency from those IT giants," echoed Google+ blogger Alessandro Ebersol. "They are dealing with our lives, and there's not much we can do to protect ourselves."

Google, Facebook, Microsoft, and the other tech titans have had to fight for their lives against their own government. An exclusive look inside their year from hell—and why the Internet will never be the same.

Bipartisan duo wants to cut NSA's utilities, ban research at state schools and impose sanctions on contractors

Access to that telephone metadata would be extremely useful for manipulating the legislature. So is it wise to collect it and make it accessible to a secretive executive-branch agency? Even if the NSA has never abused the temptation, will they resist it forever? Operating on that assumption seems both reckless and needless, given the scant evidence that the Section 215 program is necessary and the significant public interest in maintaining the integrity and legitimacy of the legislature.

See, there's a problem when you lie: you always forget how to keep your story straight. You may remember, for example, that Senator Dianne Feinstein, at the end of October, released a bill that pretended to be about reforming the NSA and its surveillance programs. The bill was spun in a way that was designed to make people think it was creating real reforms, with a fact sheet claiming that it "prohibited" certain actions around bulk data collection, but which actually codified them in the law, by including massive loopholes. It was an incredibly cynical move by Feinstein and her staff, pretending that their bill to actually give the NSA even greater power and to legalize its abuses, was about scaling back the NSA. But that's the spin they put on it — which almost no one bought.

Tomorrow MEPs on the European Parliament's civil liberties committee will present their draft report on the Internet surveillance of the UK and USA as well as other EU states. Its recommendations are damning and the UK Government comes in for particularly strong criticism.

The White House is holding a number of meetings on possible National Security Agency reforms. President Barack Obama reportedly met with staffers for intelligence officials on January 8 in a meeting that was classified "top secret."

The president sat down with a small group of lawmakers Thursday to discuss NSA surveillance. What happens next is anyone's guess.

A classified Pentagon report concludes that former National Security Agency contractor Edward Snowden downloaded 1.7 million intelligence files from U.S. agencies in the single largest theft of secrets in the history of the United States, according to lawmakers.

Civil liberties committee report demands end to indiscriminate collection of personal data by British and US agencies

The leaders of the US intelligence agencies were holding talks at the White House on Wednesday as US president Barack Obama neared a decision on curbing the National Security Agency's controversial bulk surveillance powers.

National Security Agency employee Kevin Igoe is to keep his position on the panel of an influential internet standards working group, the powers-that-be decided last weekend.

Igoe, who co-chairs the Internet Research Task Force's Crypto Forum Research Group (CFRG), had been accused by those campaigning for his removal of pushing for the adoption of a weakened version of the "Dragonfly" key exchange protocol.

Four men who were part of a group that wrote mobile history tell for the first time how strong protection against eavesdropping of cell phones was weakened.
Permalink
Send this to a friend