12.26.16
Gemini version available ♊︎
Justice nominations for the US Supreme Court (SCOTUS) will play a big role, and some Justices truly worry about Trump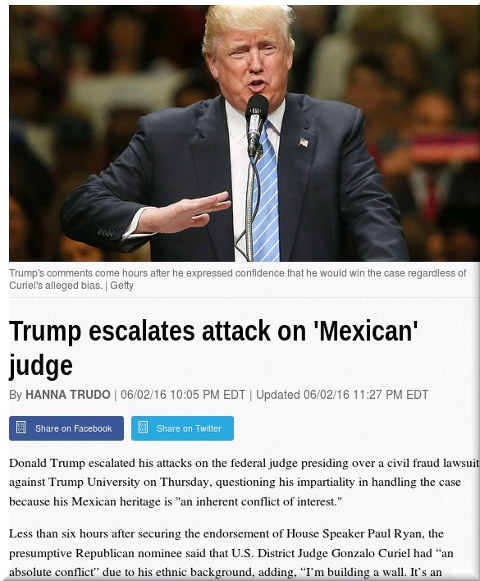 Reference: Trump escalates attack on 'Mexican' judge (this 'Mexican' judge was born in Indiana actually)
Summary: In light of Trump's awkward history with judges (e.g. attacking them) one can hope that upcoming patent cases at the highest court won't be affected by his pro-big corporations agenda
THE PATENT landscape in the US has changed a lot in recent years, especially after AIA (half a decade ago). Software patents, for instance, are a dying breed. This does not mean that things will continue to improve; they can get a lot worse as soon as a new President is inaugurated, to the chagrin and regret of many Americans. Lobbying of Trump has already begun, for instance by the Internet Association (large corporations, not what it sounds) and by IPO. They want the old order of things and they represent a threat to software developers.
AIPLA, another such entity which acts like a think tank (like oil companies in favour of offshore drilling), is telling the USPTO that they want more secrecy. It makes sense for them. As Patently-O put it the other day, "I would say even after/if the USPTO adopts a rule, be very careful if you have patent agents communicating directly with clients, without supervision of a lawyer, because there's also the possibility that a court won't follow the Queen's University case and hold there is no privilege, anyway. That's already happened in Texas."
Well, as new articles continue to stress (the latest being, e.g. [1, 2, 3, 4, 5]), Texas may soon end its status as trolls' capital, but only if SCOTUS rules rationally. This is yet another blow to the 'old guard'; it represents patent progress and improvements that favour ordinary people, not oligarchs like Trump and a lot of his prospective cabinet members.
We urge people to support groups like the EFF, which growingly mention software patents and openly oppose these. Latest from the EFF's Daniel Nazer [1, 2] is this article about this month's "Stupid Patent", which he explains as follows:
As you head home for the holidays, perhaps passing through a checkpoint or two, take some time to think about U.S. Patent No. 6,888,460, "Advertising trays for security screening." The owner of this patent, SecurityPoint Holdings, Inc., has sued the United States government for infringement. SecurityPoint recently won a trial on validity [PDF] and the case will now proceed to a damages phase. So, unless the validity decision gets overturned on appeal, we'll soon be paying tax dollars for the idea of moving trays on carts.

[...]

In a trial before the Court of Federal Claims, the government argued that this claim was obvious because moving trays using carts was well-known in many contexts. The court disagreed. The court suggested that even if using carts to move trays was well-known, the government needed prior art specifically for security checkpoints (arguably the government had such evidence, but the court disagreed on that point too).

In fairness to SecurityPoint, evidence at trial suggested that it had developed a good system for managing trays and carts within the confined space of an airport security checkpoint. But the patent's claims are far broader than any specific solution. This is something we often see in patent law: someone develops a (fairly narrow) innovation, but then broadly claims it, capturing things that are well-known or banal. This sort of claiming hurts follow-on inventors who develop their own ideas that wouldn't infringe any narrower claim, and weren't invented by the patent holder. But because the broader claim is allowed, their own inventions become infringing. Here, claim 1 is not limited to any particular kind of cart, tray, or scanner. The claim really reads on using a couple of carts to move trays and, in our view, should have been found obvious.
Nazer's colleague at the EFF has meanwhile advised institutions like universities not to give their patents to trolls. They actually mean "patents", not "inventions" (as the headline puts it). These are not the same thing. "Research funded by the United States government should benefit everyone," the EFF explains. "That's why EFF so strongly supports the idea of writing an open access requirement for federally funded research into the law as soon as possible. It's also one reason why we recently launched Reclaim Invention, a campaign asking U.S. universities to rethink their patenting policies. It's crucial that federally funded research be made available to the public so that anyone can read and use it, not just people with institutional connections. But even if the public can read government-funded research, patents on inventions that arise from it can still fall into the wrong hands and undermine the public interest."
Some universities, desperate for cash (especially in periods of privatisation — the Trump way!), are hoping to make a 'quick buck' out of patents that the public actually paid for. This is going to become a bigger issue if schools and universities operate more and more like businesses in the coming years, enjoying no status like they did decades or centuries ago. It means that some universities, with staff that receives public grants, will become litigation mills, directly or indirectly (via trolls).
Speaking of desperate appeals for cash, this new article about Chapter 11 Bankruptcy (a process Trump has gone through plenty of times to secure his billions) says that last "week's corporate news roundup includes the holding by a U.S. federal appeals court that secured indenture noteholders were entitled to a make-whole premium notwithstanding the issuer's chapter 11 bankruptcy case, the addition by companies in their securities filings with the SEC of risk factors relating to the outcome of the U.S. Presidential election, and the termination by the PTAB of IPR proceedings as to patent claims between Microsoft Corporation and Enfish LLC, resulting in a non-appealable win for Enfish."
This goes under "TERMINATION OF ENFISH-MICROSOFT INTER PARTES REVIEW PROCEEDINGS IMPLIED AS UNAPPEALABLE AFTER FEDERAL CIRCUIT DECISION AGAINST MICROSOFT" (a case we covered here before).
In our last article we reminded readers that after Enfish the Court of Appeals for the Federal Circuit (CAFC) ruled repeatedly against software patents, including in very high-profile cases. Unless the Supreme Court with some Trump-appointed Justices chooses to reverse Alice (won't happen any time soon based on the dockets), it is safe to say that political impact on patent law is still just a distant threat. █
"I can't imagine what this place would be — I can't imagine what the country would be — with Donald Trump as our president. For the country, it could be four years. For the court, it could be — I don't even want to contemplate that." –Justice Ginsburg
Permalink
Send this to a friend