11.12.17
Gemini version available ♊︎
Allergan's deal with a Native American tribe "makes a mockery of Congressional authority and of the rule of law," Jerrold Nadler (below on the left) explained.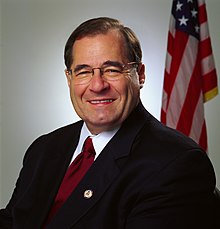 Summary: The debate about PTAB is being lost by the patent microcosm, whose attempt to dodge and demonise PTAB merely serves to reinforce PTAB's importance and continued success
THE USPTO is no longer so friendly towards software patents. In fact, many such patents that have been granted are nowadays being invalidated. We wrote many articles about the subject.
The judges at PTAB too — not just patent courts — continue to nuke software patents (there are hundreds of thousands of these) and one of the latest examples received coverage some days ago, just after PTAB had decided that it boils down to things of a mathematical nature. To quote: "The PTAB just rejected its claims as abstract ideas. Claim 1 is a bit long but is listed below as a method for joining mis-matched portions of an object's surface (NURBS patches) so that a whole object model is prepped for finite element analysis (FEA). The problem for the patentee is that it presents a step-by-step algorithm with such precision that the Examiner (and PTAB) saw it as claiming a mathematical algorithm."
Obviously.
To us, this is like a dream come true. To patent lawyers, however, this is a nightmare.
Adam Baldridge and Nicole Berkowitz of Baker Donelson wrestle to find ways out of PTAB's scrutiny (some have resorted to scams, as we shall show later). They even resort to misleading terms like "private rights" (as in, "[i]f the Supreme Court holds that patents involve private rights") even though patents are neither rights nor private. It's almost amusing to watch how they try to leverage immunity, bankruptcy and so on. They don't seem to mind bending and even breaking the law just to protect patents from justice. What does that say about such law firms/lawyers?
PTAB is Defensive
According to this article which cites another ("Patexia Chart 44: Eighty Percent of IPR Filings are for Defensive Purposes"), PTAB has already dealt with nearly 7,000 patent challenges. "Pedram Sameni at Patexia has an interesting new post titled Eighty Percent of IPR Filings are for Defensive Purposes," it noted, and "80% challenge patents that were already being asserted in district court."
In other words, PTAB was invoked when patents were used aggressively. If the same tests were applied also to patents that are 'dormant', how many patents would be invalided? Perhaps many hundreds of thousands? Many software patents are just sitting ther waiting to expire or be invalidated.
"Out of 6,580 IPR cases," Patexia wrote, "1338 or approximately 20 percent had been filed to challenge a patent that had not been named in any district court cases…"
These are valuable statistics. About 20% of patents ruled on by PTAB also face appeals/reversal by a higher court. About 80% of the time PTAB's judgments are reaffirmed.
It's not hard to see why patent maximalists hate PTAB with a great and ever-growing passion.
Over at Watchtroll, a site which represents the patent trolls' lobby, Steve Brachmann attacked PTAB as recently as 4 days ago on behalf of this notorious patent troll. He was whining about courts supporting PTAB against the likes of Uniloc, whose core 'business' is leveraging software patents against large companies.
Allergan's "Scam"
Last week the US Congress spoke about misuse of immunity against PTAB. CCIA soon rebutted lies told to US Congress about PTAB — lies perpetuated in an effort to enable a scam/sham perpetrated by Allergan. To quote:
Yesterday afternoon, the House Judiciary Committee's Subcommittee on Courts, Intellectual Property, and the Internet held a hearing on "Sovereign Immunity and the Intellectual Property System." A fascinating topic, and one I've written on right here in the past. [1] [2]

But I was struck by some testimony given by Philip Johnson, testimony he stood by at the hearing. Johnson claimed that 200 patents had been upheld as valid by federal courts, and then struck down as invalid by the PTAB, with only 63 patents invalidated in both district court and the PTAB.

That'd be a truly astonishing error rate, if it was accurate. But it isn't.

Phil Johnson testified to a conclusion that was fundamentally wrong, based on erroneous data.
The Conservatives-leaning Washington Times called it a "ploy [...] developed by Allergan" ("scam" is a more common term than "ploy", and a judge called it a "sham"). "Both the PTAB and IPRs were established by the 2011 America Invents Act," it said. "Congress adopted the law after years of concern about the declining quality of U.S. patents. Particularly in the area of high technology (software and electronics)…"
Here are some details from last Tuesday's hearing:
The House Judiciary Committee met Tuesday to hear testimony on a patent deal between the drugmaker Allergan Plc and a Native American tribe. The deal has become a major scandal in the nation's communities of innovators. The same tribe has struck an equally controversial copycat bargain with a notorious patent troll and is now suing Amazon and Microsoft. If these arrangements stand, they will deliver a harsh blow to the nearly decade-long national effort to improve the quality of the nation's patent system, hurting the innovation and job creation on which our economic vitality depends.

The ploy was developed by Allergan, which is itself the product of a complicated 2015 transaction that allowed the maker of the mega-drug Botox to move its headquarters to Ireland, escaping U.S. corporate taxes. Trying to escape official scrutiny of the validity of some of its patents, the company sold some of its portfolio to upstate New York's St. Regis Mohawk tribe.
Jerry Nadler, according to this report, said that Allergan's deal with a Native American tribe "makes a mockery of Congressional authority and of the rule of law."
Here is the source, which is mostly behind a paywall:
The Patent Trial and Appeal Board has asked for amicus briefing on whether tribal ownership immunises a patent from IPR challenges, while a House of Representatives subcommittee held a hearing on sovereign immunity and the intellectual property system in which ranking member Jerry Nadler said Allergan's deal with a Native American tribe "makes a mockery of Congressional authority and of the rule of law"

Scrutiny is increasing of whether patents can be assigned to Native American tribes to shield them from review at the Patent Trial and Appeal Board (PTAB).
Thousands of Petitions Handled Each Year
Michael Loney wrote another article about PTAB, this time focusing on PTAB statistics:
October at the Patent Trial and Appeal Board saw a levelling out of petition filing, the first ever extension of the final written decision deadline for good cause, and one precedential and three informative PTAB decisions

Petition filing at the Patent Trial and Appeal Board (PTAB) has levelled out in recent months.
PTAB has been breaking records for a number of years, so reaching a plateau is fine. PTAB bashers hope to create enough fake scandals in order to stop PTAB, but thus far they have not been successful.
PTAB Bashers
"Nobody knows what an automaton really is," a PTAB-bashing blog said about PTAB the other day. This is not true. The patent microcosm pretends similarly regarding abstract. It claims that there's lack of "clarity" or something along those lines, but the simple matter of fact is, they refuse to accept reality. To quote:
In a non-precedential decision, the Federal Circuit has affirmed the USPTO handling of the inter partes reexamination of Maryland's U.S. patent No. 6,673,532. The examiner rejected claims 1, 3– 6, 9–11, 13–16, 19, and 20 as obvious under 35 U.S.C. § 103. That determination was affirmed by the PTAB and now by the Federal Circuit.

Note, the inter partes reexamination was filed in 2011 and at that time Maryland did not challenge the process on Eleventh Amendment Immunity grounds. However, the same patent was challenged in an Inter Partes Review (IPR) in 2016 and the PTAB recently dismissed the petition on sovereign immunity grounds. [IPR2016-00208 28 – Termination – Dismissed After Institution]. In the appeal, Maryland did not raise the issue.

[...]

As an aside, patent law may do well to move-on from the automaton language. Nobody knows what an automaton really is — does someone have one they can show me? How does an automaton compare with contemporary AI?
"AI" is nothing new and is, for the most part, a popular buzzword these days. In the context of patents, "AI" has become a popular trick for painting software patents as innovative/novel. █
Permalink
Send this to a friend