05.04.18
Gemini version available ♊︎
Elizabeth Holmes might be the only person who stains the European Inventor Award more than Battistelli does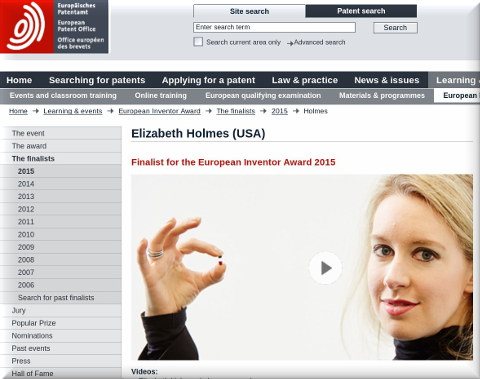 EPO was so proud of Theranos…
Summary: Theranos in the headlines again… as the EPO tries to distance itself from its previous association with Elizabeth Holmes
Theranos and the EPO's top-level management are a good pair; corruption and fraud are becoming such a banal thing to be merely covered up, not tackled. Those who blow the whistle or complain politely are being punished and information about scandals is not being published. Media plays a role in the so-called 'conspiracy' (of silence or of PR). In the case of the EPO, it actively served to legitimise this scam. Battistelli is in some ways like Elizabeth Holmes, only a lot older.
Below are some thoughts and links sent to us by a reader earlier today (days after this scandal had been recalled again, even in relation to the EPO):
---
According to the archives of the WayBack Machine the webpage still appeared with its original content as recently as 14 March 2018:
https://web.archive.org/web/20180314210306/http://www.epo.org/learning-events/european-inventor/finalists/2015/holmes.html
In the meantime the entry for Holmes appears to have been "sanitized" by deleting the previous content including references to the granted European patents and the link to the Handlesblatt article and replacing it with the following "disclaimer":
Important note: The nomination of Elizabeth Holmes for the European Inventor Award was put forward in 2014, and her selection as a finalist announced in April 2015. The nomination itself and material produced about Ms Holmes were based on the information available at that time. Serious concerns about the technology and its purported benefits have surfaced since then.
https://www.epo.org/learning-events/european-inventor/finalists/2015/holmes.html
The EPO's original press release from 2015 mentioning Elizabeth Holmes can still be found online here:
The document is downloadable in Word format and in the file metadata the author is named as "Philipp Nisster".
According to LinkedIn, Philipp Nister is the Head of Public Relations of the Echolot Group, a PR outfit based in Stuttgart:
https://de.linkedin.com/in/philipp-nisster-8b159693
---
Echolot works for the EPO this year [1, 2] and we can recall it working for the EPO in the past, albeit more covertly. We wonder how big their contract is compared to FTI Consulting's. If someone out there has access to the related document/s (contract etc.), please consider leaking these to us. █
Permalink
Send this to a friend