07.14.18
Gemini version available ♊︎
Related: The Patent 'Printing Machine' of the EPO Will Spawn Many Lawsuits and Extortions (Threats of Lawsuits), in Effect Taxing Europe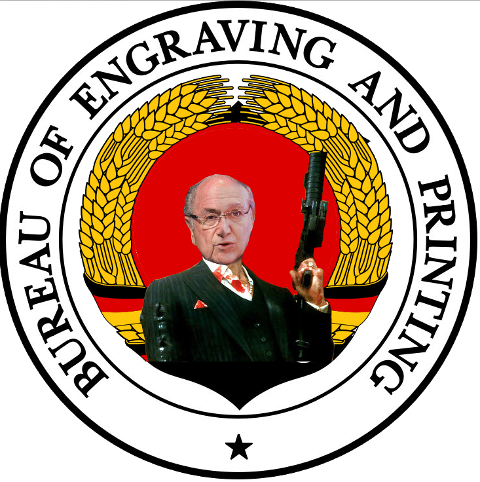 Reference: Bureau of Engraving and Printing
Summary: The number of challenged patents continues to soar and staff of the EPO (examiners already over-encumbered by far too much work, due to unrealistic targets) would struggle to cope or simply be compelled to not properly deal with oppositions
A FEW days ago a Battistelli-friendly law firm aired concerns that EPO management prevents proper and efficient appeals and oppositions process because it's only focusing on speed (like the USPTO). Examiners and stakeholders (a silent majority) both complain that patent quality is declining and it's hard for anyone to keep abreast of all this (in order to issue effective 'vetoes' and reduce risk).
An article by David Lewin, Magnus Johnston, James Ward, James Sunderland and David Brown (Haseltine Lake LLP) was published yesterday, based on July's newsletter from the firm (direct link [PDF]). Here are some numbers:
A total of over 3100 opposition proceedings were finally settled in 2017 – either as the outcome after appeal or, if no appeal was entered, when the first-instance decision became legally binding. There were 6 cases in which oppositions were deemed not filed, two in which oppositions were found to be inadmissible and 234 cases in which opposition proceedings were terminated without a decision (e.g. oppositions withdrawn).
Haseltine Lake LLP did some analysis of the number of oppositions before (soon to be cited quite a lot by SUEPO), so they probably know where to get this data and how to analyse it. The graphs from Haseltine Lake LLP are also quite revealing, but we won't reproduce them here because Haseltine Lake LLP sent us an angry E-mail even though we had attributed the source of a graph reproduced here. They seem like copyright maximalists, maybe they're patent maximalists too (overzealous about rejection of Fair Use doctrine).
The point worth making here is that there are yardsticks available for the decline in patent quality. Will António Campinos and Dr. Ernst heed the warning? Probably not. They typically just reject the obvious observation about decline in patent quality, just like Battistelli did.
We doubt readers have noticed, but in our daily links earlier this week we included some links about new European Patents on cancer (we lacked the time to properly cover that, but we previously mentioned why such patents are generally controversial [1, 2]). How far will patent scope extend at the EPO? The EPO has no qualm about granting software patents and Campinos, who has just completed a fortnight at the Office, expressed no intention to change that. Then there's yesterday's press release about this new grant:
Precision Therapeutics Inc. (NASDAQ: AIPT) is pleased to announce that on July 11, 2018 the European Patent Office ("EPO") granted European Patent No. 2948200 covering the Company's STREAMWAY® System for automated, direct-to-drain medical fluid disposal, which is sold through the Company's Skyline Medical division.

The Company is seeking national validation of its European patent in 11 European countries, including Belgium, France, Germany, Ireland, Italy, the Netherlands, Norway, Poland, Spain, Sweden and the United Kingdom. As a result of the granting of the European patent, the Company has confidence that its intellectual property is protected as it executes on its sales strategy for its revolutionary, CE-marked, STREAMWAY System in Europe.
Such "national validation" is often (but not always) followed by litigation. What if the patent application wasn't properly examined or assessed in a rush? What if it turns out there was overlooked prior art? There's a true danger here that low quality of European Patents (EPs) would greatly harm the European economy. It's no secret that patents granted in error can cause enormous damage; just look what happened in the US.
"The English High Court invalidated a standard essential patent (SEP) owned by electronics company Philips this week," Managing IP reported last night. It's behind a paywall, but the following ought to suffice:
The High Court has invalidated one of Philips's SEPs, making it "one all with one more patent to go" in its litigation with Asus and HTC

The English High Court invalidated a standard essential patent (SEP) owned by electronics company Philips this week, shortly after it declared another SEP valid and with a ruling on a third due shortly.
Imagine how much worse it would be if the patent was 'unitary'; that would mean that some court proceedings in a foreign language (thus more expensive) would be potentially imposed on British companies; how many would rather just settle, surrendering to false patents for fear of attorney fees? (attorneys in another country, whose mother tongue is also foreign)
The fact that this is an SEP makes it even worse because it means that for many it would be impossible to work around. █
Permalink
Send this to a friend