09.01.18
Gemini version available ♊︎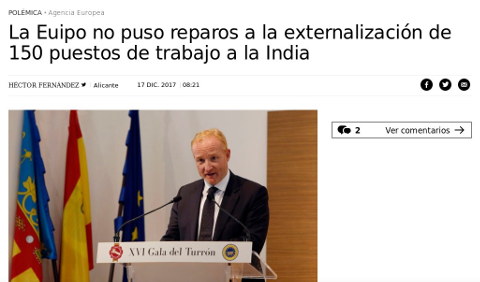 Summary: Months after implementing layoffs at the EU-IPO (or EUIPO) António Campinos does the same thing at the EPO; but as usual these layoffs are cleverly disguised and shrewdly marketed using euphemisms such as "efficiency"
THE EPO scandals were caused by backlash to abusive management. Abuses and corruption caused a reaction from staff, which was in turn illegally attacked by the management. This is profoundly different from anything we have ever seen in other patent offices, including the USPTO.
A month before António Campinos joined the EPO we wrote about the plan to lay off (or make redundant) about 15% of the staff. Months prior to that Campinos did that at EU-IPO, causing some major controversy.
"Abuses and corruption caused a reaction from staff, which was in turn illegally attacked by the management."Campinos isn't unfamiliar with such situations; he's also accustomed to gagging his critics, having already done that at EU-IPO. Campinos is a former banker, so Battistelli's financial misconduct is perhaps something he's familiar with (and will turn a blind eye to), having started his management career in rather notorious banks.
A reminder that there are EPO layoffs might occasionally be needed; salaries are halved to push people out and their contracts are being narrowed to make work 'expire' (classic way to 'shadow' people's sackings/layoffs, making termination seem 'natural'). We say this with regret, not pleasure, as qualified, experienced examiners are sorely needed to ensure improper monopolies aren't being awarded/granted.
As last demonstrated on Friday again and again, software patents are being promoted in Europe by the EPO. Today's EPO (since Campinos took over) does this not once a day but several times per day. Not even Battistelli's EPO did it so routinely. "How should the IP world prepare for the growth of artificial intelligence? This conference gave some answers," said one new tweet. They basically call lots of algorithms "artificial intelligence" in an effort to dodge more 'controversial' terms such as "software patents". This event — like another event from the EPO (together with US patent maximalists) — promotes software patents as well abstract patents, hype, etc.
The EPO's erratic activity in Twitter is rather revealing; they're cycling between this advocacy of software patents, greenwashing of patents, never anything about hirings (not anymore), Inventor Award 2019 and some routinary things about "SMEs" (which the EPO still discriminates against). There's the occasional mention of the Boards of Appeal, BoA. The EPO still neglects to mention that BoA decisions it refers to come from a compromised (lost independence) set of judges and it has just mentioned WIPO in relation to stakeholders being scammed, linking to the Official Journal [for] August 2018 (direct link [PDF]).
SUEPO's quiet is not indication of calm. The EPO's silence (the summer holiday notwithstanding) is strategic. Nobody in the media has yet written about the 'shadow' layoffs at the EPO, but insiders are well aware of these. This was also predictable (foreseen since the Battistelli days). █
Permalink
Send this to a friend