11.11.18
Gemini version available ♊︎
The duo that strikes out a lot of questionable patents is still besieged or at least berated by the litigation 'industry'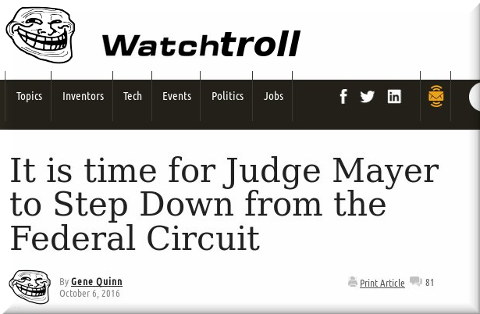 Summary: There's no sign of stopping when it comes to harassment of judges and courts; those who make a living from patent threats and litigation do anything conceivable to stop the 'bloodbath' of US patents which were never supposed to have been granted in the first place
AS we noted in the previous post, there's a coordinated effort to squash reviews of patents wrongly granted by the USPTO. Battistelli did something similar at the European Patent Office (EPO) when he relentlessly attacked judges and their collective independence.
The USPTO, unlike the EPO, cannot quite influence the courts (it's definitely trying to, as we warned earlier this month), so if patents are granted in error they will be invalidated/rejected by the courts; Iancu and his new sidekick (patent trolls' apologists) can just stare and glare. They can't quite touch the judges. They make a bit of a turmoil at the Patent Trial and Appeal Board (PTAB) though, mirroring Battistelli's assault on the appeal boards.
Recent Law360 coverage spoke about fake patents (that are, as usual, software patents) being thrown out by the excellent Federal Circuit, which has changed a lot under its current chief judge. There is virtually nothing Iancu can do to the Federal Circuit and ignoring its outcomes/caselaw he can only ever do at his own peril. Suzanne Monyak's report says that "[t]he Federal Circuit on Wednesday refused to revive technology company PurePredictive Inc.'s claims that an open-source software company ripped off its predictive analytics patent, leaving in place a lower court's ruling…"
Notice how they attempted to use patents against Free/Open Source software.
Having failed to slow down the Federal Circuit and PTAB, Dennis Crouch changes strategies again (published on 29/10/18, based on someone else's publication); these patent maximalists are looking/assessing a basis for rejecting/suppressing IPRs. Authored by Dennis Crouch last month: "The article provides its expectation that the PTO will likely become even more aggressive at limiting this approach of repeat filings. "Therefore it may be prudent to concentrate the best arguments into a single petition, that is, to only count on a single bite at the apple.""
The use of the apple parable is interesting because Apple, the company, is relevant to this.
They just to to make patents above challenge and pass the burden of proof to others. Watchtroll soon joined Crouch, as usual (the sites are connected in some ways and occasionally flatter one another). To quote: "Recently another Petition for Writ of Certiorari was filed with the United States Supreme Court asking the Court to do something about the problem of multiple post issuance challenges against the same patent – even the same patent claims. If the Court takes the case it will clarify the proper role of AIA proceedings within the wider scheme of the patent system and determine whether title to a patent ever quiets, or whether it can be endlessly challenged in a never-ending series of duplicative challenges until the patent owner finally loses all rights. See Supreme Court asked to apply Multiple Proceedings rule to end harassing validity challenges."
Really? They use the word harassing? As if questioning patent bullies is "harassment"? Who does the harassing here? And here goes Watchtroll again: "The USIJ report states that a basic premise behind Congressional enactment of the PTAB through passage of the AIA was to give those parties being sued or threatened with a suit for patent infringement "one bite at the apple" to challenge patents through inter partes review (IPR) or other AIA trial proceedings."
It doesn't matter if we like Apple or not (we don't), the underlying principles of law are important; sites like Watchtroll prefer to pretend that they do their lobbying for 'altruistic' reasons like squashing "Big Tech". All they want is more litigation, even at innovation's expense.
Apple, we might add, has just been bitten again by fake patents that are obviously software patents. From last week's blog post/article:
Apple has been hit by a new patent lawsuit from Dynamic Data Technologies, with the suit alleging Apple's products and services have infringed on 11 patents relating to video streaming, processing and optimization.
These can only be software patents, at least in part.
We could go on and on giving examples of these attempts to deplete/eliminate patent challenges. Last week Watchtroll was bashing courts again, implying that courts or judges don't do their work properly. And this is the person Trump's pick (Iancu) associates with? The President who attacks judges and puts rightwing activists in SCOTUS?
Going back to Crouch, on IPRs he noted a "consolidated appeal [which] involves 12 different inter partes review proceedings collectively challenging three Acceleration Bay patents."
The more IPRs, the merrier. Crouch hardly makes it a secret that he dislikes PTAB and recent articles of his [1, 2, 3] deal with claim interpretation and a situation wherein SCOTUS is asked to look at patent aspects associated with outsourcing/production abroad. Taking note of an AIA gap in legislation/law, there's also this:
In Alexander Milburn Co. v. Davis-Bournonville Co., 270 U.S. 390 (1926), the U.S. Supreme Court provided a portion of the answer — holding that an unclaimed invention found in a later issued patent is "made public property" as of its filing date. That statement though came as an interpretation of no-longer-active provision that the patentee must be "the original and first inventor." Rev. Sts. § 4920. In addition to interpreting a different statute, the court in Milburn also did not consider the priority question.

The relevant statute for this case is pre-AIA 102(e) — which also does not spell out what should happen in this situation — but nothing in the statute suggests to me that we should limit the prior art impact of priority filings to disclosures that are claimed in later patents or patent applications. However, the Federal Circuit ruled in this case that that a published application can count as prior art as of its provisional filing date — but only as to features actually claimed in the application. According to the court, features disclosed in the provisional but not claimed in the published application will only be prior art as of their date of public disclosure.
Waste of courts' time and human productivity? Here's another take on the case (same as above):
The Supreme Court's request for views from the Solicitor General in Ariosa Diagnostics v. Illumina has renewed interest in this nerdy issue of patent prior art. I appear to be in a very small minority that believes that Federal Circuit's rule on this may be right (or at least is not obviously wrong), so I thought I would discuss the issue.

[...]

Then why do I say this is an uneasy case? Well, did I mention that I like Alexander Milburn? The policy it states, that delay in the patent office shouldn't affect prior art can easily be applied here. So long as the description is in the provisional patent, and so long as that provisional patent is eventually publicly accessible, then the goal, even if not the strict language, of the statute is met.

Also, my reading leads to a potentially unhappy result. A party could file a provisional that supports invention A, and then a year later file a patent that claims invention A but describes invention B. The patent could then be asserted against B while relying on the earlier filing date of A, even though B was never described in the provisional as of the earlier date. Similarly, a provisional patent could describe B, and B could then be removed from the final patent application, and the patent would not be prior art because B was not described in the patent, even though B had been described in the earlier, now publicly accessible provisional application.

I don't know where I land on this – as readers of this blog know, I tend to be a textualist. Sometimes the Court has agreed with that, but sometimes (see patentable subject matter and patent venue) it does not.
The author, Michael Risch, says he feels "in a very small minority," but who did he ask? Lawyers? In the world of technology there's overwhelming support for PTAB and CAFC's affirmation of PTAB's decisions (not quite the same as above). Either way, as always, one can be sure and abundantly certain that patent maximalists will attempt to exploit SCOTUS to swing the patent system in favour of litigation, not innovation. This needs to be talked about openly as it makes them shy away. █
Permalink
Send this to a friend