11.24.18
Gemini version available ♊︎
Judge-bashing rhetoric is rather common in the US (recent examples in [1, 2, 3]), but the EPO has brought that to Europe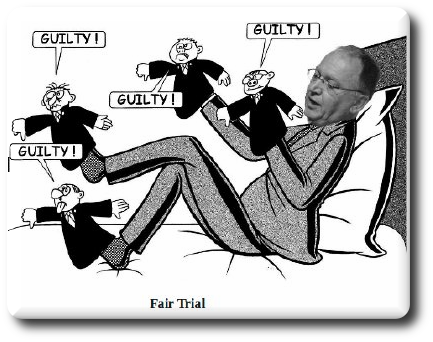 Summary: After Battistelli's vicious attacks on courts and attacks on judges it is hardly surprising that the Office finds allies in the very worst of alleys
IT IS hardly surprising that Watchtroll has an account called "European Patent Office" in which EPO press releases (typically lies) are now published. For EPO to associate with this extremist site would not help. Both attack judges, courts, even the law itself. We have already pointed out that the EPO's official account links to Watchtroll, the Office collaborates with Watchtroll, gives it interviews etc. Watchtroll, as longtime readers of ours know, is a pretty extremist site that habitually attacks the courts and singles out judges for some shaming.
The latest press release that Watchtroll reposted is this nonsense about "sharp rise in patent applications for self-driving vehicles" — seemingly an expensive PR campaign that resembles Battistelli's misuse of money. The EPO commissions self-promotional 'studies' and then presses European media to spread some puff pieces, potentially in exchange for money. In that regard, António Campinos is no better than Battistelli; he also personifies the issues, interjecting his name into the corresponding puff pieces.
In this particular case they are promoting software patents in Europe; the same thing happened yesterday in the patent propaganda blog Managing Intellectual Property which wrote about (mostly) computer vision software patents "on a car" or "in a car", citing a patent troll (Unwired Planet) as an example and promoting FRAND tax:
He adds that companies do not want this same situation for the driverless car market that emerged in the telecoms sector in cases such as Unwired Planet v Huawei.

Beyond this challenge, automotive companies are also compelled to consider future licensing tensions and those that arise from the creation of cross-collaborative projects.

The clash has come about because of the sudden influx of new players into the automotive industry to meet the demand for technologies needed to build driverless cars – from radars and ultrasonic sensors to artificial intelligence software and 5G systems.

As well as big players in the software and telecoms sectors such as Intel or Qualcomm, car companies are working with hundreds or thousands of SME or start-up companies with specialisms in tech specialities such as AI to develop these self-driving cars.
There's that buzzword again: "AI" (algorithms rebranded as "intelligent").
We quite frankly worry that the reputation of the EPO has became as appalling as Watchtroll's (which outside the circle of patent maximalists is regarded as a crude misinformation site). █
Permalink
Send this to a friend