08.23.20
Gemini version available ♊︎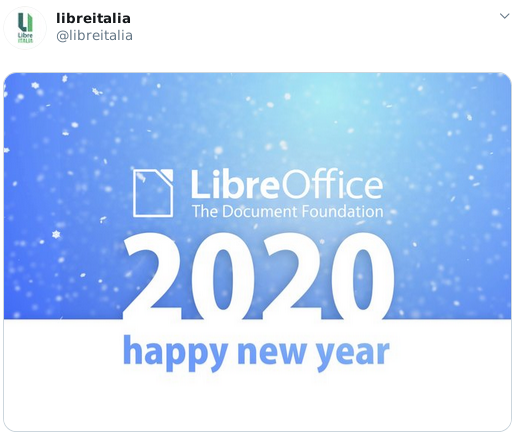 Summary: The Document Foundation (TDF) is a very important supporter of OpenDocument Format (ODF) as well as Free software (notably LibreOffice), but there's a story about LibreItalia ("Italian home of LibreOffice") very few people know about
Italo Vignoli is well known in the Free software world, both inside and outside Italy, both inside and outside the realms of LibreOffice. He's connected to the likes of Simon Phipps and Paolo Vecchi. I, personally, have much respect for him. For those who never heard of him before, his introduction to himself in the OSI's site (for this year's election) can be found here (it's very detailed and includes his LibreOffice/ODF/TDF work/credentials). There's more in the comments.
He won a seat as a Director seated by affiliates (term until 2023) and the Board's page now describes him as follows: "Italo Vignoli has been involved in FOSS projects since 2004, when he joined the OpenOffice community as a user, to contribute to marketing and communication activities. In 2010, he was one of the founders of the LibreOffice project and has been involved in marketing and community development activities since then. He has also launched Associazione LibreItalia, representing LibreOffice users in Italy, and the ODF Advocacy Open Project at OASIS, and has contributed to large migration projects to LibreOffice in Europe. He co-leads LibreOffice marketing, PR and media relations, co-chairs the certification program, and is a spokesman for the project. He has contributed to large migration projects to LibreOffice in Italy, and is a LibreOffice certified migrator and trainer. Italo is Managing Partner of Hideas, a marketing and communications agency retained by The Document Foundation and by other companies active in the networking and healthcare industries."
A few years ago he had an altercation inside LibreItalia, the "Italian home of LibreOffice" (@libreitalia). It was more specifically an argument with Sonia Montegiove, President of the LibreItalia association who calls herself a "journalist out of passion"; there are reasonable posts from her (in English) and in Italian. Vignoli and her weren't always in disagreement; she wrote about him half a decade prior on at least 4 occasions in the LibreItalia blog. The blog became inactive the following year or maybe moved elsewhere. They're both mentioned in "Italy's Ministry of Defense to Drop Microsoft Office in Favor of LibreOffice".
The following message was written by Alessandro Rubini, aged 70 (half a decade older than Vignoli). He's a very, very technical person (books include Linux Device Drivers and others) and he says "Free Software" rather than "Open Source". This one particular bio of his says he "installed Linux 0.99.14 soon after getting his degree as electronic engineer. He then received a Ph.D. in computer science at the University of Pavia despite his aversion toward modern technology. He left the University after getting his Ph.D. because he didn't want to write articles. He now works as a free lance writing device drivers and, um…articles. He used to be a young hacker before his babies were born; he's now an old advocate of Free Software who developed a bias for non-PC computer platforms."
He has associates like Cristiana Larizza, Tullio Facchinetti, Greg Kroah-Hartman amongst other drivers folks and his homepage mentions GNU, then says: "I am an independent consultant specialized in the Linux kernel, device drivers, real time, embedded systems, low-level networking."
How many people are aware of the following incident?
Subject: problem in TDF
From: Alessandro Rubini <rubini@gnudd.com>
Date: 20/08/2017, 13:07
To: ga@fsfeurope.org

A quick note to let youknow that italo vignoli left libreitalia, after serious arguing w/ sonia montegiove about management in general and organization of the LO conference in particular.

The thing escalated from italy to TDF, where another italian board member is siding w/ sonia and trying to shed bad light on italo.

I talked with both, in different days, and I still have to make completely up my mind. One of the side effects is that italo will likely ask for membership in fsfe.

I'm all for it, actually i suggested to invite both him and sonia. Now clearly the thing is a little hot, and timing is suboptimal.

I'll call again sonia in a few days, after italo's final move is official, w/ reference to official documents.

All of this is very bad, pr-wise, for FS in italy and europe.

/alessandro on the train, no keyboard
Publishing this isn't expected to cause a rift (which didn't exist already). Italy has long been a success story for ODF (especially in the public sector), so let's hope relations can be amended. █
Permalink
Send this to a friend