02.08.21
Gemini version available ♊︎
Some more censorship in FOSDEM "legal" (supremacy of corporate voices over community voices)
Summary: IBM — like Google and Microsoft — spreads its money to institutions which in turn suppress critics of monopolies, even in the Free software community (which seeks to combat such monopolies and liberate users)
THE legal track at FOSDEM, a European event (well, at least on paper), has long been the subject of much controversy. Of course this controversy is never entertained by the "tech" media, which is hardly media anymore (producing puff pieces isn't journalism but paid-for fluff). It ought to be called FOSDEM US or something along those lines. This year there's some FSFE presence, for a change, but top sponsors of the FSFE are American corporations. That may become a problem for the "E" in FSFE. Expect some potential branching quite soon (due to growing dissatisfaction with the work done by FSFE).
"This year there's some FSFE presence, for a change, but top sponsors of the FSFE are American corporations."What happens when people who are closely involved in this whole "legal" angle aren't just American but also work with (or for) American monopolies? Someone has shared with us the following screenshot which shows IBM defended from criticism amid allegations that GNOME is mostly developed by Red Hat or developed by no other company more than Red Hat (IBM). It's a top contributor, it adds a lot of IBM dependencies (systemd is the most notorious among them), it has much clout in the questionable GNOME Foundation (whose former chiefs move to Microsoft, current chief refuses to fight software patents, and RMS bashing is all too common, even this year). The following seems a bit like censorship and there are potential conflicts (of interest):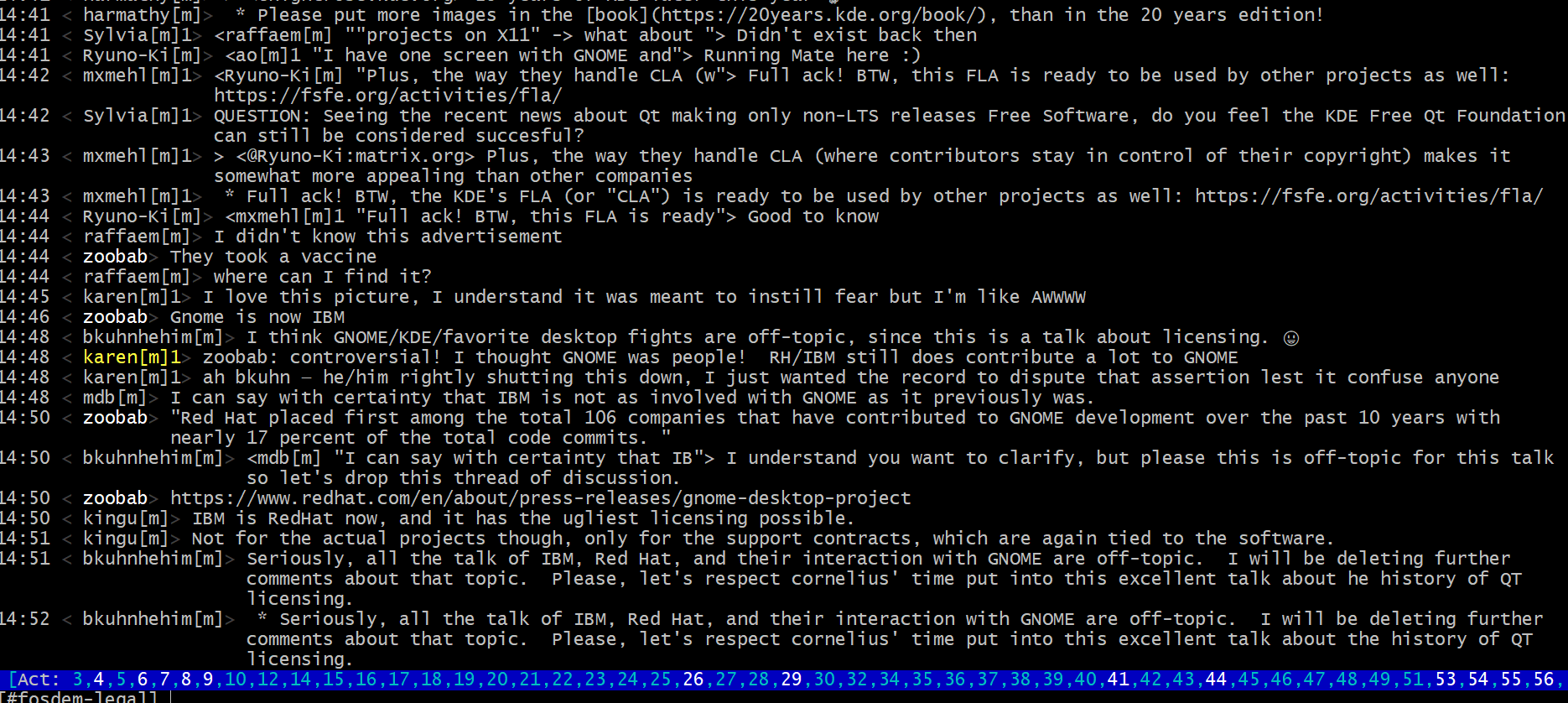 Click to view the whole thing or instead zoom in (the chat highlights reveal where it came from, of that we're aware). That's like their official channel of communication now that conferences cannot be done "in person". Censorship arguably becomes even simpler that way.
What the image shows is SFC (US) stepping in to defend IBM (US) from scrutiny. As if they must censor criticism of a money source and suppress the critics themselves; now they have additional tools like a "Code of Conduct" (doing to volunteers and activists what corporations typically do to employees). The above is definitely on-topic a subject, as well as a growing issue amid 'CentOSgate' and IBM's patent bullying (this never ended; not even the Red Hat takeover put an end to it). According to IAM, an IBM megaphone, IBM's patent agenda may be slowing down somewhat [1, 2], but they still lobby for software patents and against patent quality (e.g. Patent Trial and Appeal Board (PTAB) inter partes reviews (IPRs)). "Data analysis conducted by IAM indicates that IBM is now abandoning US patents due for renewal at the rate of more than 50% a year," IAM has just said. But they still go chasing companies for 'protection money', just like Microsoft does.
It's rather astounding that a European conference would be so thoroughly stacked by American companies (just like last week's IBM-stacked event in Europe) and European entities sponsored mostly by American companies. "Karen and Bradley are quite harmful," an associate told us, alluding to two Americans who worked to oust RMS. █
Permalink
Send this to a friend