03.31.21
Gemini version available ♊︎
Creative Commons research and guest author post by Marcia K. Wilbur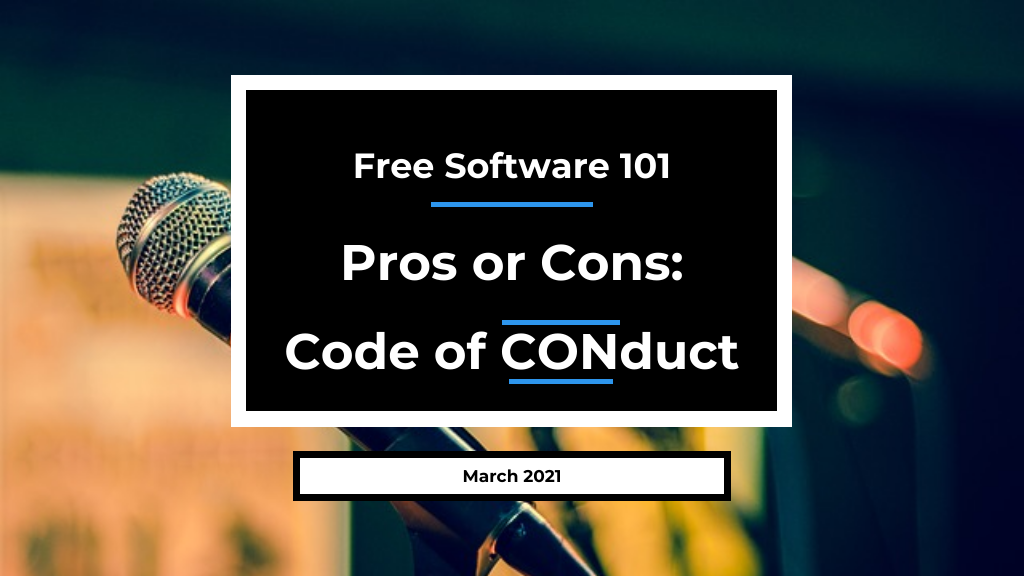 Summary: Marcia Wilbur takes a closer look at what happened to Creative Commons in recent times; it's not what people have come to assume Creative Commons stands for
After some research, I discovered changes at CC, from "open the door" to open source. The people there embrace this and Ehmke. Here are some details.
---
Imagine my surprise to see the Creative Commons updated website, which honestly seemed somewhat abandoned recently – except for a few students working on a search engine in late 2019.
"Imagine my surprise to see the Creative Commons updated website, which honestly seemed somewhat abandoned recently – except for a few students working on a search engine in late 2019."Prominently featured on the landing page was an podcast with Coraline Ehmke. After some research, the following was discovered:
- Creative Commons has adopted a Code of Conduct based on Contributor Covenant.
- November 2, 2020: The CC Open Source website was announced. Google and Outreachy as contributors – as usual! To add insult to injury, the CC Open Source website claims: "WE HAVE BEEN BUILDING FREE SOFTWARE AT CREATIVE COMMONS FOR OVER A DECADE."
Yes. But Open Source software is very different from free software with regards to ethics and philosophy!
"Say Hello to Our New CC Open Source Website!
This is part of a series of posts introducing the projects built by open source contributors mentored by Creative Commons during Google Summer of Code (GSoC) 2020 and Outreachy. This post was written by Dhruvi Butti, a 2020 Outreachy intern and a 3rd-year undergrad at IIIT Surat."
Can we delete the shameless plugs and get to the important stuff? This unwelcoming site includes not only has Codes of Conduct (codes), but an option in the navigation to: Code of Conduct Enforcement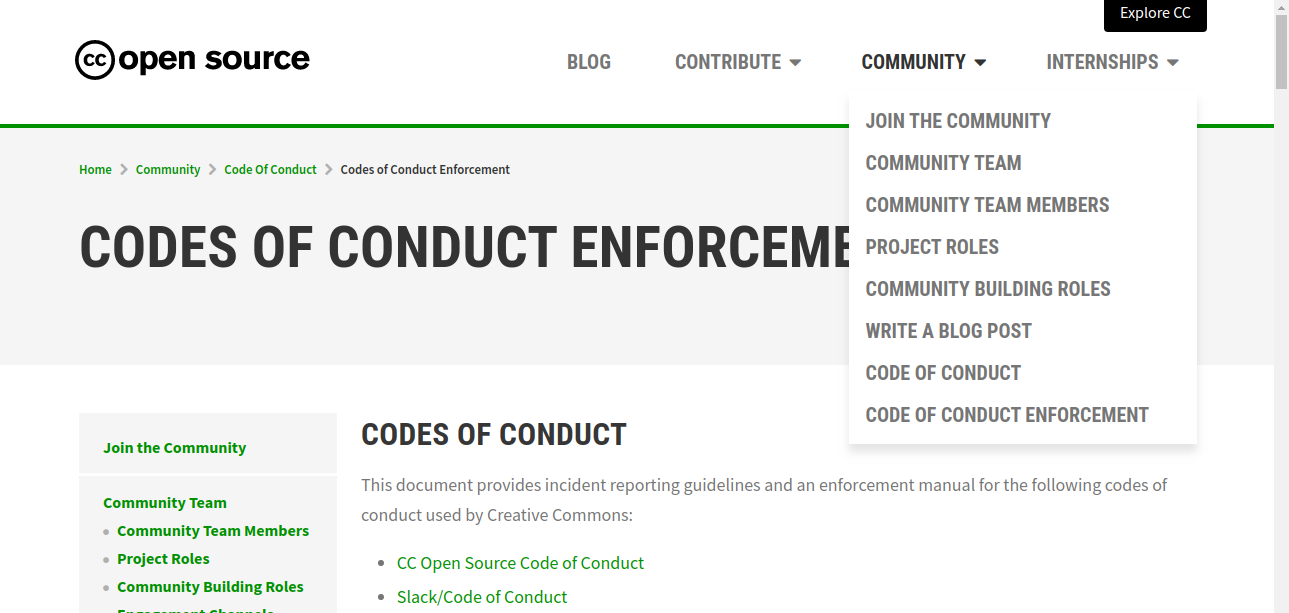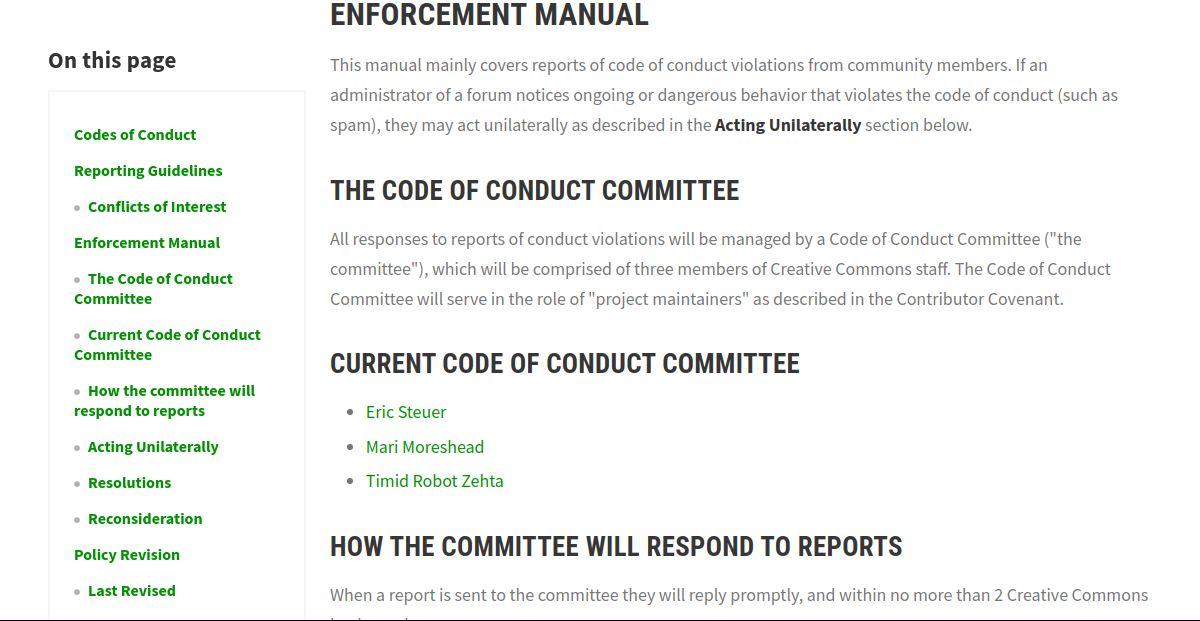 Now, there is a Code of Conduct committee and lots of documentation about policy. Why is there so much work around Code of Conduct? I'm dev. I code. So much policy and at Creative Commons. Why? There was never a need for this before.
While we have a right to say and do what we want, we also consider civility and community. Will you replace community with policy?
November 4, 2020: Two days later a post came in about the open source project and contributing on GitHub (a Microsoft platform).
A post about heading in a new direction appears, as Diane Peters departs.
February 19, 2021: Podcast "open minds" announced.
March 16, 2021: Meet Your New Global Network Council Executive Committee!
March 19, 2021: Podcast – with Coraline Ehmke
In my wildest imagination, I could never have predicted an Open Source movement from within the Creative Commons. However, when you leave the front door ajar, some see this as an invitation to enter.
In 2001, RMS and Lessig rallied together in San Francisco.
In 2002, the Creative Commons received funding to move forward.
By 2014, a new effort and project, the Free Culture Trust, was a collaboration including Creative Commons.
This project was a diverse group of free software (so I believed at the time), open source and proprietary contributors. There were differences in how each group viewed the workflow. There were differences with regard to philosophy, software use, certain mission direction areas. There were as many differences as possible. There were different genders, religions. Did that matter? No. In the end, we contributed and collaborated in a civil and friendly manner. We had no Code of Conduct. We didn't need one.
There were recommendations by each party as to how to best contribute. A collaboration tool respecting all views did not exist, and we went from requests to using Etherpad to using Google Docs. We never considered a Code of Conduct. We did not need one.
E-mails, voice meetings, and Etherpad were used. During meetings, we discussed the goals and mission of the trust, for a document. During the months long process, suddenly, the Commons dropped off support.
We were informed (2014) the Creative Commons closed their physical doors for lack of funding. Well, we live in a digital age, so closing physical doors is somewhat acceptable – especially if you do not have funding.
The years to follow seemed to be somewhat stable. People didn't realize or didn't care about the physical location.
Then, there were some issues with the commons licenses and forks.
One example is recently, in a documentation list for OpenOffice, former AOO documentation people discussed with OpenOffice the use of CC by 3 and CC by 4 and needed to get legal involved. Somehow during the fork of LibreOffice, the content license was changed from CC by 3 to CC by 4 with a mix of GPL (GPL, it's not just for code snippets!).
The bottom line here is, maybe we need more guidance and less copy and paste of licenses like Code of Conduct or Creative Commons.
Listed below are some free options:
Content
GFDL or Public Domain
Code snippets in Content
GPLv2 or GPLv3
Code
GPLv2 or GPLv3
Code of CONduct
NONE
Unnecessary. Using the current popular "template" for Code of Conduct is not in the best interest for my community efforts or my work in AIoT.
Try and see this from the developer's standpoint. Of course, let's be civil in our projects.
Try the FFmpeg Code of Conduct if you absolutely need to use one.
From the FFmpeg CoC: Finally, keep in mind the immortal words of Bill and Ted, "Be excellent to each other."
The problem with our organization models in our community could be partially attributed to being subject to donations to survive or thrive. Our organizations have succumbed to popular culture, fashionable ethics and being subjects rather than directors.
As organizations de-prioritize the importance of individuals in our community (see OSI article at Techrights) for corporations and funding, how can our community thrive?
---
Copyleft News: Will you Demand Freedom?
As a recap of the last couple years, we had:
OSI placing Microsoft as a prominent force in their efforts. In 2020, Ehmke lost by approx. 65% of the vote.
SFC held a Microsoft Sponsored Copyleft conference during FOSDEM. Ehmke spoke about the Rising Ethical Storm in Open Source.
Some other presentations listed below:
Karen Sandler spoke about Software Ethics and Copyleft Licensing.
Josh Simmons spoke about Copyleft in a business context.
John Sullivan discussed Copyleft Expansion with SFC.
It's their party. They can say whatever they want. At the end of the day, we as a community choose whether to accept their proposals or not.
Will you choose enforcement and policing…?
or
Demand Freedom? █
Permalink
Send this to a friend