12.26.22
Gemini version available ♊︎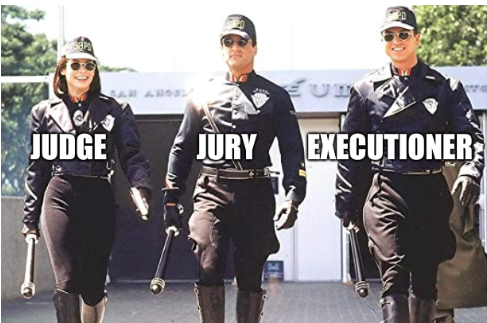 Summary: The CEO of Sirius 'Open Source' should have been fired for fabricating and trumping up 'cases' against long-serving staff; instead, he was allowed to persist, disgracing an already-disgraced organisation which lies to its own staff and clients
A frame-up (frameup) — or fit-up as it's called in the UK — best describes what Sirius resorted to amid its demise, seeing that it's unable to pay staff the compensation that it deserved. Heck, it could barely pay its own bills!!! The company kept changing its addresses (3 times in one month!!!) until both entities, the original and the shell, got registered with the address of a different company. One might hypothesise this was done to suffocate litigation attempts, foreseeing that some staff would sue the company.
"When companies are entrusted to bullies who lie to bounce off criticism it's probably time to leave."Sirius is, at this stage at least, operating like a sham entity if not a scam. Watch out. Moreover, Sirius tolerates no criticism of its behaviour, even if it's expressed only internally or discussed outside the company without mentioning anybody (not even the company) for the purpose of professional advice.
When companies are entrusted to bullies who lie to bounce off criticism it's probably time to leave. If they try to shield themselves from litigation, maybe it's time to consider reporting the matter to the authorities.
The koala reference will be shown next month when we present the frameup and the bullying by Sirius management. It's alluded to in text below, but we can also show this visually.
The text below is from a report we handed in (internally) when we were still in the company.
---
What we see here resembles witch-hunting and is more like stalking and misuse of management time, stalking staff outside work instead of pursing actual clients (management should focus on CEO tasks, not spying; that's the job of HR or equivalent).
Roy and Rianne feel like Sirius is trying to cover up and target criticism instead of actually listening to long-serving staff, who spent years warning about several legal and technical issues (some examples hitherto provided in this document).
Rianne is probably the biggest victim here. After bullying by a former manager, who used false accusations against her, the latest CEO is picking photos of her and completely unrelated material, including shamelessly using a charitable cause (supporting koala bears when fires killed them) to cause trauma to those who support them — that's akin to bullying of the worst kind. To make matters worse, only days earlier Rianne told the CEO that her aunt, the only relative she has in the UK, had been diagnosed with an aggressive cancer and may need holidays to be confirmed (as many had been turned down) so that she can visit and look after her in these difficult times (she has no family to look after her). It seems cruel and merciless for a CEO to pick on a worker who is grieving, stressed over the health of a loved one, and moreover throw adorable koala photos as "evidence" of a supposed 'crime' (basically leveraging the agony of animals to chase down a worker quite so ferociously). It's not reassuring to think that management adopts the mindset of brutes and ogres, picking on staff looking to raise money for animal charities while themselves supporting blind people's and animals' charities (for many years already). While management dwells or relishes in offensive, crude language, even polite terms used by "ordinary" staff gets painted as "rude" if the message itself isn't convenient to the management. There are documented examples of these double standards.
Roy will soon be (or have been) 12 years in the company, but he has already endured some abuse from colleagues, usually bosses. It should be reasonable to expect Roy to be unhappy about lack of response from bosses (sometimes lying about not receiving his E-mails). What sort of company acts this way? As noted above, other colleagues had the same experience (deafness and silence). It's crystal clear, for several purely technical reasons, that messages from Roy were being ignored, not lost. █
Permalink
Send this to a friend