02.16.23
Gemini version available ♊︎
Reprinted with permission from Ryan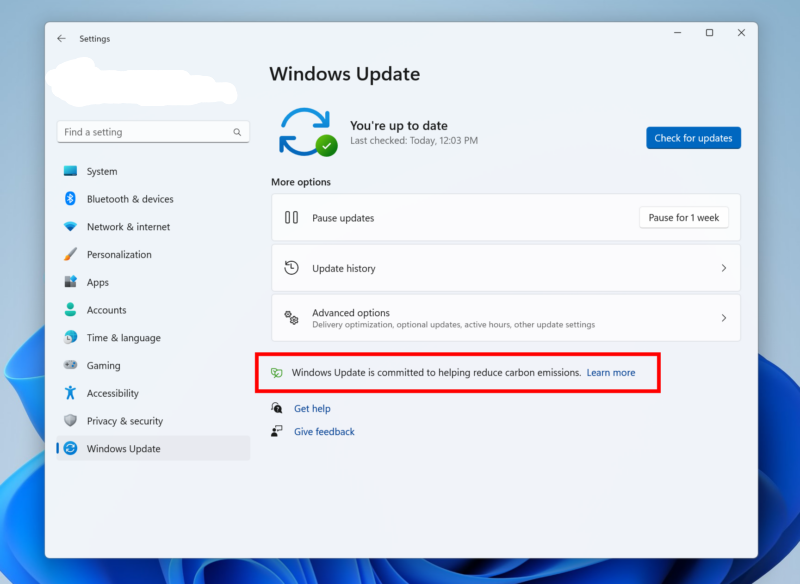 As much as they'd like to project themselves as environmentally conscious, it's evident that Microsoft is more interested in maintaining their profit margins than conserving resources.
Windows has always been notorious for its resource consumption, poor design, and bloat, making PCs less energy-efficient and contributing to e-waste. Instead of addressing the issue, Microsoft has opted to promote its "carbon awareness" initiative for Windows Update, which doesn't solve the problem, but merely shifts the time for checking for broken updates to nighttime.
(I mean, who hasn't experienced the frustration of a Windows update breaking something that was working perfectly fine before? Don't you love spending hours of your life that you'll never get back trying helplessly to whack the Troubleshooters, which don't work?)
To make matters worse, since Windows 10, Windows Update has been transformed into a botnet that siphons off electricity and bandwidth from unsuspecting users worldwide.
So what can users do? They can take control of their PCs and fight back against this bloat and the broken updates that just shift problems around randomly by switching to a GNU/Linux distribution. GNU/Linux distributions are more secure, robust, performant, and energy-efficient than Windows.
With GNU/Linux, there are choices. If the operating system vendor angers you, you can choose a different distribution that doesn't do those things. If you don't like the decisions made about the way your desktop shell works, you can change the desktop with extensions or get a different one. Nobody is "on high" telling you how this is going to be. With Windows, in all ways big and small, it is a manipulator.
When I went to try the new Taskbar, in one small annoyance, I even found out that the icon for "Teams" is no ordinary icon. You have to go through some menus and change the Taskbar settings to make the icon go away, and it doesn't go away just by uninstalling Teams. In fact, it will reinstall it if you're not careful.
As an example, in my testing, a GNU/Linux system running powertop autotune as a system service is significantly more power-efficient than Windows. On my laptop, which runs on a Core i7 Skylake, Windows 10 hardly ever got deeper than PC3, while GNU/Linux spends time in all of them right down to PC8.
Another problem that has gained attention in recent years is the company's extensive use of telemetry, a form of spyware that collects data on users' activities and sends it back to Microsoft.
Not only is this a blatant violation of privacy, but it's also a significant drain on power and resources. Michael Larabel at Phoronix conducted benchmark testing on Windows 10 with telemetry both on (default) and off, and found that it had a significant impact on the system's performance.
Why are such basic operations slowed down so much by Telemetry? Because it's watching and reporting on damned near everything you do with the computer, including your typing, which programs you use, and the contents of your hard drive.
This is bound to have more impact on carbon emissions than Windows Update.
It's time for users to take a stand and demand better than Microsoft. They should not tolerate this Windows mess any longer. Instead, they should embrace alternatives that are better for the environment, more secure, and efficient. Users should say goodbye to Windows and hello to a brighter, cleaner future.
In addition to their Windows operating system, Microsoft's XBOX division has also been promoting "carbon awareness". While this may seem like a positive step, it's worth noting that gaming consoles in general are notorious for their energy consumption.
It's difficult to take this "carbon awareness" campaign seriously when the products they're promoting are contributing to the very problem they claim to be addressing.
It's worth remembering that this is the same company that has a history of creating poorly designed and unreliable products such as the XBOX 360, which was plagued (to the point of overflowing) with issues like the notorious Red Ring of Death, which rendered the console unusable.
(Humorously, an entire cottage industry went up to make adapters like the Nyko Intercooler 360 to try to add extra fans, but these themselves sometimes caught fire or overloaded and scorched the back of the console, voiding the warranty.)
As someone who personally experienced eight failed consoles due to this issue, I can attest to Microsoft's inability to create products that work reliably. Even after sending in my console for repair, I would receive a new unit that would soon overheat and fry itself.
It's clear if you simply watch them and cut through all of the bribed media, that Microsoft has no idea how to build products, and instead tries to brute force their way into markets. Efficiency and sustainability are simply not their forte.
In contrast, companies like Nintendo have always been known for their efficient and conservative engineering. They don't rely on raw processing power as a crutch and instead focus on innovative game design. Nintendo products have a reputation for being more energy-efficient and reliable than their competitors.
Perhaps it's time for Microsoft to follow in Nintendo's footsteps and prioritize efficiency and innovation over excessive resource consumption.
The truth is, however, that they are not committed to the future of the XBOX division.
It's been less than a week, as of this writing, since they sacked basically the entire XBOX marketing division the same day that they gutted the marketing division of Azure and LinkedIn. When you give up trying to convince people to pay for your products, how much time can you really have left?
It's in light of the bloodletting at Microsoft that the continued pursuit of Activision almost seems like some sort of Kabuki Theater from another dimension.
Users who care about the environment or just having reliable software and gaming machines should consider making the switch to GNU/Linux and Nintendo and embracing the ethos of efficiency and innovation, rather than Microsoft's empty lip service.
Windows and XBOX are carbon bombs, and in the case of Windows, version 11 is the worst yet. But first and foremost, they're just awful products.
Saying you're addressing the Windows carbon problem with the updater is like saying you're going to eat three plates of dinner at an all-you-can-eat buffet, followed by three slices of cake… and a Diet Pepsi. █
Permalink
Send this to a friend