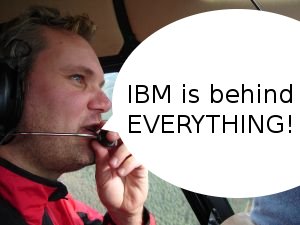 Summary: Software patents are not a done deal in New Zealand; Calling out Florian Müller's IBM paranoia
THE disturbing developments in New Zealand (allowing software to be patented) were partly the result of Microsoft lobbying. There were quite a few companies involved in this invasion which overrode the opinions of New Zealanders and this is not over because InternetNZ is challenging the decision.
InternetNZ (Internet New Zealand Inc) has today called for the Government to allow any proposed changes to the Patents Bill to be referred back to the Commerce Select Committee for further scrutiny.

The issue of software patents has recently attracted a great deal of attention and controversy, particularly in respect of the patentability of "embedded software".
New Zealand's locals were countered by a multi-nationals' lobby, as explained
in the following news portion about NZICT
[
1
,
2
,
3
,
4
]:
Commerce Minister Simon Power and the Economic Development Ministry have rejected claims from commerce select committee chairwoman Lianne Dalziel they have significantly shifted their position by proposing software which has a "technical purpose" could be patented.

Mr Power announced in April that the Government would back changes to the Patents Bill proposed by the commerce select committee that would mean computer software could no longer be patented. The committee's understanding was that inventions that relied on "embedded software" – software that is built into a physical device – would still be patentable.

[...]

Information technology industry body NZICT has campaigned in favour of software patents, fearing the effect that restricting software patents could have on both its multinational members and locally owned software exporters.
The "embedded software" trick is also being used in Europe. "Computer programs as such (i.e. systems that solve data processing problems) are patentable," shows the president of the FFII by linking to
this page
in German. This initially happened because of
Microsoft's FAT patent (ruling in Germany)
and then solidified further by Siemens [
1
,
2
].
Florian Müller uses
fairly old news
to daemonise IBM. He continues to act as though IBM is the only lobbyist for software patents, which is irrational. At the very least, he only ever concentrates on IBM, which makes some people suspect that he just pushes Microsoft's agenda (whether intentionally or not). "IBM's Bilski brief spits in the face of the free software and open source movements," he
named his (almost) latest post
and Microsoft is mentioned just once in the whole post, despite its obvious lobbying for software patents. Why does he single out IBM? Why does he never write any posts criticising Microsoft? It's rather baffling and some would say suspicious. We asked him for some answers about the bias and he said: "I will try to address those issues. Not all at once, but rather soon.
"The mainframe monopoly isn't a z/Linux question. I'm not sure you've been told the truth by other sources about the situation in the mainframe market..."
The thing is,
Müller was approached or at least got in touch with some of those companies that joined Microsoft's lobby against IBM
. What does it say about his dispositions?
In a members-only post from Groklaw,
one reader points out
:
It's like the trolling Florian Mueller is doing (and failing badly at) on slashdot. In the end, if they're trying to make their case, it's counter-productive, to say the least.
For those who lack context, Müller
writes a lot of 'anti-IBM' in Slashdot these days
. Never once have we seen him write negatively about Microsoft. Selective? Hypocrite? Misinformed? In any case, this biased of his is
an issue
we
wrote about before
.
A reader got in touch with us yesterday, saying that "Florian Mueller's latest meltdown" is sign that something is amiss. "Just to let you know that Florian Mueller had quite a public melt-down this weekend when he tried to troll slashdot," she said.
"Out of the over 200 comments, only 2 posters supported him - and one of those posters was Jay Mayrand, the maintainer of Hercules.
"No sooner were his claims debunked than he began to whine about a "conspiracy" involving groklaw and IBM. He's channeling Darl McBride.
"slashdot's comment system is a bit b0rked when it comes to handling deeply-nested comments, so I've collected some of the better quotes here:
Florian Mueller's latest FUD campaign hits a brick wall
"Each quote links back to slashdot, so even if your view settings are messed up, you'll be able to access that portion of the comment thread.
"Everything that's in the link I sent you is very public already - it's all on slashdot, and there's no way for him to take it back or deny it."
"Out of the over 200 comments, only 2 posters supported him [Müller] - and one of those posters was Jay Mayrand, the maintainer of Hercules."
--ReaderMüller likes to stick to the story that those who defend IBM (like Groklaw) must be some kind of IBM operatives.

"Better watch it," told us the reader sarcastically, "you're now an IBM operative!

"Or worse, you're from groklaw! (he can't believe that people can actually operate on their own initiative - or that someone with a long history on slashdot (and over 500 fans) can actually act on their own initiative. It *has* to be a plot!

"He's now gotten a few of his friends to help spread the fud, so it's getting interesting.

"Like the claim that when groklaw deletes a user account, their posts automatically get set to "Anonymous". I guess they've never run a content management system before - geeklog handles account deletions that way. IIRC, so does postnuke, and so do many others. It'she only way not to break the threads.

"I've caught him in a few lies ... I intend to catch him in more."

Anyway, the bottom line is that Müller loses a lot of credibility because he aims to ruin a company that supports GNU/Linux, he mass-mails many journalists (we consider those methods to be a violation of netiquette), and he refuses to accept that software freedom is a worthy cause (his explanation about it was complex). We paid attention to him only because we do believe there is room for improvement in the OIN and in IBM's patent policy (especially the lobbying). We have argued this since 2008, long before Müller even resurfaced.

Having received about 50 E-mails from Müller, we urge people to reject Müller's points of view. They should be rejected on the basis that he has been hostile towards several Free software projects and he is blind to the fact that proprietary software companies except IBM are also the culprits. A criticism that's misdirected is only bound to mislead people. The obsession with IBM is similar to the dirty tricks used against ODF when Microsoft decided to pretend that behind everything ODF there was just IBM. ⬆