Microsoft Fanatics Were Wrong, Linux Indeed Attacked by UEFI (Updatedx2)
Dr. Roy Schestowitz

2012-01-14 00:41:11 UTC
Modified: 2012-01-14 18:22:41 UTC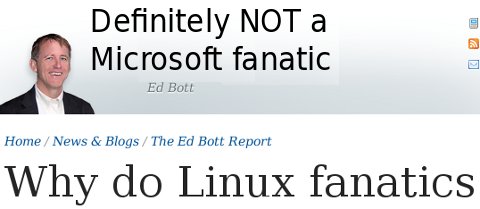 Summary: More information about UEFI leaves no doubt about Microsoft's intentions to sabotage and cheat
IN OUR previous posts about UEFI (aka "secure" boot) [1, 2, 3] we showed that Microsoft was still a corrupt company looking to break the rules to make money. Aaron Williamson from the SFLC writes the article "Microsoft confirms UEFI fears, locks down ARM devices":
At the beginning of December, we warned the Copyright Office that operating system vendors would use UEFI secure boot anticompetitively, by colluding with hardware partners to exclude alternative operating systems. As Glyn Moody points out, Microsoft has wasted no time in revising its Windows Hardware Certification Requirements to effectively ban most alternative operating systems on ARM-based devices that ship with Windows 8.

The Certification Requirements define (on page 116) a "custom" secure boot mode, in which a physically present user can add signatures for alternative operating systems to the system's signature database, allowing the system to boot those operating systems. But for ARM devices, Custom Mode is prohibited: "On an ARM system, it is forbidden to enable Custom Mode. Only Standard Mode may be enable." [sic] Nor will users have the choice to simply disable secure boot, as they will on non-ARM systems: "Disabling Secure [Boot] MUST NOT be possible on ARM systems." [sic] Between these two requirements, any ARM device that ships with Windows 8 will never run another operating system, unless it is signed with a preloaded key or a security exploit is found that enables users to circumvent secure boot.
Glyn Moody
adds
:
In December 2011, Microsoft published a document entitled "Windows Hardware Certification Requirements" for client and server systems. As the introduction explains:

This release to web (RTW) document contains the Windows Hardware Certification requirements for Windows 8 Certified Systems. These requirements are Microsoft's guidelines for designing systems which successfully meet Windows performance, quality, and feature criteria, to assure the optimum Windows 8 computing experience. Successfully following this guidance will allow a partner to receive certification for their system.

On page 116 of this document, there are some details about the circumstances under which Secure Boot can be disabled:

MANDATORY: Enable/Disable Secure Boot. On non-ARM systems, it is required to implement the ability to disable Secure Boot via firmware setup. A physically present user must be allowed to disable Secure Boot via firmware setup without possession of Pkpriv. Programmatic disabling of Secure Boot either during Boot Services or after exiting EFI Boot Services MUST NOT be possible. Disabling Secure MUST NOT be possible on ARM systems.

This confirms that it is indeed possible to disable Secure Boot - but only on non-ARM systems (i.e. traditional PCs.) In other words, it would appear that Microsoft is still locking out GNU/Linux from installation on ARM-based Windows 8 machines.

So this leaves me confused. The document was published some time after Microsoft's post where it states "Microsoft does not mandate or control the settings on PC firmware that control or enable secured boot from any operating system other than Windows", and yet it seems to contradict it. So what's going here? Was Microsoft's blog statement only about non-ARM systems, as the new documentation suggests? And if so, why the discrimination? And finally, is ARM really happy to see Microsoft apparently locking out GNU/Linux from its systems in this way? Let's hope Microsoft can clarify this situation as it did on the previous occasion.
This leaves no room for excuses. Microsoft's
bribed systematic liars/spinners, such as Ed Bott
, were just trying to keep regulators away. It's time to nail down Microsoft for interfering with fair competition in more than a single way. Just because Microsoft is
imploding
or collapsing does not entitle it/give it a right to sabotage competitors. This harms
everyone
.
⬆
Update
: SJVN
weighs in
shortly afterwards:
Microsoft and its vendor friends said that there's no Windows 8 plot to lock other operating systems from Windows 8 devices, but now we know Microsoft was not telling the whole truth.

Journalist Glyn Moody dug around Microsoft's Windows Hardware Certification Requirements for Windows 8 client and server systems and found on page 116 that will Windows 8 Secure Boot can be disabled: on Intel systems, "Disabling Secure [Boot] must not be possible on ARM systems."
Update #2
: Microsoft now receives the
Slashdot treatment
. As one person put it: "Oh boy, the lawyers must be rubbing their hands over this. The flaw in Microsoft's aim of course is that next to no one wants a Microsoft mobile gadget."