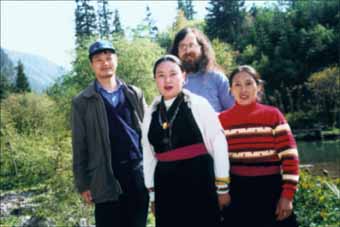 Stallman's trip to China; image from stallman.org
Summary: Following espionage and other incidents of cracking against China the government decides to ban the latest Windows while encouraging the population to abandon Windows
An interesting but unsurprising report from Reuters revealed some fairly important news from China, whose government is saying no to Windows (latest version). This is even characterised as a ban. To quote one report: "The Chinese government has announced that its agencies will be forbidden from upgrading their ageing and end-of-life Windows XP systems to Windows 8.1, banning Microsoft's latest operating system in the name of security."
Vista 8
is banned not just because it is terrible but because it is a threat to national security [
1
,
2
,
3
,
4
,
5
,
6
,
7
,
8
,
9
]. This is a significant turning point which may lead other governments to pretty much the same policy.
This exodus oughtn't be too shocking given some recent news from China about GNU/Linux. Richard Stallman visits the country these days (delivering talks and other such activities) while Chinese people are urged by their government to embrace GNU/Linux (there are calls for migration on national television). There is state support for these efforts.
NSA-Microsoft ties
, in addition to cracking against Huawei, may further contribute to this. Don't be shocked if Bill Gates already books some plane tickets or prepares his private jet for a trip to China.
Vista 7
is a horrible mess too, no matter the hype Microsoft spent billions to produce. Watch what happened at Emory this past week. This was summarised by a pro-Windows sites that said "Whoops! Emory University server sent reformat request to all of its Windows 7 PCs" (
link
).
There was a fair deal of coverage about it.
Neowin
wrote:
Sometimes, there are incidents that take place that remind people who use PCs to back up their files on a regular basis. Such an event happened earlier this week at Emory University in Atlanta, where an "accident" resulted in a server sending out a reformat request to all of the Windows 7 PCs at the school, including the server that sent out the request itself.
How highly insecure. Remember that the NSA built back doors into Windows, so imagine what it can do with 'features' like the above, e.g. at times of war.
What such idiocy may cause for national security should teach everyone to abandon Windows immediately, especially in the public sector.
Germany is now introducing new procurement rules that take into account NSA espionage. It also forbade
UEFI
(on government computers), perhaps foreseeing the bricking of hardware remotely (yes, it enables rendering PCs "bricks" [
1
,
2
]). Disregard
the new spin and the hogwash from Linux Journal
; it is written by Doran from Intel; it's basically advertising of restricted boot, portraying it as benign while masquerading as an informative article. Intel and Microsoft must be desperate for some kind of new lock-in.
It is worth adding that Microsoft is far worse than Google when it comes to NSA connections, no matter what it's extremely misleading attack ads say/insinuate. Here is a
decent new blog post
that says:
In the battle between office productivity vendors, Microsoft has long distanced itself from Google GOOGL +1.72% claiming that the fact that Google scans emails in order to deliver contextual advertising to customers is a data security breach. Never mind that the scanning was completely anonymized and digital – Microsoft leveraged the conspiracy theory that it was somehow a case of Google employees reading all of our email.
China already develops mobile operating systems that are based on Android/Linux (COS for example). These can help assure China's national sovereignty. They deserve it.
⬆