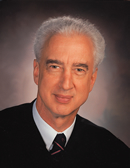 Publishers too, after all, have come under attacks from software patents (which retired Judge Paul Redmond Michel, shown to the left, continues to defend, even in his retirement)

Summary: The momentum against the scourge of software patents and the desperation among patent 'professionals' (people who don't create/develop/invent) is growing


TWELVE years ago Europe decided on a ban/policy against software patents. 3.5 years ago something similar happened in the United States, owing largely to a panel of judges (Justices) whose decisions in recent years -- on patents at least -- we are thoroughly pleased with. Alice is, to us, a blessing. It's something we have been striving for since inception. We therefore need to guard Alice, shielding it from the constant barrage that's almost always yielded by the patent microcosm, i.e. people who do nothing but patents (handling of patents, not actual invention).
Mainstream Media Against Software Patents
"Alice is, to us, a blessing. It's something we have been striving for since inception."A couple of days ago the New York Times said regarding "subsidies for the financial sector's risk-taking" that it's wrong, as well as "overprotection of software and pharmaceutical patents" (the article is about "Myths of the 1 Percent: What Puts People at the Top"). It's very good to see that even the so-called journal of record highlights the problem with software patents. Another site, Biotech Blog, said a few days ago that "[i]n some industries (e.g. software), patents are often seen as a nuisance."

Rightly so. Software patents must be banned universally if the will of actual software developers is to be honoured.


"Software patents must be banned universally if the will of actual software developers is to be honoured.""This is not a matter of software patents," said another mainstream site last week. "This is a matter of a monopoly."

They speak about "The Frightful Five" -- a term which alludes to Alphabet-Google, Amazon, Apple, Facebook, and Microsoft.


Lawyers Learning to Accept That Software Patents Are Kaput
The lawyers' media too is coming to grips with
Alice
. A couple of years ago these sites still pretended that
Alice
was a temporary "issue" to be overcome, but now they've found the integrity/honesty/morals/courage to treat
Alice
as de facto law. In
Two-Way Media
, for example (
mentioned earlier this month
),
Alice
was once again reaffirmed by the Federal judges (one level below the Supreme Court) and it's a precedential decision. The
National Law Review
said this
:
In issuing its precedential decision earlier this month in Two-Way Media v. Comcast, the Federal Circuit affirmed a Delaware district court determination that four data streaming patents were directed to ineligible subject matter pursuant to § 101 and the Alice framework. The four related patents (U.S. Patent Nos. 5,778,187, 5,983,005, 6,434,622, and 7,266,686) describe methods and systems for streaming audio/visual data over a communications system (e.g., the Internet) and, in particular, a scalable architecture for delivering real-time information to a number of users, including a control mechanism allowing for management and administration of users intended to receive the real-time information.
Excellent!
§ 101/
Alice
has also invalidated some more software patents in
Smart Systems Innovations
(patent troll), as
noted a few days ago in Lexology
(another pro-software patents platform). To quote:
Recently however, the Federal Circuit dealt Smart Systems a major setback in Smart Systems Innovations, LLC v. Chicago Transit Authority, 873 F.3d 1364 (Fed. Cir. 2017). In this case, Smart Systems alleged that the Chicago Transit Authority (CTA) infringed four of Smart Systems' patents. CTA moved for judgment on the pleadings, arguing that the patents' claims were ineligible under § 101 because they were directed at abstract ideas. See Alice Corp. v. CLS Bank Int'l, 134 S. Ct. 2347 (2014). Smart Systems responded by arguing that the patents sped up processing at turnstiles, i.e. the claims were patentable because they improved a process.

Under Alice, courts must use the following two part test when analyzing a claim's patent eligibility under 35 U.S.C. § 101: (i) is the claim directed to an abstract idea, and if so, (ii) are there any claim limitations or combination of claim limitations that constitute an inventive concept? The post-Alice cases in the Federal Circuit are not the picture of clarity, and there remains a great deal of uncertainty regarding what is a patent-ineligible abstract idea. It is, however, generally understood that claiming a general-purpose computer that performs an abstract processes will be directed to an abstract idea, whereas improvements to a computer or technological process will not.
It must be tough for patent lawyers. It is going to get tougher for them to
honestly
advise clients to pursue patents on software. The climate has changed profoundly. All they can offer clients is a bunch of tactics for dodging § 101/
Alice
at the examination phase, i.e. before a thorough test of claims is undertaken. To quote from the above: "This case underscores the importance of careful claim drafting for software-related patents. Prosecution counsel should be careful to adequately describe how particular solutions are achieved, not just recite the solutions."
"It must be tough for patent lawyers. It is going to get tougher for them to honestly advise clients to pursue patents on software."But still, that may not help fully fool the judges. The plaintiff would be confronted by expert witnesses who can see past the buzzwords and weasel words. Software patents are just software patents, no matter the framing/posting/casting.

Another new article, this one from Christopher M. DiLeo and Derek M. Abeyta, speaks in support of patent trolls and offers tips for dodging Alice towards the end: [via]


On October 16, 2017, the Federal Circuit affirmed the district court's ruling that the claims in Secured Mail Solutions LLC, v. Universal Wilde, Inc. ("Secured Mail") were directed to patent-ineligible subject matter under 35 U.S.C. § 101. This ruling provides another data point as to what level of concreteness and specificity courts should consider when analyzing patent-eligibility questions under § 101.

[...]

This decision reminds applicants that claims can be found patent-ineligible at the motion to dismiss stage based solely on intrinsic evidence gathered from the written description. Secured Mail at 13. At this time, the courts do not seem willing to engage in any formal claim construction and the court can "simply conclude[] from the claims that they [are] directed to patent-ineligible subject matter." Id. at 13. Applicants concerned with § 101 challenges should consider articulating technical details in the specification as courts seem willing to make an eligibility determination early in litigation with little, if any, evidence beyond the issued patent.

When preparing a patent application, it may be desirable to ensure that the claims provide sufficient details that can demonstrate what is inventive about the individual claim elements or the processes involving those elements. The claims should also include details that can be traced to further descriptive text included in the body of the application. Including these in the specification can support the ways that the claim elements recited are more than generic processes that are simply being applied or implemented by generic hardware. Patent eligibility can be bolstered by focusing claims on a specific means or method and claiming specifically how those means improve computer functionality, rather than simply an existing process that could, in theory, be performed without computer implementation entirely. Consider including special rules or details within the claim limitations to further ground the claimed features.
Notice the tone. All they can do now is suggest ways of getting around the law/rules. What does that say about them?
IAM a Megaphone to § 101 and AIA Bashers
Suffice to say (and as we shall show later tonight), IAM cannot keep its mouth shut about the Supremes/§ 101/
Alice
-- something which IAM apparently views as an abomination because of the target audience. Litigation professionals bemoan barriers to litigation (§ 101 in this case) and
IAM says
that Bristol Myers Squibb's Henry Hadad claims Section "101 reform clearly needs to be addressed by Congress, not going to be done by the courts" (they try to bypass the law and simply lobby/bribe officials).
"There's a malicious lobby which tries hard to undermine the Supreme Court's decision. This lobby is funded by the "usual suspects"."IAM also wrote about former CAFC Chief Paul Michel (another maximalist* like Randall Ray Rader, who succeeded him) that he had said something to the effect of: "If you ask members of Congress and their staffers what they think about patents they r going to tell u 3 myths - most patents r invalid, most lawsuits r abusive and most patent owners asserting patents who are not practising them r abusers..." These are NOT myths, that's just the truth and it's hard for patent maximalists to accept that. We'll say more about Michel and the context of these remarks later on. There's a malicious lobby which tries hard to undermine the Supreme Court's decision. This lobby is funded by the "usual suspects". ⬆ _____ * He even writes for patent extremists' sites like Watchtroll and Patently-O (less radical than Watchtroll).