The alternative is to run to the Microsoft-offered 'safety': "Microsoft Azure IP Advantage" (monthly fees for perceived 'protection')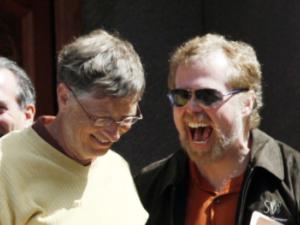 Summary: Bill's Microsoft and Nathan's Intellectual Ventures (with 95,000 'IP' 'assets') are still brewing a lot of legal trouble/Armageddon, distributing plenty of patents to various patent trolls which themselves file lawsuits through shells and proxies
M
ICROSOFT may be evil, but it is
not
stupid. It is malicious and incompetent, but it's trying hard to hide it. Those who expect Microsoft to just sue the entire world using software patents haven't been paying attention. If Microsoft does these things directly, as it did against
TomTom
, even
Microsoft apologists like Jim Zemlin
condemn it. So Microsoft is nowadays doing the same things, albeit
indirectly
. It's a lot harder after several
USPTO
reforms, but it's still possible, as
we have just shown in our post
about
Finjan
.
"That SCO lawsuit, by the way, is not entirely over. It's still ongoing. It has been 15 years!"Let's just state this upfront very, very clearly: those who expect Microsoft patent attacks to be obvious and transparent are unrealistic or aren't paying attention. Microsoft wants to damage its competition, but it does not want to be publicly seen doing it. In the case of SCO, for instance, Larry Goldfarb (Baystar), the key investor in SCO who had been approached by Microsoft, explicitly said that "Microsoft wished to promote SCO and its pending lawsuit against IBM and the Linux operating system. But Microsoft did not want to be seen as attacking IBM or Linux."

Bruce Perens, a key Free software luminary, once wrote that "[o]n the same day that CA blasted SCO, Open Source evangelist Eric Raymond revealed a leaked email from SCO's strategic consultant Mike Anderer to their management. The email details how, surprise surprise, Microsoft has arranged virtually all of SCO's financing, hiding behind intermediaries like Baystar Capital."

That SCO lawsuit, by the way, is not entirely over. It's still ongoing. It has been 15 years!


"So after Microsoft armed a lot of patent trolls and blackmailed its rivals directly (or indirectly, typically via these trolls) it gets itself stung a little."It should be no secret that stockpiling patents has been Microsoft's strategy and contingency plan for over a decade. Microsoft was very explicit about this. The company still pursues truly bizarre patents on fictional things or things that the company never made (but the competition did make, usually with Linux on board). Jonathan Greig's new puff piece about a Microsoft patent is one such example. No bendable displays from Microsoft, only from companies that sport Linux, but guess who gets the patents? In addition, Microsoft propaganda sites (they're pretty obvious about their agency, the names of these sites too) try to paint Microsoft as the victim. Here's a new example titled "Microsoft-developed video games involved in patent infingement lawsuit". So after Microsoft armed a lot of patent trolls and blackmailed its rivals directly (or indirectly, typically via these trolls) it gets itself stung a little. Pity Microsoft! To quote "on Microsoft" (a Microsoft marketing site):


Microsoft's dearth of Xbox One exclusives seems to be lacking in comparison to its competition late into this console generation and according to Gamerant, a patent infringement can be added to the list of theories as to why.

A lawsuit filed by Infernal Technologies and Terminal Reality against Microsoft may be one of the reasons first party exclusives have yet to make their way to the console in any meaningful way.

[...]

Indeed, Terminal Reality and Infernal Technologies claim that Microsoft has known about the infringement long enough to try and concoct an end-around that involved the company filing for similar patents back in 2007. Microsoft's gambit to seemingly sidestep Terminal Reality's claims did not pay off as patents 6,362,822 and 7,061,488 were already accounted for and thus resulted in a rejected patent filing for the company.
Another Microsoft-friendly site belatedly wrote about
the Raniere case
, again
painting Microsoft as the victim
. To quote:
Raniere v. Microsoft Corp., Nos. 2017-1400, 2017-1401, 2018 U.S. App. LEXIS 9775 (Fed. Cir. Apr. 18, 2018) (Before Lourie, O'Malley, and Wallach, J.) (Opinion for the court, O'Malley, J.).

The Federal Circuit affirmed a district court's award of attorney's fees to Appellees Microsoft and AT&T (collectively, "Microsoft"). Raniere sued Microsoft for patent infringement, claiming to be the owner of the asserted patents. However, Raniere previously assigned his rights in the patents to a third party, which dissolved before suit. Raniere argued that the rights had been transferred back to him, but was unable to provide any proof. Microsoft filed a motion to dismiss for lack of standing, and the district court dismissed the case with prejudice.
One might think, based on the above, that Microsoft is the victim, but
buried deep inside legal sites
is this update (behind paywall) about
Microsoft's patent lawsuit against Corel
, which once upon a time developed GNU/Linux, Wine, and competition to Microsoft Office.
Bonnie Eslinger makes it sound as though Microsoft now it wants Corel (a former betrayed 'partner') completely dead:
Microsoft told a California federal judge Thursday that because a jury found Corel willfully infringed its Office software patents, the rival should pay attorneys fees for "deterrence and compensation," while Corel maintained it tried to settle pretrial but Microsoft wanted "their pound of flesh."

Microsoft Corp.'s bid for attorneys fees would give the company a financial slap against Corel Corp. that it didn't get at trial.
This is
direct
patent action (aggression) from Microsoft against a much smaller rival. Microsoft uses software patents.
"This is direct patent action (aggression) from Microsoft against a much smaller rival. Microsoft uses software patents."What about indirect actions? Enter Dominion Harbor, which received literally thousands of patents from Intellectual Ventures, Microsoft's biggest patent troll. A site of this patent troll (Dominion Harbor) -- a troll that receives patents from Microsoft's troll, Intellectual Ventures -- has just said that "Microsoft Irish unit records $239.5m loss on patent-buying fund write-off" [via] and to quote Charlie Taylor:


Intellectual Ventures (IV), a private partnership that established the fund, is credited with kickstarting the secondary market in patents. The company was co-founded by former Microsoft chief technology officer Nathan Paul Myhrvold and ex-chief architect Edward Jung, in 2000. It has raised more than $7.3 billion in investor capital since it was established with cumulative licensing revenues exceeding $4.3 billion.

IV has acquired 95,000 IP assets over the years and it has nearly 30,000 IP assets in active monetisation programmes.

In addition to the $136.5 million write-off last year, Microsoft Round Island Three Limited, whose principal activity is investment trading, racked up $103.5 million in reorganisation costs in the year to the end of June 2017.
The role of Nathan Myhrvold there is noteworthy and the photo at the top depicts him with Bill Gates (they're still very close friends). Also, just before the weekend we stumbled upon
this new report
about the TiVo division (Rovi Corporation), which is connected to Microsoft's patent troll Intellectual Ventures [
1
,
2
]. It says that its "patent licensing machine keeps [t]rolling":
This week, TiVo announced that it had come to terms on a new intellectual property licensing deal with TV maker Vizio.

"TiVo's intellectual property (IP) continues to provide companies around the globe with access to the technologies transforming entertainment for viewers," said Arvin Patel, executive VP and chief intellectual property officer of TiVo division Rovi Corporation, in a statement touting the deal.
Rovi Corporation is connected -- in the liaising sense -- to Intellectual Ventures and thus to Microsoft. It has been suing or pressuring (e.g. pressing for preliminary injunctions) lots of companies using patents. It's hard to measure how much money flows from where exactly (or where it winds up). One sure thing, however, is that it makes the market a lot more hostile and risky. Microsoft hopes that a high-risk market will drive more companies into its 'embrace',
nowadays in the form of "Microsoft Azure IP Advantage"
.
⬆