Campinos at WIPO, whose abuses resemble the EPO's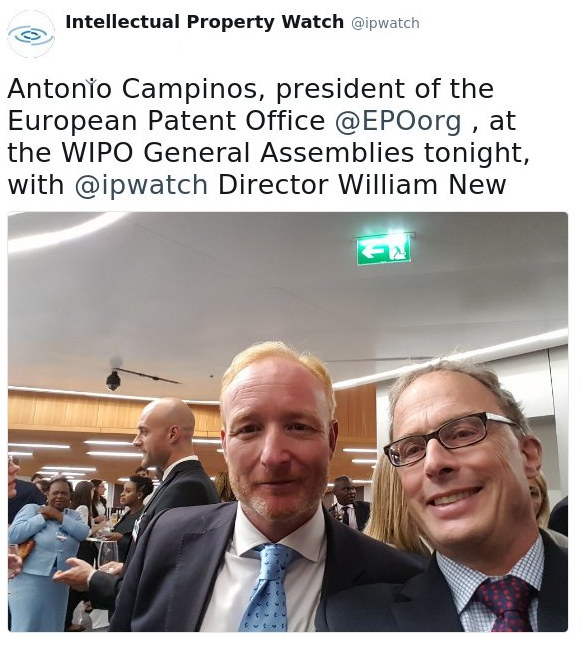 Summary: When some of the world's largest patent offices only listen to the new 'industry' (created only by virtue of these offices themselves) there's danger that patents will be granted for the sake of there being more patents and lawsuits rather than for advancement of the sciences
ONCE UPON a time the patent system was conceived/established to (or so we're told) protect scientists; this predates modern technology where advancements are no longer limited to chemistry and machinery. The USPTO was founded on this principle and EPO is a much more recent construct.
"...it is a major problem that Iancu only ever hangs out with patent zealots like himself, never with actual scientists, which really says a lot."We have repeatedly expressed concerns about patent policy in the US and in Europe; it's unfit for purpose if the people who run the system lose sight of the original goals. Days ago the Director of the USPTO spoke at the Intellectual Property Owners Association Annual Meeting, which is a patent maximalists' hornets' nest. The EPO was there too (it tweeted a picture from the event yesterday, referring to it as "2018 IPO Annual Meeting"). As we explained yesterday, Director Iancu has a history of advocacy for software patents (on the record). He's a menace to a USPTO that actually cares about innovation but a blessing to a USPTO as a "litigation factory". Watchtroll and Kevin Noonan wrote about it some time before last night; they're clinging onto what their 'mole' Iancu intends to do to water down SCOTUS rulings and piles of caselaw, e.g. Federal Circuit on 35 U.S.C. ۤ 101. Their two articles are titled, respectively, "Director Iancu Produces Glimmer of Patent Eligibility Hope" and "What is Director Iancu Proposing the USPTO do for ۤ101 Analysis?" [1, 2]

As we said yesterday, it is a major problem that Iancu only ever hangs out with patent zealots like himself, never with actual scientists, which really says a lot. He barely gets exposed to what ought to have been his primary if not sole stakeholder. Yesterday we learned that "USPTO director Iancu to give speech at IPAS conference," i.e. another hornets' nest of the patent maximalists. They keep pressuring him to do what they want. He came from their occupation, so it's not hard to imagine him just ignoring science and technology in favour of lawyers. The same has happened at the EPO, which is currently run by a banker, chosen by a fellow French politician to succeed him.

As Benjamin Henrion noted yesterday, "US patent office Iancu omits software from the list of unpatentable abstract things, he aims to grant them again https://www.uspto.gov/about-us/news-updates/remarks-director-iancu-intellectual-property-owners-46th-annual-meeting … [...] Iancu ( @uspto ) said "as long as the integration is into a practical application, then the 101 analysis is concluded." That's the opposite of what the Court has held. https://www.patentprogress.org/2018/09/24/getting-the-future-backwards-iancus-101-comments-at-ipo/ …"

Well, "lawyers are liars," I told him. "Their job is to manipulate judges and subvert justice. Iancu is a lawyer, so..."

And speaking of the law, Henrion said that "EPO can ignore anti-swpat jurisprudence from France, because the EPO does not follow the rule of law, so they do pretty much whatever they want https://writtendescription.blogspot.com/2018/09/uspto-director-iancu-proposes-revised.html …" (citing an article about Iancu and 35 U.S.C. €§ 101).

"Being above the law in one thing," I responded. "The EPO goes further; it actually engages in corruption and commits crimes, hence actively exploiting this immunity..."

Looking at the latest tweets from the EPO, we see no reason for solace. Yesterday it wrote: "AI provides an opportunity for more collaborative innovation and more thoughtful patent protection strategies. That's one conclusion from our recent conference on patenting #artificialintelligence: http://bit.ly/AIpatents pic.twitter.com/niVbMyxVu0"

"AI" is just a buzzword the EPO misuses to grant software patents in Europe -- a subject that IP Watch wrote about several times before (the EPO's insistence on patenting of algorithms).

Sadly, however, IP Watch seems to be getting close to Team Battistelli. Yesterday it published this tweet (later retweeted by the EPO) to say: "Antonio Campinos, president of the European Patent Office @EPOorg , at the WIPO General Assemblies tonight, with @ipwatch Director William New pic.twitter.com/UYiyblg1q2"

So we don't suppose IP Watch intends to criticise the EPO (or Campinos) for the abuses as much as before. It has barely done so since Campinos took Office. It always helps the EPO when it makes contacts with the otherwise-inquisitive press. Sometimes the EPO even pays this press.

Meanwhile, the EPO is also associating with patent extremists (Watchtroll in this case), but then again, it has done worse, like letting armed thugs ('bodyguards') of Battistelli run amok inside the Office. Roberta Romano-Götsch did this in the above context (IPO).

Perhaps most noteworthy, however, was this tweet about the EPO's latest news item (warning: epo.org link). It's about China. It contains group photo op and one of António Campinos, astoundingly similar to the one Battistelli took when he brought it to his other employer, where he later 'laundered' EPO money for him to net. Suffice to say, the corrupt EPO cannot lecture China on human rights or lecture SIPO (now known as CNIP) on patent quality. Here is what the EPO wrote:


The EPO and the China National Intellectual Property Administration (CNIPA, formerly SIPO) have agreed on a co-operation programme for next year as part of their long-term strategic partnership on strengthening the patent system. The 2019 co-operation work plan was signed by EPO President António Campinos and CNIPA Commissioner Shen Changyu on Friday at their annual heads of office meeting in Munich.

[...]

Following a reform of China's IP agencies, SIPO was recently renamed CNIPA, and in addition to patents, utility models and designs, the office now also processes applications for trade marks and geographical indications.
"Following a reform of China's IP agencies, SIPO was recently renamed CNIP," the EPO explains. Not because SIPO became a laughing stock like the EPO for all sorts of reasons? Also, why is the EPO logo white now? Rebrand? Perhaps being careful not to associate
too
closely with China's all-red flag?
All in all, seeing the world's most lenient (by some standards, e.g. permitting software patents) together with the EPO in this fashion inspires not much confidence. It does, however, say a lot about what EPO leadership has become.
⬆