Canceling Free Software Developers for 'Wrongthink'
Dr. Roy Schestowitz

2020-01-03 06:05:54 UTC
Modified: 2020-01-03 06:05:54 UTC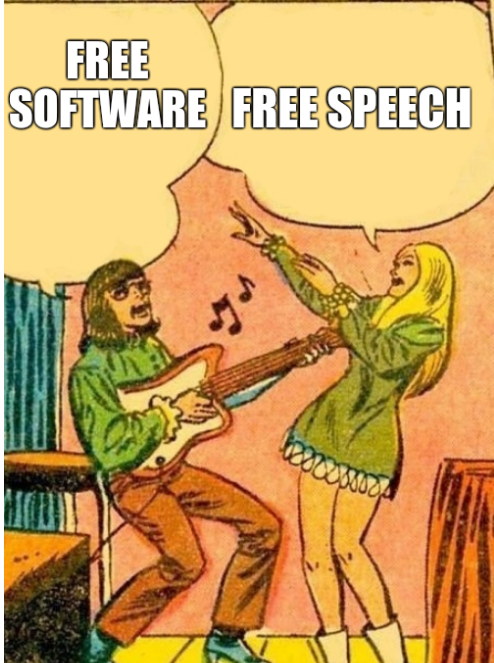 Summary: The slippery slope of uniformal thinking in Debian project
Hours ago
at
Debian Community News
:


Rhonda D'Vine, a Debian Developer from Austria, recently wrote about actively excluding people from free software projects.

At first glance, what D'Vine is proposing amounts to emotional blackmail.

This is the psychology of cults: people must show a blind obedience to the leaders and suppress their own feelings and ideas or they are treated rudely.

[...]

D'Vine's musings reveal an Austrian/German cultural defect: a desire and willingness to control everybody around you or eliminate them. An unwillingness to invest in relationships with people you wouldn't normally count as close friends.

The fact that D'Vine independently derives this philosophy from her own environment, which includes Debian, suggests a disturbing possibility that those from a German cultural background will keep reviving the philosophy behind the Holocaust from time to time whenever they participate in a state or organization with mixed cultures.
Recent Techrights' Posts
Outlook is all about the sharing!
very recent update
Let's examine what BlueMail does to promote itself

OpenBSD Says That Even on Linux, Wayland Still Has a Number of Rough Edges (But IBM Wants to Make X Extinct)

IBM tries to impose unready software on users

The 'Smart' Attack on Power Grid Neutrality (or the Wet Dream of Tiered Pricing for Power, Essentially Punishing Poorer Households for Exercising Freedom Like Richer Households)

The dishonest marketing people tell us the age of disservice and discrimination is all about "smart" and "Hey Hi" (AI) as in algorithms akin to traffic-shaping in the context of network neutrality
Links for the day

Just What LINUX.COM Needed After Over a Month of Inactivity: SPAM SPAM SPAM (Linux Brand as a Spamfarm)

It's not even about Linux
Relevant, as they love lecturing us on "diversity" and "inclusion"...
IRC logs for Tuesday, November 28, 2023
a platform with back doors
Links for the day
The skulduggery seems to implicate not only Microsoft
an effort to 'cancel' us and spy on us
GNU/Linux news
This work is licensed under a Creative Commons Attribution 4.0 International License

Professor Eben Moglen on How Social Control Media Metabolises Humans and Constraints Freedom of Thought

Nothing of value would be lost if all these data-harvesting giants (profiling people) vanished overnight
IRC logs for Monday, November 27, 2023
"Linux is a cancer that attaches itself in an intellectual property sense to everything it touches." [Chicago Sun-Times]
relates to a discussion we had in IRC last night
revisionist pieces
Links for the day
Links for the day
GNU/Linux news
Links for the day
Or leaning to "the green" (money)

Software Freedom Conservancy Inc in 2022: Almost Half a Million Bucks for Three People Who Attack Richard Stallman and Defame Linus Torvalds

Follow the money
Coming soon...

Microsoft Has Less Than 1,000 Mail (MX) Servers Left, It's Virtually Dead in That Area (0.19% of the Market)

Exim at 254,000 servers, Postfix at 150,774, Microsoft down to 824
Nowadays when things become "Web-based" it sometimes means more hostile and less open than before
Articles got considerably longer too (on average)
India is where a lot of software innovations and development happen, so this kind of matters a lot
online militants try every trick in the book, even illegal stuff
Marketing, spam, and chatbots
IRC logs for Sunday, November 26, 2023

The Software Freedom Law Center's Eben Moglen Explains That We Already Had Free Software Almost Everywhere Before (Half a Century Ago)

how code was shared in the 1970s and 80s