10.24.10
Gemini version available ♊︎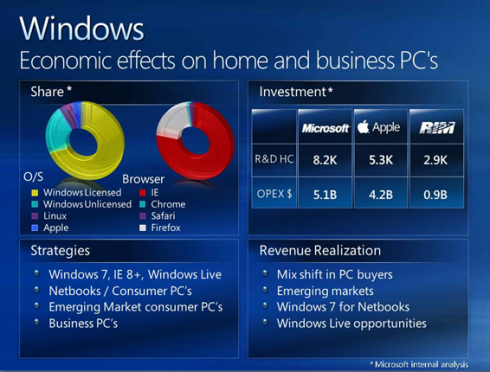 Steve Ballmer's presentation slide
from 2009 shows GNU/Linux as bigger than Apple on the desktop
Summary: The company of gadgets and supposedly shiny things does not perform as well as US market surveys (which Apple helps fund) would have one believe
ONCE in a few months we remind people that Apple is too small a player on the desktop and hardly a threat to GNU/Linux. Apple's minuscule market share outside the United States and other Western nations (where Apple is also a niche but at least an existing one) ensures that GNU/Linux remains a very relevant platform on the desktop.
Those who pay attention only to Western surveys will certainly get a distorted picture. Net Applications is partly funded by Apple, as we noted in our previous posts about market share. It is therefore unsurprising that Net Applications makes Apple look good. Money can change everything.
Based on technical criteria, Apple is still catching up with GNU/Linux in some areas including package management. To quote a new post titled "The Lion has Lost the Magic":
While this is a good idea, it is far from being a new idea. Even if you ignore the fact that our mobile computers have had application stores for years, Linux was the first to create a centralized, graphical application for easily installing software on your computer with a single click. Beyond simple applications such as gnome-app-install, the Ubuntu Software Center was released over a year ago
There are other areas where GNU/Linux is technically ahead of Apple; marketing is no such area.
Interestingly enough, Robert Pogson shares additional details (with numbers) that may indicate good share for GNU/Linux relative to Mac OS X and maybe to Windows too:
That's all Apple managed to sell in a recent quarter while the world sold 88 million PCs. That's 4%, folks, Rather modest compared to the 7% of W3Schools hits and the 5% of NetApplications. This makes me think GNU/Linux has a much larger share than NetApplications shows or that other OS is a lot less than they show.

[...]

So, Apple can crow about its wonderful recent quarter but GNU/Linux has overtaken them in PCs and smartphones. It's time GNU/Linux crowed a bit.

M$ is boasting of selling 240 million licences for "7″ in the last year. 350 million PCs have been produced in the last year.
Needless to say, Microsoft's numbers are pure PR lies for reasons we explained before. Technically it may be right that Microsoft issues this number of keys, but this does not correspond to the number of PCs actually running Vista 7. Sometimes Microsoft just allocates unused keys to businesses and sometimes there are loads of new XP machines that get classified as "Windows 7″ for reasons of convenience. Microsoft may have mastered the art of deception and any publication that prints those claims without scrutiny is simply not doing its job. █
Permalink

Send this to a friend