11.12.10
Gemini version available ♊︎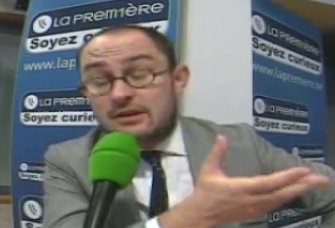 Summary: A proposal which would have opened a door to expansion of bad patent laws is now scrapped, but politicians will carry on trying other routes to make their lobbyists happy
CONTRARY to common belief, software patents are still a problem in Europe. The president of the FFII, Benjamin, is probably the best person to ask about that. He lives in Belgium, where many of the lobbyists — including Microsoft's — roam. This includes lobbyists whose recent role was to pass something that's called "EU Patent" (and other such terms/words, usually euphemisms). It's the latest sheep clothing for one heck of a wolfish law.
Benjamin rarely expresses personal opinions in Twitter (he links to articles of interest instead), but here he is confessing:
As a Belgian citizen, I feel ashamed of the Belgian Presidency unable to defend language diversity in patent matters.
Benjamin must be referring to Vincent Van Quickenborne when talking about the Belgian presidency. Vincent has recently been one of the leading "useful idiots" of patents lawyers and other patents-lusting entities like Microsoft [1, 2, 3, 4]. Fortunately, however, Benjamin wins this round in Belgium as the EU patent get scrapped and Vincent starts pointing fingers:
Brussels – Efforts to break a 10-year deadlock on the creation of a single European Union patent foundered Wednesday, as the bloc's presidency declared it impossible to get all 27 EU members on board.

'We have left no stone unturned, and although we have made progress, we have fallen short of unanimity by the smallest margin,' Belgian Industry Minister Vincent Van Quickenborne said.

The EU presidency representative spoke after six-and-a-half-hours of inconclusive talks in Brussels.
Vincent Van Quickenborne is the person who is quoted the most in articles about this subject. EU Council Press put it succinctly like this:
"@VincentVQ: We've left no stone unturned. (…but) we've fallen short of unanimity by just a small margin" http://bit.ly/aobks6
The above links to a video which Free software users cannot even view. Well done, europa.eu. Thanks for being so inclusive.
The president of the FFII (Benjamin) proceeds to arguing that:
The patent establishment will try again to get an EU patent, but this time I will make sure we request a new software directive. Stay tuned!
Yes, they have been doing this over and over again for years. Other "useful idiots" (Vincent does not seem so malicious, he is just misguided or heavily lobbied) include Barnier [1, 2, 3] and McCreevy.
Benjamin then writes to Vincent:
Don't blame Italy, they were just defending fundamental rights. Language discrimination is forbidden by the ECHR, patent law incl
Spain too helped block this:
Italy and Spain block EU-wide patent talks

Italy and Spain dug in their heels Wednesday (10 November), tripping up negotiations to create a single patent to protect the design of products sold in the European Union.
Our gratitude goes to Italy and Spain.
After those secret/private meetings in Europe people who were involved in pro-EU Patent agenda should be shamed of themselves. They may think that they help Europe, but they are doing the exact opposite while serving foreign nations whose lobbyists they must be made deluded by. The main pseudo-'selling point' behind the EU Patent is language, but as Benjamin puts it:
Language discrimination is forbidden by the ECHR, patent included. Lisbon treaty is not even consistent within itself.
People should write their patents (if they really must) in their own language, not write to satisfy the USPTO, which wants English, obviously. Standardising on English is fine for many things, but in this case it is also a facilitator of colonisation (through patent monopolies).
In summary, opposers of software patents can celebrate for another month of two before the same people who have pushed for software patents in Europe for years (e.g. Microsoft pressure group ACT) try again, possibly with new gullible/corruptible politicians. Here is the response of a patent guy, Axel H. Horns [1, 2], as well something from the FFII Eurobot:
Proposal for a Council Regulation on the translation arrangements for the European Union patent – Political orientation http://bit.ly/9SIrwU
Those translations are a bridge to control by any country whose language is chosen as default one. It probably would never be Germany of France, whose economies are some of Europe's largest. Heck, it probably would not even be a European country at all (English no longer belongs just to the English). █
Permalink

Send this to a friend