01.26.11
Gemini version available ♊︎
Summary: Novell's continued servitude to Microsoft's empire of abuse of restrictions
IT has been shown here for years that Novell promotes Microsoft Windows and it is still helping Windows in all sorts of new ways. Maybe it's just because of Novell's legacy, however there are cases where Novell promotes Windows even when it need not do so. One must bear in mind that Microsoft paid Novell a lot of money to bend over. This money had many strings attached to it.
According to this new press release and its various copies or derivative articles, SUSE-Windows duality persists partly because Novell — now paid by Microsoft — helps Windows in HPC.
Penguin Computing, experts in high-performance computing (HPC), today announced the immediate availability of Penguin Computing's Cluster Management suite Scyld ClusterWare with support for SUSE Linux Enterprise Server from Novell.
Novell is also sharing space with Windows in the POS market (press release more properly covered by Jonathan Angel) and following Dell's joining the Novell/Microsoft deal (applicable since 2007) there is also a new press release about addition of Ballnux appliances (taxed by Microsoft):
Novell today announced Dell has joined the SUSE® Appliance Program to build, deploy and maintain a wide range of Dell-branded software appliances. This agreement will enable Dell to deliver applications as ready-to-deploy virtual or hardware appliances powered by SUSE Linux Enterprise.
Opsview says it is adding "native SUSE Linux support", but who needs Ballnux when there are already so many GNU/Linux distributions (which are not taxed by Microsoft)?
Opsview has announced that the latest open source version of the network and application monitoring application, Opsview Community 3.11, now has native support for SUSE Linux. Opsview consider that SUSE Linux' future has been assured by the acquisition of Novell by Attachmate and believes demand for SUSE Linux support in 2011 "will be stronger than ever before". Opsview's Product Manager, James Peel, said "SUSE Linux has significant share in the enterprise and its support was increasingly requested by our customers and community so we are delighted to respond to this demand".
The bottom line is, Novell helps Microsoft and Windows. Even when someone buys SUSE it ought to be apparent that Novell pays Microsoft for it, so no matter which operating system one chooses, Microsoft gets paid. That's Novell's vision after being paid hundreds of millions of dollars by Microsoft. Novell is now passing about half of all its patents to a Microsoft-organised cartel named CPTN.
Those who care about GNU/Linux won't buy from Novell. █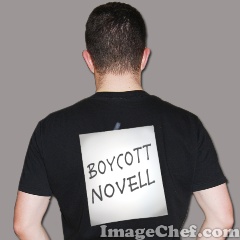 Permalink

Send this to a friend