07.15.13
Gemini version available ♊︎
The man who should be in jail but isn't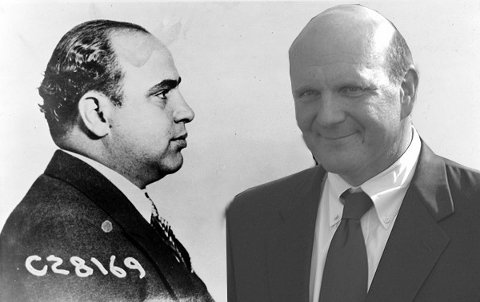 Summary: Microsoft so upset that patent terrorism is not accepted by US Customs that it is filing a lawsuit and continues to pursue bans on Linux/Android
MICROSOFT has already sued numerous companies including Motorola over the use of Android. Microsoft later added lawsuits against Google, targeting Android again. That's not even including all the extortion, back room deals, and lawsuits by proxy. Microsoft, as per the definition of terrorism, is now acting like some kind of a terrorist organisation, focusing solely on injuring the competition (by blackmail accompanied by threats) and not at all on creating a product. This has gone on since shortly after the Microsoft-Novell deal (or two years earlier).
The US ITC, which helps companies like Microsoft and Apple embargo Android devices, not so long ago helped Microsoft ban imports of Google Phone products. Quite rightly, US Customs officials are refusing to obey these ridiculous acts of extortion and guess what happens? The terrorist is suing them.
Microsoft Sues U.S. Customs for Failed Google Phone Ban

Microsoft Corp. (MSFT) accused U.S. Customs officials of refusing to follow a trade agency's order to block imports of phones made by Google Inc. (GOOG)'s Motorola Mobility unit in a lawsuit that seeks to alter how such cases are handled.

The U.S. International Trade Commission in Washington issued the import ban in May 2012 after deciding that Motorola Mobility devices infringed a Microsoft patent for a way mobile phones synchronize calendar events with other computers. Microsoft's lawsuit, filed yesterday in Washington, says that order isn't being enforced.
Many people whom we speak to still agree that Microsoft is the most disgusting corporation bar none when it comes to attacks on software freedom. Given Microsoft's Mossad-like tactics with MOSAID, why should there be no charges against Microsoft under the RICO Act? Many executives at Microsoft deserve to be in prison, but when corporations control the government, it is rare to see suits in jail, unless of course they speak out against torture while working for the CIA (or defending the Constitution while working for the NSA). The New York Times has this new article titled "Has Patent, Will Sue: An Alert to Corporate America" (actually, those who have patents and sue actually are "Corporate America", not just patent trolls). It is time to take action against the crime of terrorism with patents. Vice President Biden called Julian Assange "high-tech terrorist" for merely publishing policies and actions paid for by taxpayers. So why can't one apply the word "terrorism" to describe exactly what companies like Microsoft do these days? It's all a matter of indoctrination and normalisation; we're supposed to accept extortion as though it's an acceptable business practice. Unjust and unethical behaviour is seen by more and more people as the 'norm'. Several years ago many bloggers and even notable employees of large companies accused Microsoft of "terrorism" for what it was doing with patents. Notice how we no longer see that despite the fact that Microsoft has not changed.
If one actually wants to see what patents Microsoft uses against Linux and Android, look at the Barnes and Noble complaint (before Microsoft paid a hefty bribe for the complaint to be dropped). Software patents are hardly legitimate, certainly not at all in the vast majority of the world. Here is a thought-provoking post that Groklaw shared the other day:
I think you guys will want to see this extraordinarily interesting talk by Carl Hewitt on YouTube. He talks about the future of IP software — future as in when computers start filing patent applications. "If there is no principled way to distinguish computation from human thinking" — then what? Human thinking isn't patentable. And if the meaning is a mathematical denotation, and mathematics is also unpatentable, what happens when computers are filing thousands and thousands of patent applications on all the patentable IP in the universe?
Groklaw should be commended for coming out in defence of Google and against software patents in recent years (more so than in prior years). █
Permalink

Send this to a friend