04.29.21
Gemini version available ♊︎
"In Microsoft's view, Thomas Penfield Jackson was a technological caveman. There was a personal computer on his desk, but he rarely used it, nor did he send or receive E-mail. Microsoft had reason to believe that neither Jackson nor the government's chief attorney, David Boies—who, like Jackson, did not use E-mail—would comprehend the technological complexities of its defense. But Jackson and Boies didn't need an engineering degree to understand Microsoft's alleged intent to harm competitors or to punish companies that did business with rivals."
"Since the evidence appeared so lopsided, Jackson often wondered why Microsoft didn't abort the trial—and stop the damage to its reputation—by seeking a settlement. He blamed Microsoft's chief counsel, William Neukom, saying that he should have arranged a truce before the financial markets were roiled and a judge was forced to play Solomon."
–The New Yorker – January 15, 2001
Summary: The Internet is mostly fine, but the World Wide Web is worth abandoning in many cases, especially because it's becoming a DRM transport layer with a payload of surveillance and manipulation
THE World Wide Web (or the Web or WWW for short) used to be fun. Honestly!
The first Web browser I used fit on a single floppy disk (the smaller type), quite some time before Netscape was a thing.
"Connections at homes have improved a great deal since the mid 1990s. Let's take advantage of them."Many would rightly argue that the blame (in the title) is misplaced because the current Web browser monopoly isn't Microsoft's but Google's. True enough… and Netscape never dominated to the same extent MSIE did, definitely not for the same reasons (abuse and sabotage). But the fact remains that due to the growing complexity of the Web — a never-ending upgrade treadmill — the Web gravitates towards monopolies or at least monocultures (e.g. one single dominent rendering engine and now DRM too).
We keep encouraging people to at least give Gemini space a try (as we last did a day ago). You know something has gone very wrong when you load a page about 10 MB in size (1 MB of fonts, 2 MB of JavaScript frameworks, 5 MB of high-resolution photos etc.) just to read a headline, one sentence, or at most an article 5-10 paragraphs in length. The same could be done with less than 10 KB (kilobytes), i.e. 1,000 times less, traffic-wise.

The same wasteful culture that tells you to buy a new computer (or 'smart' 'phone') every 3-5 years tells us that sites need to be overhauled and redesigned more often than this. Techrights has hardly changed in 15 years.
Don't believe me? Here's the site in 2006: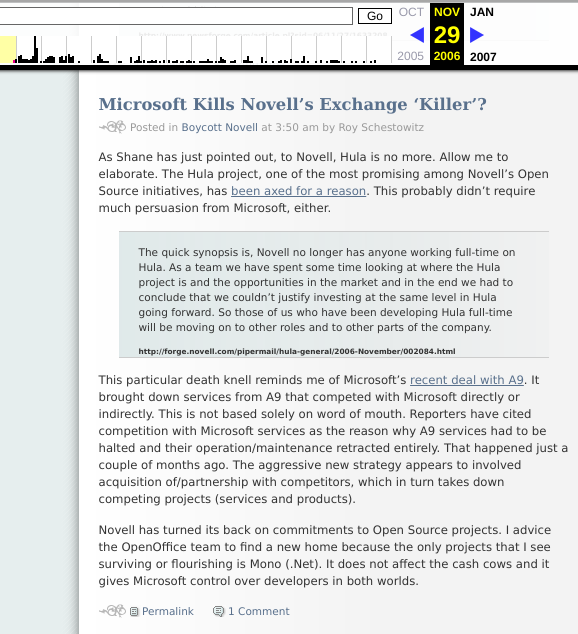 Sometimes being less advanced or rejecting unwanted/unnecessary so-called 'progress' is a good thing.
Now, in terms of technical merit, Gemini enjoys encryption, Unicode support (even emojis), and a lot more. But it's focused on content and encourages readers too to focus on content. Creators and readers aren't far apart because setting up Gemini capsules, even hosting them in one's own home, isn't particularly hard and ought not be expensive. Pages are very small in size, so in term of bandwidth it's not a problem. So far this month we've served 100,000+ Gemini pages and assuming each of them is, on average, 10 KB, that would be a total of one gigabyte in term of traffic (for a whole month!). 100 pages are about a megabyte.
Now, going back to Microsoft, planned obsolescence has long been a thing there. It compels people to 'upgrade' and get new licences (Windows, Office etc.) even when there's no practical reason to do so and Microsoft actively fights against the right to repair.
It may be too late to salvage the Web. It needs to be further distributed and decentralised. Communication needs to be hosted from one's own equipment, not hired space in "clown computing" or so-called 'social' media (social control is what it's all about, weeding out voices that platform owners object to). Connections at homes have improved a great deal since the mid 1990s. Let's take advantage of them. █
Permalink

Send this to a friend