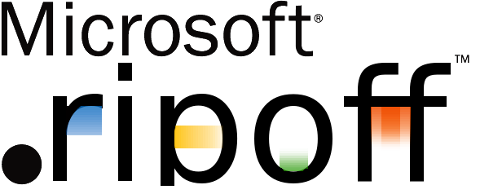 Summary: Another timely lesson about the harms of software patents, which help Microsoft extort its rivals without ever taking them to court and having the patents tested
SOFTWARE patents are a nasty thing. In fact, over in Australia (and now in Slashdot) Ben Sturmfels works towards abolishment of software patents (for background see [1, 2, 3]). This is important because of precedence. In light of this heroic Australian action, OStatic brings up Sun's Schwartz' testimony about Microsoft extortion from Gates and Ballmer.
Schwartz goes on to detail a meeting he was in with Bill Gates and Steve Ballmer from Microsoft, in which Gates allegedly "skipped the small talk" and said: "Microsoft owns the office productivity market, and our patents read all over OpenOffice."

The move by Australian software leaders to abolish patents seems a little over the top. Some ideas scream out for patents, and many software titans have been built on fairly patented software. Still, if anyone has any question that software patents get exploited, Schwartz's post called "What I Couldn't Say" is worth rereading.
Microsoft racketeering with software patents [
1
,
2
,
3
,
4
,
5
,
6
,
7
] recently hit Salesforce, which
Microsoft sued
with software patents
for no apparent reason other than greed (it was
sued by Salesforce in return
). Salesforce uses GNU/Linux just about everywhere, at least on the server side. According to this
press release from Microsoft
, Salesforce allowed Microsoft to have itself extorted. Yes, Microsoft has once again
successfully extorted using software patents
and Mary Jo Foley says that '[w]hile the terms of the agreement aren't being disclosed "Microsoft is being compensated by Salesforce.com".'
The press calls it a "settlement", but it doesn't quite capture the fact that Microsoft is being paid a 'patent tax' by Salesforce (it's the
same with TomTom
, which shows Microsoft becoming a Linux-sucking leech). From
the Wall Street Journal
:
Microsoft Corp. (MSFT) and Salesforce.com Inc. (CRM) announced Wednesday a settlement to their patent suits against one another, ending a three-month tussle the two software companies had over various software patents.
More on this racketeering:
In other news, a 'company' (patent troll) that sued Microsoft for patent violations didn't get its way.
It is possible that Salesforce would have won against Microsoft in court, but litigation is expensive. By issuing threats/lawsuits Microsoft has managed to turn Salesforce into a cash cow, using just a few papers with the USPTO's rubber stamp.
Software patents need to die because they destroy the software industry and only empower monopolies.
⬆