Australia Flooded by Microsoft Lock-in
Dr. Roy Schestowitz

2011-01-20 06:41:03 UTC
Modified: 2011-01-20 06:41:03 UTC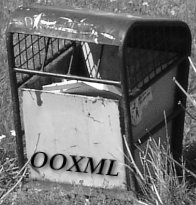 Summary: Australia mandates Microsoft's proprietary OOXML, according to reports

THE Australian government has just reinforced Microsoft monopoly by deciding that citizens should use Microsoft's expensive, proprietary, and buggy products to communicate with public servants. Here is critical report from Australia (example of good journalism):


That particular OOXML standard was rejected by the International Standards Organisation (ISO) because it was littered with Windows-platform dependencies, according to its opponents.

The ODF Alliance, backed by IBM and Google, has warned about the adoption of the ECMA-376 standard by governments.

"The use of ECMA-376 essentially ties the adopter to Microsoft Office," the lobby group warned in October last year in a document entitled "What Government's Need to Know".

That standard, it pointed out, contained "many Windows-platform dependencies" that Microsoft was forced to remove under the ISO process in order to get it approved as ISO-29500 -- a standard that the Microsoft Office 2010 product has so far failed to comply with.
To quote
Slashdot's summary
:
"The Australian Government has released a common operating environment desktop policy that — among security controls aimed at reducing the potential for leaks of Government data — mandates the ECMA-376 version of Microsoft's Office Open XML (OOXML) standard and productivity suites that can 'read and write' the .docx format, effectively locking the country's public servants into using Microsoft Office. The policy [PDF] also appears to limit desktop operating systems to large, off-the-shelf commercial offerings at the expense of smaller distributions."
To repeat some stories about Australia & OOXML (there are more):
Let us remember people in Australia whom Microsoft paid to lobby for OOXML and sneakily edit Wikipedia [
1
,
2
,
3
].
⬆