Boycott BT
Dr. Roy Schestowitz

2011-03-25 21:46:29 UTC
Modified: 2011-03-25 21:56:00 UTC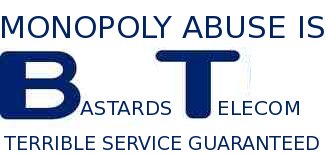 Summary: One malicious and incompetent monopoly that everyone (where applicable) ought to avoid even more aggressively than Microsoft
TO REMOVE any misinterpretations or rumours, nothing has changed at Techrights. The reason there has been so little going on since the seventh of the month is that BT is so bloody awful. When the IRC logs get posted (hopefully this month) some of the details will be made visible, but until then there are these messy notes of mine and reassurance that when all wired connectivity is back to normal, everything in Techrights too will be back to normal. Until then I will carry on coding and complete my 50-page paper about this research project that has occupied a lot of my time. Here is an out-of-date screenshot (it looks a lot nicer by now):
This post would be off topic unless some connection was drawn to items we typically covered here. What the experience with BT shows is that a monopoly -- and just about any monopoly for that matter -- is a very bad thing. BT has a monopoly on my line and all its competitors must go through BT to rent the line. This gives BT a lot of power and my assertive attempts to cancel the order with BT after nearly 10 hours on the phone (and two entire days waiting at the house for a delivery that never came) are pointless at best. They make it impossible and hold the line as a hostage type of tool, in order to prevent the customer from going elsewhere. As Richard Stallman once put it, when support is a monopoly no wonder it is so bad. It turns out that under my name BT even activated the wrong line, which means that some stranger somewhere is making phonecalls at my expense. What an irreversible mess! Boycott BT. Avoid is like the plague and suggest others do the same.
⬆
N.B. - In case anyone from BT reads this, please look up VOL011-479058023564 and VOL011-47251182944. For shame, I want my life back.